Disclosure: This page contains affiliate links. If you click and purchase through these links, we may earn a commission at no additional cost to you.
Learn more
A telescope is only as great as the mount that it sits on, and this is especially true when it comes to astrophotography. If you want to take deep-sky pictures then you need stability, precision, and effective long-term tracking.
This guide will help you understand what features need the most attention when looking for a new mount for astrophotography. We have also included some of the best mounts out there, both for new astronomers and those who have experience navigating the sky.
How to Choose a Telescope Mount for Astrophotography
When you are looking for the best mount for astrophotography there are plenty of aspects you need to consider. A good mount is something that you cannot skip out on because it is what keeps your telescope securely pointing at what you want to observe.
Most mounts use a tripod and a mount head to increase the stability, and you need to ensure that these have no wiggle or looseness that can compromise your images. Beyond this, you need to choose a telescope mount that can support your telescope and any accessories you attach to it.
Telescope mounts should fit your observation needs by offering the correct level of technology, and you should invest in one that fits your future astrophotography plans. With as much as you are already moving around, you want a mount that is streamlined for portability as well.
Equatorial Mounts for Astrophotography
If you have a choice between an alt-azimuth (alt-az) mount and an equatorial mount, the latter is almost always a better choice for astrophotography.
Equatorial mounts have a control that works similar to alt-az mounts, but they allow for better tracking, especially over a long period of time. Equatorial mounts are designed to rotate at the same rate as Earth, and many incorporate an electric motor to do so.
This can be done with an alt-az mount, but the process is much more complicated. While an equatorial mount has only one axis to control, altaz mounts would require both axes to move at the same rate to track.
Fitting your Telescope
A mount should fit your telescope in a few ways.
First, start by ensuring the mount matches up with what is on your telescope. Make sure your mountain plate matches what you are purchasing or that you are prepared to make that upgrade.
Some telescope mounts feature a dual-width saddle to fit both VIxen and Losmandy mounting plates, but this is not a standard upgrade. If you have a choice, most astrophotographers prefer Losmandy mounting plates for increased stability, especially with larger telescopes.
Fit Your Observation Needs
As mentioned before, it is best to choose an equatorial mount for astrophotography purposes.
Beyond this, you want to choose a mount that has any features you may need. If you are getting started with astrophotography or you want to spend less time searching for objects in the sky then a mount that includes locating software will help you out.
Planning Ahead
If you can afford to spend a bit extra on a telescope mount then you save yourself quite a bit in the long run. Even one that stretches your budget can protect you from buying a whole new mount in just a few years.
If you cannot afford extra computerized features or software then consider mounts that are expanded. The best mount for astrophotography might feature USB ports or AUX ports that let you hook up to a computer or other device to improve the performance of the mount.
You should also consider purchasing a mount with a higher payload if possible. It is too easy to purchase additional accessories and surpass the limits of cheaper mounts.
Portability
Mounts with plenty of features may not be the most portable part of your setup, but that does not mean that you need to burden yourself with one that does not prioritize portability. Manufacturers that value the comfort of their customers create mounts that are easy to move around and as lightweight as possible.
This is not as big a concern as other features because it does not directly affect your astrophotography capabilities, but cumbersome mounts can diminish your joy.
Best Entry-Level Telescope Mounts for Astrophotography
An entry-level telescope mount is not necessarily lower in quality than what we consider advanced, but there is a need to separate these mounts from the others.
The ones listed below provide increased stability and precision tracking, features that are must-haves for any astrophotographer. They are also lighter-weight and have a lower payload capacity than some other mounts.
This is beneficial for anyone who cannot invest in a heavier setup or cannot manage one. What we consider to be the best mount for astrophotography does not rely on its capacity but its capabilities, and each of these mounts do more than just get the job done.
Orion SkyView Pro (GoTo Version)

Image Credit: Orion (Used with Permission)
The Orion SkyView Pro GoTo is a computerized equatorial mount that is best suited for lunar and planetary imaging, as well as long-exposure shots. This has a weight rating on the lower end at 20 lbs, and the budget-friendly mount allows you to purchase a clock drive separately.
The quick-release dovetail plate makes it easier to attach your telescope to the mount safely and securely. The mount also features two slow-motion knobs for increased accuracy and steadier movement.
The SkyView Pro includes two counterweights, 4 lbs and 7.5 lbs, to better balance your shots. This mount is lighter than others at 20.5 lbs, and it weighs a full 35 lbs with the weights attached.
Sky-Watcher EQM-35
Sky-Watcher's EQM-35 was designed as an imaging system, so it works great for anyone starting out with astrophotography. The mount itself weighs 12.5 lbs and includes two 7.5 lbs weights. It can support up to 22 lbs of payload.
The removable DEC assembly lets you choose between L brackets or ball head adapters, and you can easily turn this into a more advanced tracking system. The built-in polar scope and hand controller help keep interference to a low, and the computer does the hard work of finding what you want in the sky.
Best Mid-Range Telescope Mounts for Astrophotography
Orion Sirius EQ-G

Image Credit: Orion (Used with Permission)
The Sirius EQ-G from Orion was recently upgraded to include a dual-width saddle that works with Vixen and Losmandy mounting plates, so you do not need to worry about adapting it if you have one or the other.
This allows the mount to have superb stability for most telescope optical tubes, and the 30 lb load capacity is a great middle-ground for those starting out.
As far as technology goes, the EQ-G uses a SynScan GoTo system with a hand controller to help you find and track celestial objects. For those starting out you can use the Deep-Sky Tour mode to discover some of the best objects in the sky.
Sky-Watcher HEQ5
The HEQ5 is another great mount by Sky-Watcher with a larger payload of 30 lbs. This benefits both beginner and intermediate astronomers by giving them a bit of room to grow their system while working with precision tracking capabilities.
It's similar to the EQ6 Pro mount and strives for that level of sturdiness. Though this mount has a lower payload, you still get the same auto-slewing capabilities and a computer to find thousands of objects in the sky.
The Sky-Watcher HEQ5 has an intuitive design that even true beginners can work with, and connecting the SynScan hand control to a computer allows you to use software to control the mount and better explore the sky.
Celestron Advanced VX
The Advanced VX from Celestron is a compact equatorial mount that strives to offer the same stability as larger mounts without putting as much weight on you or the system you set up. Despite its smaller size, it supports a maximum weight of 30 lbs.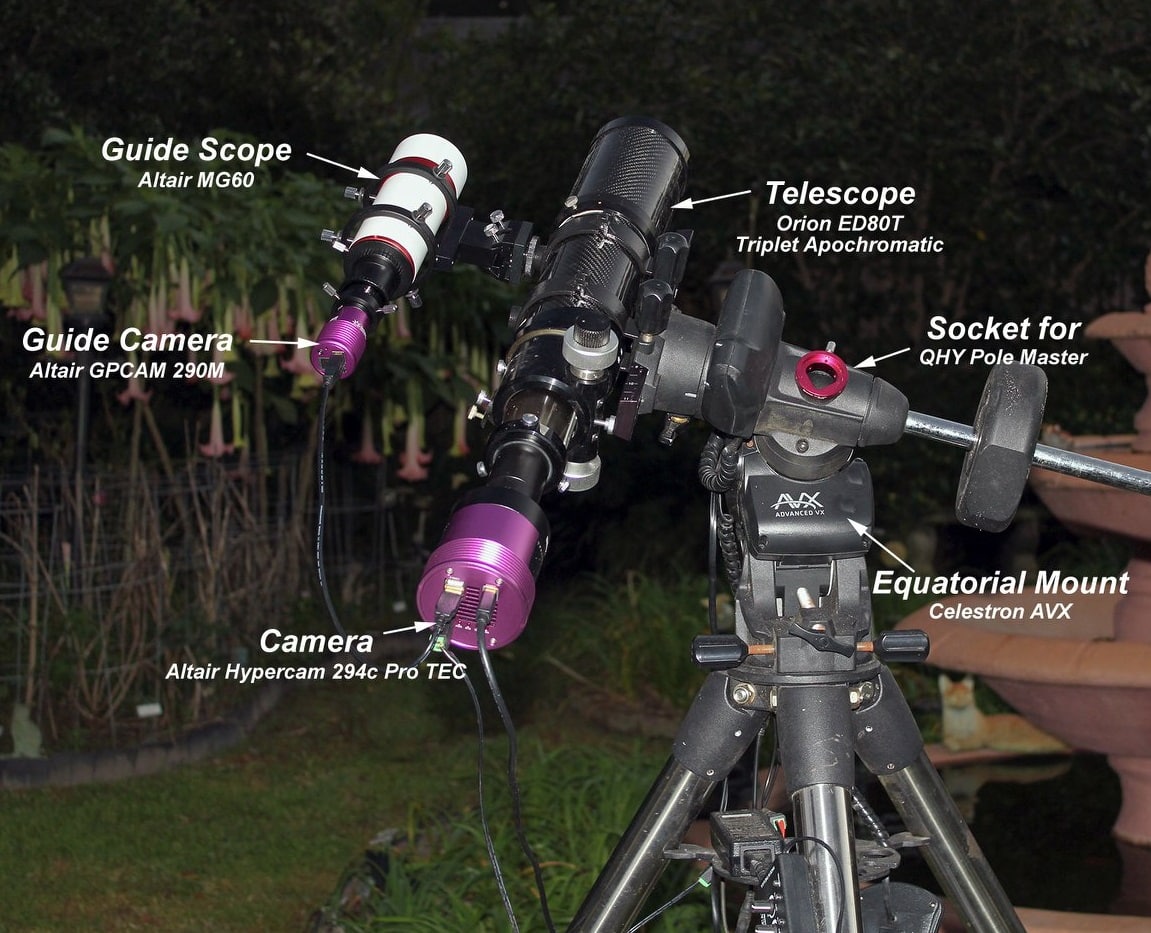 Here's what Celestron's Advanced VX mount looks like with a fully configured rig for astrophotography (shown here paired with the Orion ED80T telescope); Image thanks to Patrick Prokop (used with permission)
This mount features a dual saddle plate that is compatible with most Vixen mounting plates and provides superb stability for its size.
Technology assists quite a bit with this mount, from tracking to error correction and even menu descriptions. The GoTo computer on the Celestron Advanced VX is able to automatically track objects in the sky, and you benefit from hand controls, an auto guider, and 2 AUX ports to support other accessories.
Best Advanced Telescope Mounts for Astrophotography
The best advanced telescope mounts are distinguished first by their higher payload capacity that can support more accessories and larger optical tubes. Beyond this, these mounts are likely to include additional accessories and capabilities, and they might offer more opportunities to expand.
What makes one of these the best mount for astrophotography is its untethered ability to support more advanced hardware without compromising quality or performance. These mounts may be a bit too much for someone who is not deeply dedicated to astronomy, but they are perfect for those who know what they want.
Orion Atlas EQ-G

Image Credit: Orion (Used with Permission)
The Orion Atlas EQ-G is a great choice for lunar, planetary, and long-exposure photography. With a payload capacity of 40 lbs you can hold a more advanced setup, but Orion suggests a maximum of 20 lbs for astrophotography.
The Atlas EQ-G has over 42,000 objects in its system and includes those in the Messier, NGC, and IC catalogs. It offers three tracking rates (sidereal, solar, and lunar) to provide consistent tracking and better captures.
The upgraded features on the EQ-G include a USB port that allows you to use third-party software to control the mount and a shutter release port that limits interference with the mount when taking pictures.
Sky-Watcher EQ6-R Pro
The Sky-Watcher EQ6-R Pro can handle most setups with 44 lbs of payload capacity, including our optical tube, camera, and any other imaging accessories you need.
The mount has a built-in st-4 that works with most autoguiders and an RS232 port that lets you control your telescope from your computer.
Slewing is easy and quiet with the EQ6-R Pro because it utilizes Stepper motors. This means you can go up to 1 arc minute without disturbing the peace.
The SkyScan hand controller lets new navigators (or those who need the help) automatically find more than 42,000 objects in the sky. You can connect the controller to the computer to enable computer control, and it works great for reducing periodic error.
This mount also comes with 2 counterweights, 11 lbs each, and a saddle that is compatible with both D-style and V-style dovetail bars.
Celestron CGX
The Celestron CGX reaches for the same compact size as the Advanced VX but with additional features and a heavier load capacity of 55 lbs. This equatorial mount is designed with a lower profile head that improves setup stability without compromising a more versatile size.
The drive system on the Celestron CGX features increased torque and slewing, so the mount can track easily even with a heavier load. There are internal hard stops on both of the axes to assist with cable tension and improve imagery.
The mount has several sensors built-in to automatically detect and prevent issues if they arise, and the included software allows you as much control as you want or need. With auxiliary ports, a USB 2.0 port, and an auto guider port there are plenty of opportunities to grow and improve the mount, but using it as is can be a dream for many astrophotographers.
Final Thoughts
The best mount for astrophotography is not the most expensive or the heaviest one, but it is a mount that best fits your needs and your capabilities. Even a small upgrade can improve your astrophotography, but having extra room to improve your system is never a bad thing.
Look for a telescope mount that is compatible with your telescope and your budget. Computerized systems are not a must-have, but most improved mounts offer you software for easier object location and tracking.
Holding out for a mount that gives you more room to grow can pay off long-term but do not sacrifice your dreams because it is out of reach. Learning to work with what you have can provide the immediate push you need to advance your passion for astronomy and astrophotography.