Disclosure: This page contains affiliate links. If you click and purchase through these links, we may earn a commission at no additional cost to you.
Learn more
If you're reading this Celestron FirstScope review, you're probably looking to buy your very first scope, either for yourself or a child. You've probably already done a little homework by asking for recommendations, or maybe you've used a Celestron scope before. You might be looking for something everyone in the family can use, regardless of their age or experience and you probably don't want to spend too much in case the fascination wears off.
If this sounds like you, then you'll definitely want to consider the Celestron FirstScope. It's compact, easy-to-use, portable and inexpensive – but is it any good?
About the Celestron FirstScope
You'll be hard-pressed to find a telescope more compact than the Celestron FirstScope. The telescope tube, or optical tube assembly (OTA), is nearly 10.5 inches (26.7 cm) long and is 3.8 inches (9.7 cm) wide. It sits on a Dobsonian mount that's nearly 8 inches (20 cm) wide at the base and only 11 inches (27.9 cm) high. When the scope is pointing directly upwards, the whole assembly is just slightly more than 16 inches (40.6 cm) high.
Factor in its weight (3.5 pounds, or 1.6 kg) and you've got a telescope that's compact and light enough to be easily picked up and moved with one hand by an adult or teenager. For context, it's worth knowing there are some astronomical binoculars available that weigh more than this telescope! (For example, the Orion Giant View 25×100 binoculars weigh 10 pounds.)
You can easily transport the Celestron FirstScope in either the trunk or on a seat in your car (as long as it's secure!), which makes this potentially a great option for family camping trips.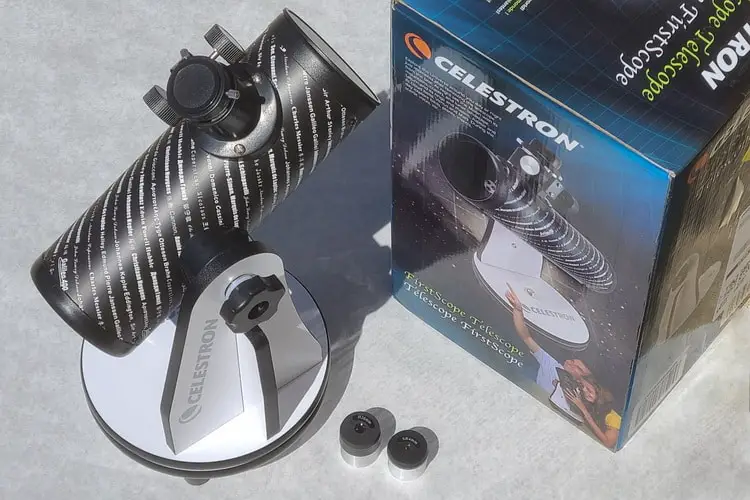 Image Credit: Richard Bartlett / TelescopeGuide.org
FirstScope Specifications
If you have some familiarity with telescopes, you may be wondering about the FirstScope's specs:
Type: Newtonian Reflector
Aperture: 76mm
Focal Length: 300mm
Focal Ratio: 4.0
Minimum Useful Magnification: 11x
Maximum Useful Magnification: 180x
Limiting Stellar Magnitude: 11.9
Supplied Eyepieces: Kellner, 20mm (15x) and 4mm (75x)
The Celestron FirstScope Accessory Kit
You might also be wondering which accessories come with the Celestron FirstScope. Unfortunately, the answer is a short but simple one: none at all.
The only accessories supplied with the scope are the two eyepieces. Surprisingly, there's no finderscope, which is both confusing and frustrating as a finderscope is pretty essential. There are, however, screws on the telescope that will allow a finderscope to be attached – you just have to buy one first.
Similarly, there's no lunar filter or smartphone adapter, which are both often shipped with scopes aimed at the beginner. Celestron, of course, has thought of this and has a solution, but you'll need to spend a little more to get everything you need.
Let's start with a lunar filter. This accessory is pretty much indispensable, as it vastly reduces the light from the Moon and prevents you from being dazzled as you observe it. This is essential, as you'll want to preserve your night vision, which, in turn, is essential for viewing other objects, such as star clusters and nebulae.
The smartphone adapter is more of a want than a need, as it allows you to take photos of the Moon with your cell phone. If this doesn't appeal to you (it can be a tricky process) then you can skip this and be no worse off.
You can get the finderscope and filter if you buy the Celestron FirstScope Accessory Kit. The kit also includes two eyepieces (12.5mm and 6mm for magnifications of 24x and 50x, respectively) and a nylon carry bag for the scope and accessories.
You can either buy this separately or bundled with the FirstScope, but if you want to also get the smartphone adapter, you'll need to buy that separately too.
Alternative Accessory Options
However, before you rush to click the Buy button, it's worth knowing this: the eyepieces aren't the best quality (see below) and the lunar filter is the most basic one (ie, cheapest) you can buy. That being said, the finderscope (a 5×24 finder) is better than the standard red dot finders that are usually supplied with starter scopes.
It might therefore be worth the investment for the finder and carry bag, but you'll want to buy some better eyepieces and a decent lunar filter. If you're on a budget, I recommend the SVBONY eyepieces (I own a few myself) but otherwise you can check out my review of eyepieces here.
In terms of a lunar filter, the one supplied with the Celestron FirstScope Accessory kit will give the Moon a strong green tint. A much better option is the Celestron 94105 Neutral Density Moon Filter, which will reduce the glare but maintain the Moon's natural color. It's also a good option for observing Venus, which can be similarly brilliant.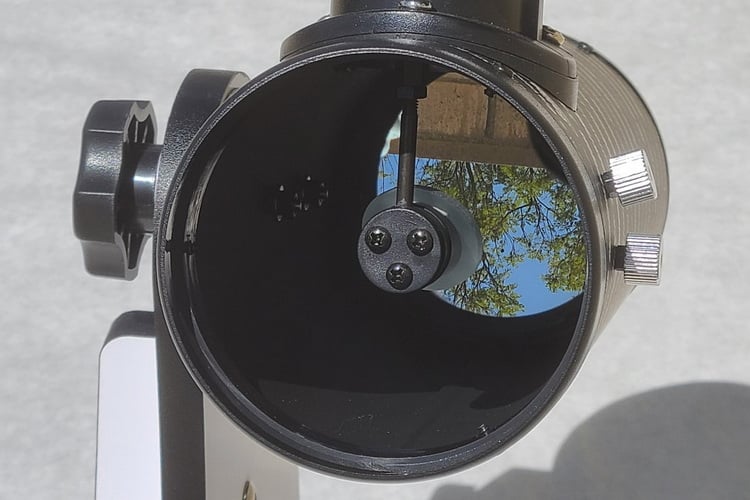 Image Credit: Richard Bartlett / TelescopeGuide.org
Getting Started
As the name implies, the Celestron FirstScope is meant to be an entry-level telescope for anyone just beginning the hobby. Unlike similar scopes, it's designed to be used straight out of the box, with little or no set-up necessary.
And that's pretty much what we have. Ordinarily, you'd need to attach and then align the finderscope, but since none is provided, that's obviously not required here. The scope and accessories are securely packed in the box with foam and card holding everything securely in place. All you need to do is remove the foam at the top of the container and then lift everything out.
Besides removing the covers and inserting an eyepiece (something you need to do with every telescope every time you use it) there's nothing else to do. It really doesn't get any simpler than that, making it possible for anyone, regardless of age and experience, to use it.
Is the Celestron FirstScope Equally Easy to Use?
This is a simple question with a slightly complicated answer.
Firstly, yes, the Dobsonian base makes it super-easy for everyone in the family to use. Observers only need to turn the scope from side to side or up and down in order to aim the scope at a target.
Secondly, and unfortunately, that's the limit in terms of it being easy to use, as without a finder it can be difficult to get anything to appear in the eyepiece. The instructions aren't very helpful either; essentially, they only say to insert an eyepiece, point the telescope tube at the target and then move the tube around until the target comes into view.
The reality, of course, is that this can be a frustrating experience, to say the least. It's not so bad if you're trying to aim the telescope at an easily identifiable target during the day, or a bright star, or a planet or the Moon at night, but if you're looking for something fainter (as the vast majority of worthy targets are) then it's going to take some time to get the hang of it.
In short, you need the finderscope. Even when using the low power (15x) 20mm eyepiece, it can be challenging to center your target in the field of view. On top of this, the provided eyepieces only provide a fairly narrow field of view (even the 20mm), which doesn't help matters in the slightest.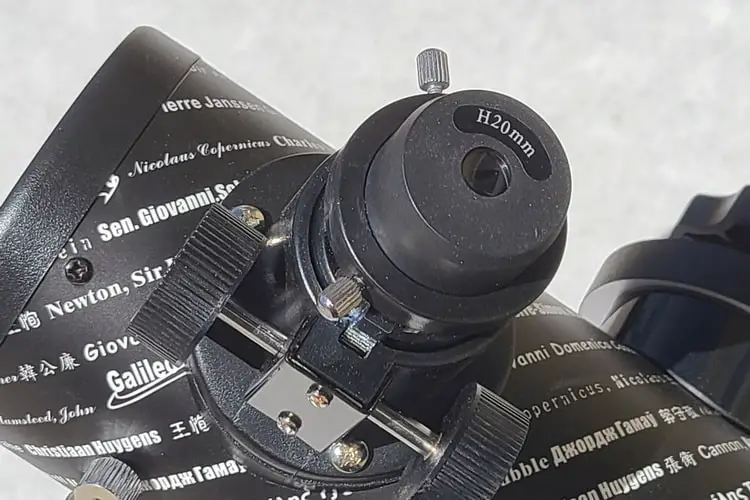 Image Credit: Richard Bartlett / TelescopeGuide.org
First Light With the First Scope
Any time you use a new telescope under the stars for the first time, it's called first light. Something of a time-honored tradition, it can be an exciting experience as you put the scope through its paces. Alternatively, on rare occasions, it can be frustrating as you struggle to become accustomed to your new equipment. So will your First Light with the First Scope be an exciting or frustrating experience?
It really depends on whether you've invested a little more in a finderscope, lunar filter and a couple of decent eyepieces. If you haven't, then you could very well become frustrated, as it will be difficult to aim the telescope, and once you have your target in the eyepiece, the view could be disappointing.
For example, while the Moon is obviously a bright (and theoretically, easy) target, the provided eyepieces simply don't do it justice. For starters, unless the target is in the center of the field of view, you'll find it a little distorted, and even with the Moon ideally placed in the center, it was difficult to focus. And that's at a low magnification of just 15x.
Improving the View
To verify the mirrors weren't out of alignment, I turned the scope toward Sirius and defocused the view until the star appeared as a large, bright white circle. The secondary mirror appeared as a dark circle at the center, indicating that all was well. (Had it been off-center, then this would have indicated that the mirrors were out of alignment, which in turn, would have caused some distortion.)
That being the case, I swapped the provided 20mm eyepiece out for my own SVBONY 23mm – and immediately noticed an improvement. Besides the much wider field of view, I was able to focus the image more accurately and produce a much clearer image as a result.
To be honest, at that point I gave up on the provided Celestron 20mm eyepiece and only used the SVBONY instead.
Venturing Further Afield
NB: all the observations below were undertaken with the SVBONY 23mm and 4mm eyepiece, which produced magnifications of 13x and 75x respectively.
Besides the Moon and Sirius, I also turned the FirstScope toward the Orion Nebula, the Pleiades and several double stars. (No planets were visible in the evening sky at the time.)
The Orion Nebula looked good; given that the Moon was a few days away from turning full, the brightest portions of the nebula were visible, along with a slightly greenish tint. Messier 43 also appeared as a faint, misty patch with a single tiny star at its heart. Returning to the Orion Nebula, roughly four of the Trapezium stars could be seen.
The Pleiades also put on a good show, with the stars glowing with a strong blue-white light. The tiny triangular pattern of three stars could be seen next to Alcyone, with a scattering of stars visible throughout the field of view.
Mizar and Alcor appeared as an attractive wide double, with Mizar a very close but clean split. Nearby, Cor Caroli in Canes Venatici was also an easy split, with the primary appearing a peachy color while the secondary was white. Lastly, Algieba in Leo, like Mizar and Alcor, was a wide pair of stars, golden in color, but the primary was not split.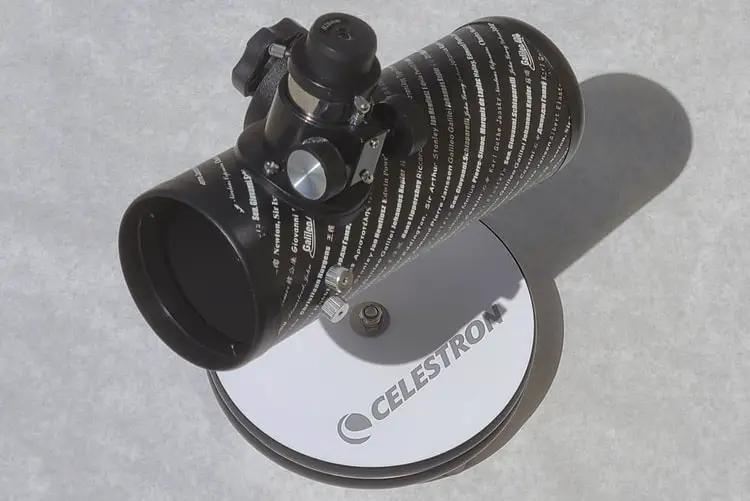 Image Credit: Richard Bartlett / TelescopeGuide.org
Final Thoughts
The FirstScope is a great choice if you're looking for something small and portable the whole family can use. Its compact, lightweight construction means it can be easily carried and transported almost anywhere, while the Dobsonian mount makes it easy for anyone to use.
However, there are a few limitations. Firstly, this is not a powerful telescope. It has a very short focal length – just 300mm – and that, coupled with its small 76mm aperture, means it's not capable of high magnifications. (Celestron state the maximum usable magnification is 180x, but I would halve that.)
With that in mind, it's not the best option for the planets or small, faint deep sky objects, such as the majority of planetary nebulae and galaxies. There's no reason why it can't be used for the Moon, many star clusters and wider double stars though.
What We Liked
Compact, lightweight and very portable
Very easy to use (with a finder)
Decent quality views (with decent eyepieces)
Good value for money
What We Didn't Like
No finderscope
Poor quality eyepieces
Inability to collimate the mirror
Limitations in what you can see
Scorecard
| Category | Our Verdict | Why? |
| --- | --- | --- |
| Skill Level | Kids and Beginners | It's designed for anyone to use |
| Quality | 4 out of 5 | Good, sturdy construction, reasonably solid |
| Ease of Use | 3 out of 5 | Severely limited without a finder |
| Power & Clarity | 3 out of 5 | Low powered, slightly inferior views |
| Control | 5 out of 5 | Smooth and super easy to move |
| Portability | 5 out of 5 | Extremely compact and lightweight |
| Accessories | 1 out of 5 | Severely lacking and poor quality |
| Overall Value | 3 out of 5 | Great low price, but you'll need to spend more for essential accessories |
The Little Scope That Can, and Will – If You Let It
Lastly, it's essential you equip the scope with a finder and a few decent eyepieces. It's frustrating trying to locate targets without a finder, while the poor quality views produced by the eyepieces make using them a waste of time.
In fact, almost any eyepiece would be better than the ones supplied by Celestron. The FirstScope is capable of producing some nice views, but it's severely limited and handicapped by poor quality eyepieces and the lack of a finderscope.
I may be cynical, but it seems as though everything can be explained in terms of cost. It seems as though Celestron wanted to cut costs while also driving you toward buying the accessories separately – but they risk ruining the experience of a young, budding astronomer in the process.
(Also, if you liked this article, please share it using the social media buttons below!)
About the Author
Richard J. Bartlett: Richard has been featured in Sky & Telescope and Astronomy magazine.  He's written and published a number of astronomy-related books, and we're super happy to be able to work with him on Telescope Guide articles.
Why You Can Trust Our Reviews
At TelescopeGuide.org we're as passionate about astronomy as you are. As such, we take our recommendations seriously and would never recommend anything we wouldn't be willing to buy and use ourselves. When we consider our recommendations, we look at a wide variety of products from a range of manufacturers. We take into account the quality of the product, as well as its durability, ease-of-use, performance, and overall value for money.

Whenever we can, we test the products ourselves or, if that's not possible, we consider the opinions and experiences of other astronomers. Lastly, we take all these criteria and make our decision by creating an objective score for each one. In this way, whatever your needs, requirements or budget, you can be sure you're getting the best possible advice before you make your buying decision.

Feature Image Credit: Richard Bartlett / TelescopeGuide.org