Disclosure: This page contains affiliate links. If you click and purchase through these links, we may earn a commission at no additional cost to you.
Learn more
The Orion SkyQuest XT10 Classic Dobsonian is one of the most affordable "large aperture" telescopes for visual astronomy.  With its powerful 10" primary mirror, it offers a ton of bang for the buck.  And it's still portable enough to bring with you camping or to a dark-sky location.  Keep reading below for our full review.
At TelescopeGuide.org, we are big fans of Dobsonian telescopes for amateur astronomy.  And the reason is pretty simple – it's because they are famously affordable and easy to use.
With this type of telescope you'll get more optical performance for your money.  Plus, you'll spend more time taking in the beauty and splendor of the universe because it's so easy to use.  (And you'll spend less time fiddling around with your telescope.)
Regardless of your level of experience, we highly recommend this type of telescope for everyday viewing.  (And, while you don't necessarily need to start with something as large as the XT10, you should be aware that the size of the aperture is the #1 factor in the level of detail you can experience visually.  More on that later.)
Review: Orion SkyQuest XT10 Classic Dobsonian Telescope

Image Credit: Orion (Used with Permission)
True to the classic Dobsonian design, the Orion SkyQuest XT10 is a Newtonian reflector with a sturdy wooden mount.  Versatile and affordable, it features a huge 10″ (254mm) aperture.
Affordable High-Performance Optics
With this much optical power, you'll be truly amazed at the detail and beauty you can see within our solar system and beyond.
You can "zoom in" on the craters of the moon; or you can get up close and personal with the bands and moons of Jupiter.  You'll be able to see the rings of Saturn including the Cassini division, and many other "local" sights.  Additionally, you'll be able to see fainter targets – more distant galaxies, star clusters, and nebulae.
Just Make Sure You're Comfortable with the Size!
The biggest thing you need to consider when looking at the XT10 is the tradeoff between portability vs. optical power.  The optical tube is about 10 lbs. heavier than the XT8.  However, it's also about 56% more powerful – so that's really the key factor in deciding between the XT10 and something smaller.
Thankfully, the XT10 optical tube separates easily from the base so you can transport it in 2 pieces.  Just make sure you are comfortable with your ability to pick it up, fit it into your vehicle, and move it to and from your viewing location.  (It helps to have a friend.)  The optical tube weighs 30.8 lbs. and the mount/base weighs 22.6 lbs., for a total of 53.4 lbs.
Highlights | Key Features that Make It Stand Out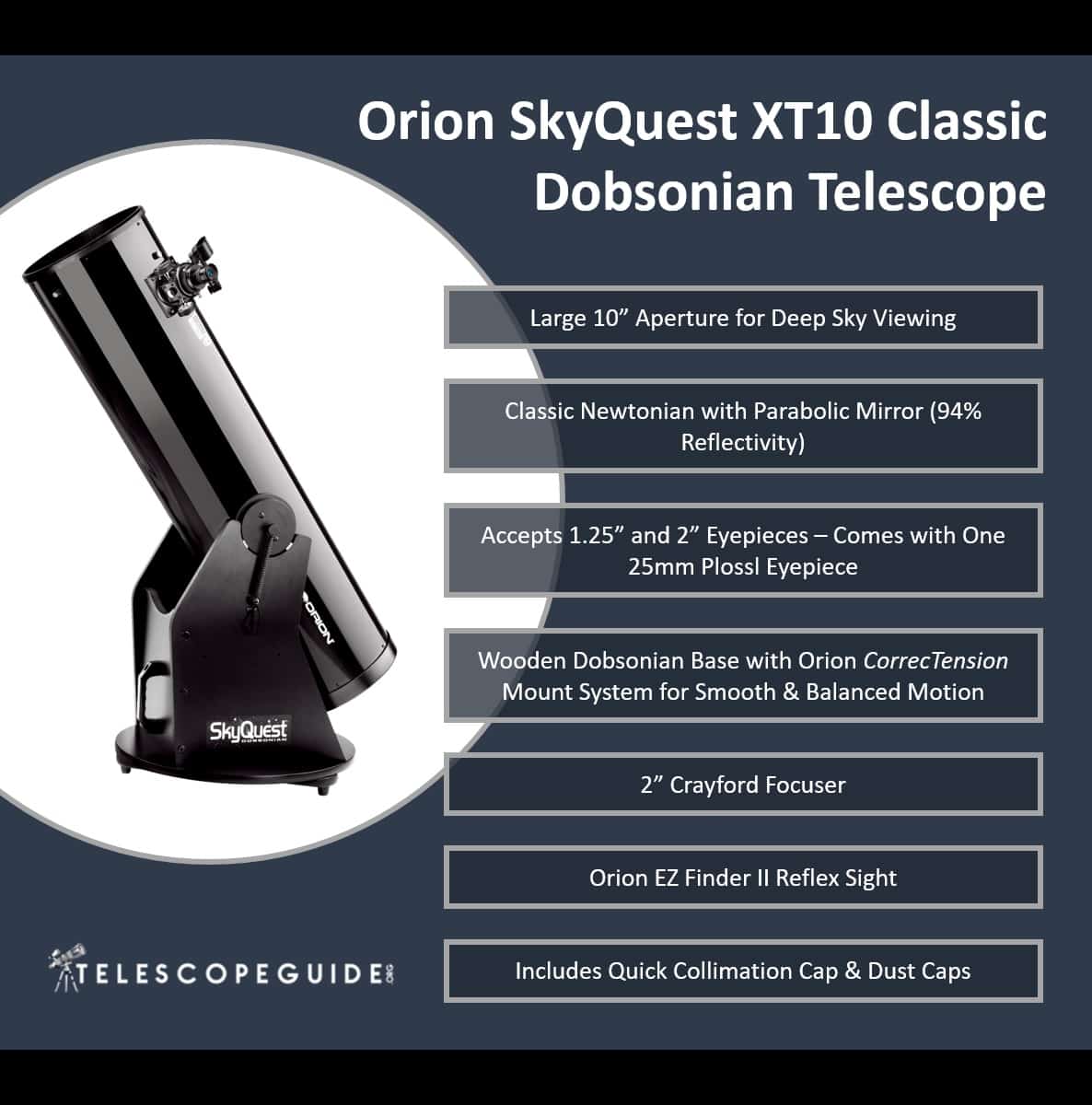 (Orion Product Image Used with Permission)
1. Large 10" Aperture Gives You Fantastic "Reach" Into Deep Space
For visual astronomy, we generally recommend you get the largest aperture you can afford.  (As long as you're comfortable with the size and portability of the telescope.)
Why?
A larger aperture means more light collection ability, which means you'll be able to see fainter, more distant objects in the sky.  And, when you're viewing things within our own solar system, you'll be able to see stunning details that are impossible with smaller sizes.  (Smaller telescopes collect less light and thus have lower "resolution" in the image being magnified.)
Put simply – the XT10's large 10" mirror opens up the skies in a way that is simply not possible with smaller telescopes. 
(But again, a reminder: You don't want to get something so big that it ends up collecting dust in your attic.  10" is sort of right on the edge; for some people it may be too big, while for others it's just right.)
2. Easy to Use "Point & View" Design
Thanks to its smooth mounting system and sturdy base, the XT10 is super intuitive and easy to use.  Once you have it set up properly, you just point where you want to look and then adjust the focuser – it's that simple.
Thanks to Orion's "CorrecTension" system (heavy-duty springs and friction pads), the telescope will stay balanced and stable until you need to point it at a new target.  The base sits right on the ground so you don't need a tripod.  And you'll never need to bother with various knobs and slow-motion controls to point the telescope where you want to look.
Bottom line – the XT10's simple, user-friendly design makes it easy even for beginners and kids to learn how to navigate the night-time sky and "star hop" their way to any target they want to see.
3. Good Brand Reputation
Orion is a strong brand with a great reputation, and the XT10 is a great example of their focus on affordable quality.  It's a "no frills" telescope, but it features high-quality components where it matters most – in the optical system.
The XT10 features a true parabolic primary mirror and enhanced-reflectivity mirror coatings (94% reflectivity) with low thermal expansion borosilicate glass.  The included 25mm Plossl eyepiece and 2" Crayford focuser are excellent quality as well.  (And, the telescope is backed by a 1 year limited warranty from Orion.)
Scorecard – Orion SkyQuest XT10 Classic Dobsonian Telescope
| Category | Our Verdict | Why? |
| --- | --- | --- |
| Skill Level | Beginner to Intermediate | This is a step up from a true beginner telescope |
| Quality | 4 out of 5 | Great component quality |
| Ease of Use | 4 out of 5 | Easy to point and view; collimation required |
| Power & Clarity | 5 out of 5 | 10" mirror provides amazing views |
| Control | 4 out of 5 | Stable and balanced Dobsonian mount |
| Portability | 2 out of 5 | Transportable, but not super portable |
| Accessories | 3 out of 5 | Good quality but only basic accessories |
| Overall Value | 5 out of 5 | Superb overall value |
Included Accessories
In addition to the optical tube and the base/mount, the standard XT10 comes with the following accessories:
A single 25mm Sirius Plossl eyepiece (for 48x magnification)
2" Crayford focuser
EZ Finder II reflex sight
Quick collimation cap for easy mirror alignment
Dust caps for the reflector telescope tube and focuser
Starry Night software download
Pros
Large 10″ aperture lets you view fainter, more distant objects
Affordability is excellent for such a large aperture telescope
Dobsonian base is easy to point and go
Excellent overall value and versatility
Accepts 1.25″ and 2″ eyepieces!
Cons
Accessories are somewhat basic (for example, only one eyepiece included) – but keep reading for some options to consider
This is a somewhat large and heavy telescope (53.4 lbs. total) but still portable – so be sure you have a good plan for transportation and storage, to ensure you get maximum usage
If you plan to use 2″ eyepieces, the XT10 requires an additional accessory (the Orion 5122 eyepiece adapter, see below under Recommended Accessories) – this really should have been included with the telescope in our opinion
Using the Orion SkyQuest XT10
Unpacking & Assembly
The XT10 comes in 2 separate boxes – one for the Dobsonian base/mount and the other for the optical tube and accessories.
The first step is assembling the base/mount.  If you've ever assembled IKEA furniture, the initial assembly of the XT10's base is pretty similar.  You just follow the included instructions, using the included tools and hardware.  It's really straightforward and easy enough for most people to do on their own.
Next, once you've finished putting together the base, you simply place the tube into the mount and attach the CorrecTension springs.  The optical tube comes pre-assembled (and theoretically pre-collimated as well) – so this is a quick and easy step.
Finally, you'll want to check the calibration of the finder scope and make sure your accessories and eyepieces are ready to go.
And that's it!  Because the Dobsonian base sits on the ground, you don't need to worry about tripods, fancy mounts, polar alignment, etc.  The XT10 is ready for action in just a few minutes.
You Will Need to Learn How to Collimate the XT10 (But It Sounds Harder Than It Is)
If you're not familiar with the term collimation, it's basically just the process of calibrating the mirrors in the optical system so you get a crisp, sharp image through the telescope.
Collimation is important and it's a key procedure you'll need to know for the XT10 – but it's really not that difficult once you get the hang of it.  (Note: All Newtonian Reflector telescopes require collimation.)
A few key things about collimating the XT10:
First, the XT10 often comes collimated out of the box, and some people have reported that they were able to simply use the pre-collimated optical tube.  Our advice: You really can't rely on the telescope to keep its original factory collimation.  Sooner or later … your mirrors will need re-alignment so you might as well go ahead and start learning how to collimate the telescope.
Second, the XT10 is reported to hold its collimation pretty well, even when bumped slightly in various conditions.  While this is great – again, it's still not something you should expect to be true every time you take your telescope out.  (However, we've heard about people who never collimated their SkyQuest series telescope after 5 years of usage.  So, your mileage may vary.)
Third, the XT10 includes a quick collimation cap to help make mirror alignment easier, and dust caps for the reflector telescope tube and focuser.
To learn more about how to collimate the Orion SkyQuest XT10, check out the YouTube video below.  (This video also covers how to use a laser collimator, which makes it faster and more accurate.)
Eyepieces & Magnification
OK, this might sound a little technical but we'll try to keep it as simple as possible.
The XT10 has a highest useful magnification of 300x according to the manufacturer (Orion).  This means you can zoom in 300x on anything you want to see.
However, this is actually (in our opinion) a little under-stated for a 10" telescope.  The general rule of thumb for calculating the magnification capability is to multiply the aperture size (in inches) by 50.  Using this formula, a 10" aperture would have a highest useful magnification of 500x.
So, regardless of whether you go with 300x or 500x, the bottom line is this telescope (thanks to its large aperture) provides incredible ability to "zoom in" on things you want to see.
To calculate your "actual" magnification with any eyepiece, you just need to divide the focal distance of the XT10 (1200mm) by the focal length of the eyepiece.  Here are some examples:
If you use the included eyepiece (25mm Plossl), your magnification will be 48x. (1200 divided by 25.)
If you add a 6.3 mm eyepiece, your magnification will be 190x. This level of magnification will give you some absolutely stunning views of the lunar surface or planets in our solar system.
If you use a 10 mm eyepiece with a 2x Barlow lens, your magnification will be 240x.
We've read reports of people zooming in on the moon's surface with ~500x magnification with this scope, and they were amazed at the clarity of the image.
Portability: Will the XT10 Fit in My Vehicle?
As we noted above, this is the biggest tradeoff for you to consider about the XT10.
It's somewhat bulky and heavy compared to smaller telescopes, but many people consider this to be well worth the extra effort.  It's only about 10 lbs. heavier than the XT8 (which we review here), but collects 56% more light.  (For other telescopes in similar price range to the XT8, check out our guide to telescopes under $500.)
Most importantly, you need to ask yourself two questions:
First, will it fit in my vehicle?  If you're driving a SUV or a mini-van, you should really be fine.  However, if you're driving a sedan or something with limited space, you'll want to carefully measure in advance.  The optical tube is 47.8 inches long, and the diameter is a little more than 10 inches.  But you should make sure you have a little bit of clearance on both dimensions.
Second, can I pick it up and move it?  Because the base separates easily from the optical tube, you can pick it up in two pieces (making two trips to/from your vehicle).  This makes it a lot easier.  (While it's possible to move in one piece, it's also cumbersome and it increases the chances of damage.)
The base has a handle which makes it easier to pick up, but it still weighs 22.6 lbs.  The optical tube is heavier, at 30.8 lbs.  Also, the "girth" (10") makes it a little more challenging for some people to pick up by themselves.  So, in general you will probably want to have two people carrying it together.
Third, will the size of the XT10 make me less likely to use it?  Only you can really answer this question!  If it makes a difference to you to have a smaller scope because you're more likely to use it – then that powerful 10" aperture won't matter!
One other thing: You might want to think about purchasing a zip-up bag for the optical tube to help protect it during transport, keep it clean, and make it easier to pick up.  If you go to the product page on Telescope.com, you'll see some options on the right for carrying bags.
You May Need to Counter-Balance the Scope If It Becomes Top Heavy
One issue with the XT10 is that it can become unbalanced if you load too much weight at the top of the telescope.
For example, if you add a heavier finderscope, 2" eyepiece, and/or other accessories – the telescope can become "top heavy" and may require counter-balancing.
The most common solution is simply to attach a 3 to 5 lb. weight at the bottom of the optical tube.  Another option is to use magnetic counter-weights.  (Again, if you go to Telescope.com you'll see options for this.)
Crayford Focuser
The Orion SkyQuest XT10 features a two-inch Crayford focuser along with a removable adapter.  The focuser is good quality and allows precise and controlled focus.
Works with 1.25" or 2" Eyepieces
One great thing about the XT10 is that its focuser allows you to use 2-inch eyepieces or 1.25-inch eyepieces (with the included adapter).
Some targets in the night sky (like the Veil Nebula) are best viewed at lower magnification, with a wider field of view than you can get with a 1.25" eyepiece.  This is where 2" eyepieces really shine.  (If you've never used one for a wider view of deep sky objects, you will be in for a treat!)
2" eyepieces are generally a little heavier and more expensive, but we highly recommend adding at least one to go with your XT10.  (See our suggested eyepiece below under Recommended Accessories.)
Additional Adapter Required to Achieve Focus with 2" Eyepieces
One key thing to be aware of:  If you add a 2" eyepiece, you also need to pick up the Orion 5122 eyepiece adapter (see below under Recommended Accessories).  It extends the focuser just a little further, making it possible for 2" eyepieces to achieve focus with the XT10.
Focuser is Single Speed
Being the "no frills" telescope that it is, the XT10's focuser is single speed.  (However, the "XT10 Plus"—covered below—has a 10:1 dual-speed focuser, allowing a little more precision when focusing.)
This is fine in most situations, but it's something to consider if you are debating between the XT10 and the XT10 Plus.  (Also—you can always upgrade the focuser later if needed.)
More Ideas | Orion SkyQuest XT10 Review
Recommended Accessories & Upgrades
Click here to expand
If you want to be able to discern fine details on the moon's surface, you might want to add a moon filter.  Without it, the moon will be intensely bright because the XT10's mirror is so powerful.  We recommend Orion's 13-percent transmission moon filter:
A 6.3 mm eyepiece provides 190x magnification with the XT10 – perfect for getting detailed lunar and planetary images.  Here's a kit from Orion that includes a variety of 1.25″ eyepiece upgrades, including a 6.3mm plus a moon filter and more:
You might want to consider adding a 2″ (32 mm) eyepiece – perfect for star-hopping with the XT10.  Orion's Q70 eyepieces are excellent:
If you plan to use 2″ eyepieces with the XT10, you'll need the Orion 5122 eyepiece adapter:
The finder scope that comes with the Orion SkyQuest XT10 is "Just OK."  The Telrad finder scope is a nice upgrade:
Collimation is a lot easier with a laser collimator, like this one from SVBONY:
If Your Budget is a Little Higher, Check Out the Orion SkyQuest XT10 Plus
While the classic Orion SkyQuest XT10 comes with somewhat basic accessories, Orion also sells a "Plus" version with some nice upgrades and a better accessories package.  (The XT10 Plus is a little bit more expensive than the XT10.  For comparison, you can check out some of our other recommendations for telescopes under $1000.)

Image Credit: Orion (Used with Permission)
The SkyQuest XT10 Plus includes the following upgrades:
Metallic blue finish
Redesigned base with altitude tension knobs (improves stability when using heavier 2″ eyepieces)
Thumbscrew adjustable secondary mirror (for easier collimation)
Dual speed 11:1 Crayford focuser (so you can fine-tune the focus more easily)
Comes with two eyepieces: a 2″ 28mm DeepView eyepiece and a 1.25″ 10mm Sirius Plossl eyepiece
Shorty 2x Barlow lens
Eyepiece rack
DeepMap 600 Folding Star Chart
Lighter weight
Is the SkyQuest XT10 Good for Astrophotography?
The Dobsonian base is not designed for smoothly tracking targets as they drift across the sky.  For long-exposure astrophotography, it's important to leverage a computerized mount with auto-guiding capability.
With that said, you can certainly take wonderful pictures with the XT10, as long as your exposure times are short.  You can simply take the photo through the eyepiece (the easiest way to do it), or you can attach a DSLR camera with a T-ring and an adapter for your camera.
Final Thoughts | Orion SkyQuest XT10 Review
The Orion Skyquest XT10 is a Dobsonian-style telescope offering high-performance optics without a high price tag.
It's super easy to use (regardless of your level of experience) so you can spend more of your time learning, enjoying, and exploring the sky.  You can soak in the pleasure and beauty of the dazzling sights that are possible with such a large-aperture telescope.
The size and weight (while on the heavier side) still allow for portability to your favorite viewing location.  And it easily separates into 2 pieces so you can take it with you into the field.
We also love the fact that this telescope accepts both 1.25″ and 2″ eyepieces – giving you a bit more flexibility and viewing options.
Bottom line: This telescope is just super practical for the amateur astronomer or hobbyist, and we give it a 5 out of 5 for overall value.
(Also, if you liked this article, please share it using the social media buttons below!)