Disclosure: This page contains affiliate links. If you click and purchase through these links, we may earn a commission at no additional cost to you.
Learn more
While many folks love to use a telescope for astronomy, there's a lot to be said for binoculars. They're smaller and more lightweight than a telescope and are more portable as a result. They're also a great option for beginners as they offer an easier way to explore the night sky. So what are the best binoculars for stargazing?  With hundreds of different makes and models available, it's hard to know which one might best suit your needs, so we've taken the guesswork out of buying and found the top 5 binoculars for you.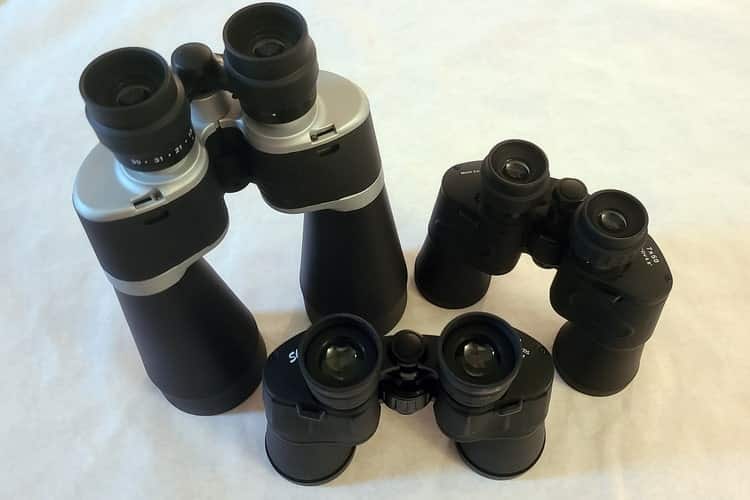 Image Credit: Richard Bartlett / TelescopeGuide.org
Part 1 | Before You Buy: What You Need to Know
If you've never bought binoculars for stargazing before, it's worth taking a few minutes to familiarize yourself with some of the key attributes.  That way, you'll have a better idea of the quality and what to expect when you start to use them.
In all, there are four key features you need to know before you buy your binoculars:
Magnification and Aperture

Prism Configuration and Quality

The Different Types of Optical Coatings

The Importance of Eye Relief
What Do the Two Numbers Mean on Binoculars?
Regardless of make, model or price, every binocular has one thing in common: the two numbers that describe its magnification and aperture.
For example, a common choice for newcomers to binocular astronomy are 10×50 binoculars. The first number indicates the magnification (in this case, 10x) while the second is the size of the objective lenses, as measured in millimeters (in this case, 50mm.)
You'll see other combinations too, such as the Celestron Cometron 7×50 Binoculars, shown below.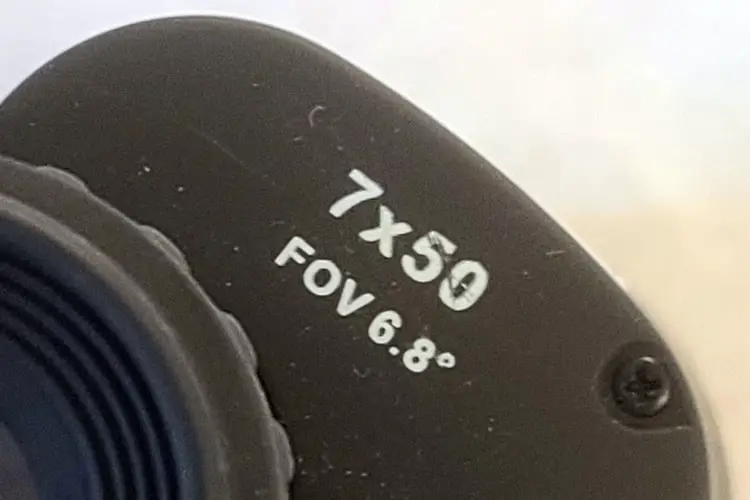 Image Credit: Richard Bartlett / TelescopeGuide.org
Which is More Important? Magnification or Aperture?
You might think that magnification is the more important of the two, but magnification without aperture doesn't do a lot of good. More specifically, the larger the aperture, the more light the lenses can gather. As a result, you'll see more stars, fainter objects and more detail on those objects.
Magnification simply makes an object larger, but won't necessarily reveal any more detail. For example, if you turn your binoculars toward a star cluster, you might see 50 stars through 10×42 binoculars. Look at the same cluster with 10×50 binoculars and while the cluster might appear about the same size, you'll most likely see more stars because the larger lenses are able to gather more light.
Conversely, using 20×50 binoculars will make the cluster appear twice as large but you'll only see the same number of stars as you would with 10x50s.
The reason 10x50s are a good choice for beginners is that magnifications greater than 10x can make it difficult for newcomers to navigate their way around the sky. Since the magnification is higher, the area of the sky you'll see through the binoculars will be smaller as a result.
Other Considerations for Binoculars for Stargazing
The other factor is weight; while 15×70 binoculars offer greater magnification and aperture, they're also noticeably heavier than 10x50s and often require a tripod for the best views.
Related to magnification and aperture is the binocular's field of view, or more specifically, how many degrees of sky you'll be able to see through them. This is arguably a matter of aesthetics and personal choice, but you'll want binoculars that provide a reasonably wide field of view. The larger the magnification, the smaller the field of view. Most 10×50 binoculars have an angular field of view of between six and seven degrees.
What Are the Two Different Types of Binocular?
There are two different types of binoculars for stargazing you'll come across: porro and roof prism. The name refers to the configuration of the prisms within the binocular. Porro prism binoculars are what you might consider being the traditional type of binocular; they have two barrels with large objective lenses at one end and eyepieces at the other. Their physical shape typically resembles the letter W, with the eyepieces at the narrow end.
The other type of binocular, roof prism, is a relatively new design and resembles the letter H. Small, light and compact, they're really designed for hikers, birders and campers.
While it might seem that roof prism binoculars are the better choice, it's worth noting that their manufacture requires a more complicated process and the binoculars are more expensive as a result. Their lightweight and compact design also comes at a price; roof prism binoculars suffer from light loss and produce a slightly inferior quality of image.
If you only want to look at the Moon, this might not be a problem, but since a lot of what you'll see in astronomy can be described as faint and fuzzy, roof prism binoculars may not show those objects as well. More often than not, amateur astronomers will choose the traditional Porro prism binoculars over their more recent counterparts. Correspondingly, each of the five binoculars selected are of this type.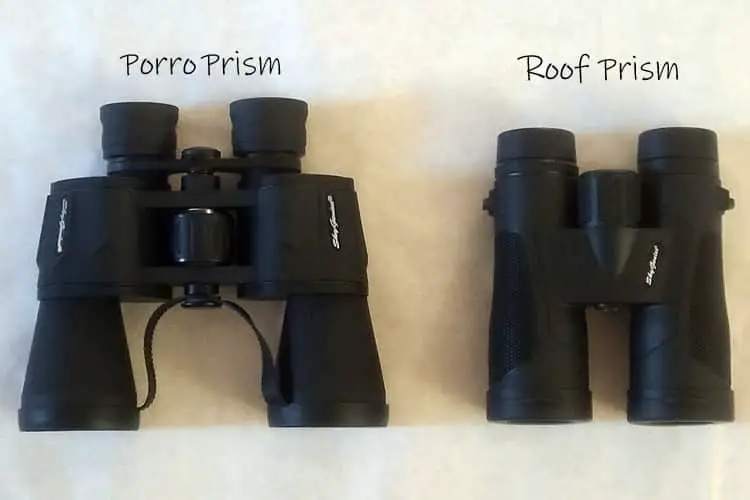 Image Credit: Richard Bartlett / TelescopeGuide.org
What Are the Two Different Types of Binocular Prism?
In terms of the prisms themselves, there are two types in common usage today: BK-7 or BaK-4 prisms. BaK-4 prisms are made of a higher-density glass and are consequently more expensive to manufacture, but they also produce a better quality image. 
BK-7 prisms are cheaper to produce but are prone to light loss and don't function as well in low-light conditions. The periphery of the image can also appear hazy and high contrast targets (for example, the Moon) can suffer from chromatic abberration.
Not surprisingly then, BaK-4 prisms are preferred for astronomy but tend to be found in the more expensive binoculars, whereas BK-7 prisms are found in the binoculars at the lower end of the price scale. 
Which Type of Optical Coating is Best in Binoculars for Stargazing?
There's one other factor that plays a part in determining the quality of binoculars you're about to buy: the optical coatings. The lenses of binoculars are coated to reduce light loss and glare, but there are four common methods of coating in use, and their effectiveness varies accordingly.
Coated Lenses

– this is the least common and least expensive method of coating lenses, and, at minimum, involves a coating of one objective or eyepiece lens on one side of its surface.

Fully Coated (FC)

– at least one coating on both sides of both the objective and eyepiece lenses and the long side of the prisms.

Multi-Coated (MC)

– multiple coatings are applied to one or more of the lenses.

Fully Multi-Coated (FMC)

– multiple coatings are applied to the prisms and both the objective and eyepieces lenses.     
Fully multi-coated lenses are preferred and are found in the more expensive binoculars.
What Is Eye Relief and Why Is It Important?
Eye relief doesn't play a large part in the quality of the image as such, but it does make a significant contribution to the comfort of the observer. Eye relief is measured in millimeters and is defined as being the distance from the eyepiece that the exiting light forms an image.
In practical terms, it's the distance you should hold the binoculars away from your eyes in order to get the best view. This is important to anyone wearing eyeglasses, as it's not possible to hold the binoculars directly up to the eye. 
Eyeglass wearers benefit from using binoculars with a longer eye relief (greater than 16mm) as this will allow for more distance between the eyepieces of the binoculars and the eyes of the observer. It's also advisable for eyeglass wearers to roll or twist the eyecups down to allow for the maximum distance.   
If the eye relief is too short (for example, 13mm) then eyeglass wearers may not see the full field of view as their eyes may be further than required by the binoculars.
Eye relief is not such an important factor for anyone not wearing eyeglasses and leaving the eyecups extended will help to keep the eyes at the proper distance from the eyepiece lenses. 
Part 2 | Our Top 5 Best Binoculars for Stargazing
I've tested and reviewed dozens of astronomy binoculars over the years.  Below are my top 5 recommendations for your first pair of binoculars if stargazing is your main priority.  These recommendations include several good budget options if you're looking to stretch your investment.
(Before we begin, please note that product pricing, price categories and availability are accurate as of the date of this post, but are subject to change. This post represents the author's opinion, based on research and experience, of the "best" or "top" products in this category; the opinions of others may vary. If you have other questions, let us know through our 'contact us' page and we will try to get you more information.)
1. Celestron SkyMaster 15×70 Binoculars

– Best Binoculars Overall

When it comes to binoculars for stargazing, there's one model that consistently stands out from the crowd – the SkyMaster 15×70 from Celestron. There's actually a wide variety of binoculars in the SkyMaster range, from 8×56 up to 25×100, and when it comes to astronomy, every one is a good investment.  (See also our review of the SkyMaster 20×80.)

So what makes the 15×70 model the best choice? For starters, the higher magnification and larger aperture allow you to see more detail than you could with standard 10×50 binoculars. This makes it great for general astronomy, not to mention daytime use with terrestrial targets.

Eye relief is a respectable 18mm, slightly more than the average 16mm, making it possible for anyone wearing glasses to observe comfortably.

The only negative aspect is the binocular's weight. At three pounds, they're a full pound heavier than most 10×50's, and while it might not sound like much, it can be difficult to hold larger binoculars steadily. They can also cause some arm fatigue if used for a prolonged period of time. Attaching the binoculars to a tripod using the provided adapter can help to resolve both those issues.

That said, the SkyMaster 15×70 is capable of producing some fine views. With the better quality BaK-4 prisms and fully coated lenses, there's greater contrast, less glare, and little to no chromatic aberration around the edges of bright, high contrast objects, such as the Moon.

Lastly, at their typically modest price point, SkyMaster 15×70 binoculars present excellent value for money, but if you're looking for even more bang for your buck, consider the SkyMaster 25×70 too. For only another $15-$20 or so, you'll get views that can rival those of a small telescope.
2. SkyGenius 10×50 Binoculars

– Best Binoculars for Beginners

If you're new to the hobby but aren't ready to jump right in with a telescope, you can't go wrong with the SkyGenius 10×50 Binoculars, and they offer outstanding value for money. 

A magnification of 10x is a great way to start exploring the night sky; it's enough to give great views of the Moon, multiple stars and deep-sky objects, such as star clusters. Their weight (the SkyGenius 10×50 binoculars are a little under two pounds) also allows you to take them anywhere and use them for an extended period of time without suffering from arm fatigue.

The SkyGenius 10×50 binoculars provide a decent angular field of view of seven degrees, making it easy for beginners to find their way around the night sky. (Higher magnifications typically have a small angular field of view. It's therefore trickier for users to get their bearings, especially if they're unfamiliar with the area of sky they're observing.)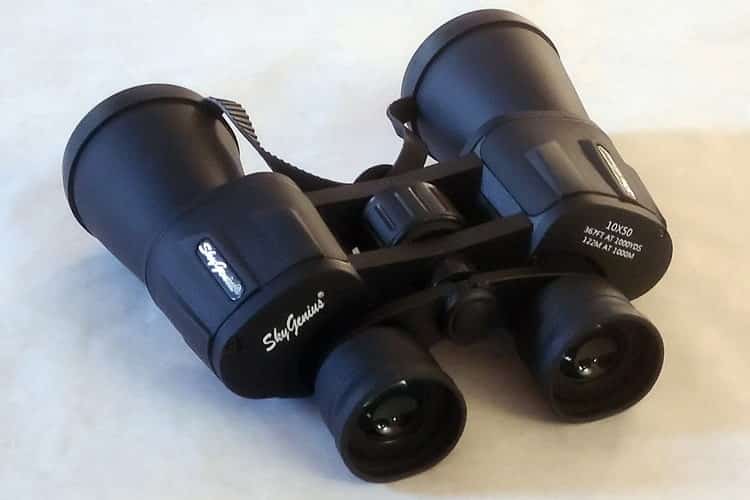 Image Credit: Richard Bartlett / TelescopeGuide.org
Seven degrees is also a nice, wide field of view to enjoy conjunctions of the Moon and planets, not to mention attractive views of larger star clusters, such as the Pleiades and Hyades. It's also great for enjoying close-up views of terrestrial landscapes during the daytime.
Eye relief is a comfortable 18mm, and while these binoculars utilize BK-7 prisms (as opposed to the better quality BaK-4) the view is just fine and will produce good views of your chosen target. Images are sharp and have good color, with very little distortion toward the edge of the field of  view. The BK-7 prisms did result in a little chromatic aberration around the Moon, but not enough to be a problem.
3. Orion 20×80 Astronomy Binoculars

– Best Binoculars for Deep-Sky Observing

   

Image Credit: Orion (Used with Permission)
You might think that expecting outstanding views at an affordable price might be asking for too much. However, Orion Telescopes and Binoculars disagree and have produced their 20×80 Astronomy Binoculars to realize that dream.
With a magnification of 20x and objective lenses of 80mm, these binoculars have both the power and the aperture to produce close-up views of celestial targets that are sure to wow even the most experienced observers.
Like Celestron's SkyMaster 25×70 binoculars, you'll find the views will rival those of a small telescope, but with 10mm of extra aperture, Orion's binoculars will pull a little more light and enable you to see a little more detail.
Another advantage of these binoculars is that the optics are fully multi-coated. The prisms are also BaK-4 (just as the same as the SkyMaster 25×70), so you know you'll be getting the best image possible.
The views are sharp, with very little distortion around the edges, and the nearly full Moon had surprisingly little glare. These binoculars have an eye relief of 17mm, making them comfortable for anyone wearing glasses.
The contrast was also very good, and allowed for a lot of detail to be visible on the Moon's surface, while the magnification made it easy to identify craters and other features. Views of the Pleiades and the Orion Nebula were outstanding, but with an angular field of view of 3.2 degrees, you'll find them just a little too restrictive for the Hyades.
However, at 4.7 pounds, these are not binoculars most observers will be able to hold for very long. As such, you'll also need to buy a tripod to support them, otherwise you might find your arms are aching the next day!
4. Celestron Cometron 7×50 Binoculars
–
Best Budget Binoculars
Binoculars can be expensive, and top-of-the-line models can cost more than a thousand dollars. Not everyone has that kind of money to spend, especially when you're just starting out in astronomy, so it makes sense for you to invest your money wisely and choose something more affordable instead.
Fortunately, spending less doesn't necessarily mean comprising quality, as Celestron's Cometron 7×50 binoculars provide both value for money and views worthy of more expensive equipment.
At first glance, a magnification of 7x might seem a little low, but if you're just learning the night sky this can be advantageous. The magnification, coupled with the 50mm objective lenses, results in an angular field of view of just under seven degrees, making it easy to navigate your way across the sky.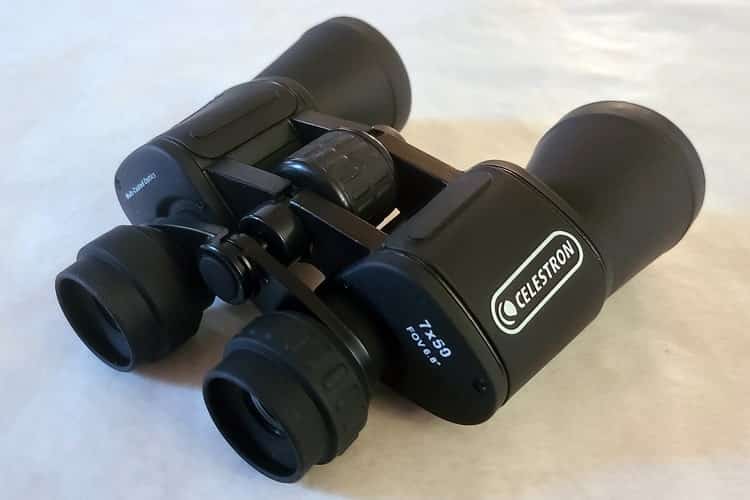 Image Credit: Richard Bartlett / TelescopeGuide.org
Besides being a good magnification for observing large star clusters and conjunctions of the Moon and planets, it's also great for terrestrial targets too. Weighing in at two pounds, they're light enough to be taken anywhere and are a great choice for hiking and camping. (They even come with a padded strap for extra comfort.)
The prisms are BK-7 and the lenses are multi-coated (rather than fully multi-coated, like the SkyMaster range), which shouldn't come as a surprise given the price tag, but that doesn't mean you're compromising on quality. Views of the Moon were bright and sharp, with good contrast and very little chromatic aberration. Similarly, views of the stars were sharp and colorful.
The downside? At 13mm, the eye relief is a little short, but this shouldn't be too much of a problem for the majority of eyeglass wearers.
5. ESSLNB Zoom Astronomy Binoculars

– Best Value for Money Binoculars

While each of our choices are affordable and excellent for astronomy, there's one option that – in terms of magnification and aperture – presents perhaps the best value for money.

The ESSLNB Zoom Astronomy Binoculars might be one of the best kept secrets in astronomy. Besides boasting 70mm objective lenses, the magnification can be zoomed from 13x to 39x, allowing for some great close-up views of the Moon and deep sky objects. More than this, when Jupiter and Saturn are at their best, you should also be able to see each planet as a disc.

Want to try your hand at some basic astrophotography? The binoculars include both a tripod adapter and a smartphone adapter, allowing you to attach the binoculars to a tripod and take photos of the Moon. (Realistically, the Moon will be your best chance for success here, as other objects, such as star clusters, may be too faint to be imaged.)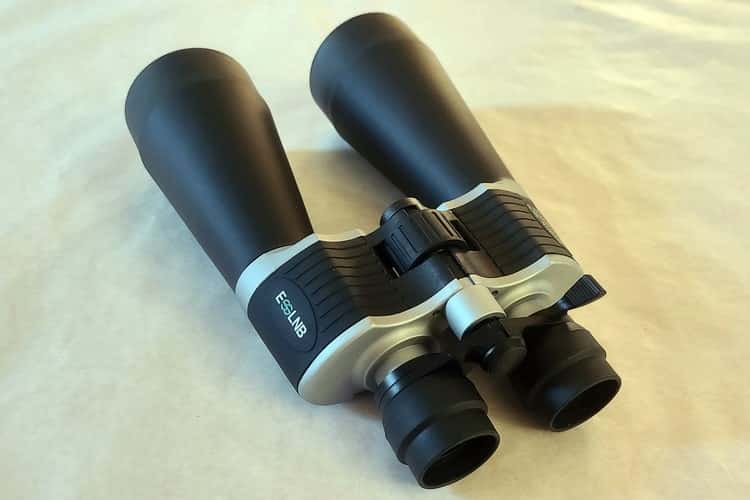 Image Credit: Richard Bartlett / TelescopeGuide.org
The prisms are BK-7 and therefore not up to the same quality as the BaK-4 prisms you might find elsewhere, but the optics are fully multi-coated to reduce glare and increase contrast. Eye relief and angular field of view will vary, depending upon the magnification you're using, but like the Celestron Cometron 7x50s, eyeglass wearers shouldn't have too much of a problem.
Lastly, although these binoculars are comparatively light (just 2.7 pounds) it's best if you use them with a tripod. They're a little on the large and unwieldy size and a tripod can help to make them easier to use. In general, the binoculars produce good views of the Moon and deep-sky objects, such as the Pleiades and Orion Nebula.
There's a little chromatic aberration around the Moon at 13x, which is slightly more pronounced at 39x, but not so much that it ruins the view. It should also be worth noting that the zoom feature won't bring more stars into view (since you're not also increasing the aperture) but will magnify the view to make it easier to see what's there.
Final Thoughts
Binoculars are a great way to start your adventure into astronomy. They're the ultimate grab 'n go instrument when the skies suddenly clear, or when you need something light and compact for your camping trip. Any one of the binoculars featured here will perfectly fit the bill!
(Also, if you liked this article, please share it using the social media buttons below!)
About the Author
Richard J. Bartlett: Richard has been featured in Sky & Telescope and Astronomy magazine.  He's written and published a number of astronomy-related books, and we're super happy to be able to work with him on Telescope Guide articles.
Why You Can Trust Our Reviews
At TelescopeGuide.org we're as passionate about astronomy as you are. As such, we take our recommendations seriously and would never recommend anything we wouldn't be willing to buy and use ourselves. When we consider our recommendations, we look at a wide variety of products from a range of manufacturers. We take into account the quality of the product, as well as its durability, ease-of-use, performance, and overall value for money.

Whenever we can, we test the products ourselves or, if that's not possible, we consider the opinions and experiences of other astronomers. Lastly, we take all these criteria and make our decision by creating an objective score for each one. In this way, whatever your needs, requirements or budget, you can be sure you're getting the best possible advice before you make your buying decision.

Feature Image Credit: m-gucci / iStock