Disclosure: This page contains affiliate links. If you click and purchase through these links, we may earn a commission at no additional cost to you.
Learn more
As parents of kids who love astronomy, we were delighted to find this Astronaut Starter Kit from KiwiCo.  We gave it to our youngest son as he recently celebrated his 8th birthday.  The Kiwi crate includes two build-it-yourself kits: (1) a working miniature model of the solar system for kids (with rotating planets that we painted ourselves!) and (2) a rocket-launcher that looks just like the NASA space shuttle (and it really blasts off!).  Keep reading below for our full review.
Review: KiwiCo Astronaut Starter Kit | Solar System Model for Kids
As parents of 3 school-aged kids, we are always on the lookout for gifts that are educational and help instill a sense of creativity and wonder.  Plus, our kids love science, space, and all things astronomy.  We like to give our kids things that enable them to build, create, and learn.  And we try to avoid things that are merely to be used, consumed, then quickly discarded.  (If you're a parent, I'm sure you know exactly what I'm talking about here.)
We've built many of the Kiwi crates from KiwiCo over the past few years – and this one was definitely one of our family favorites so far!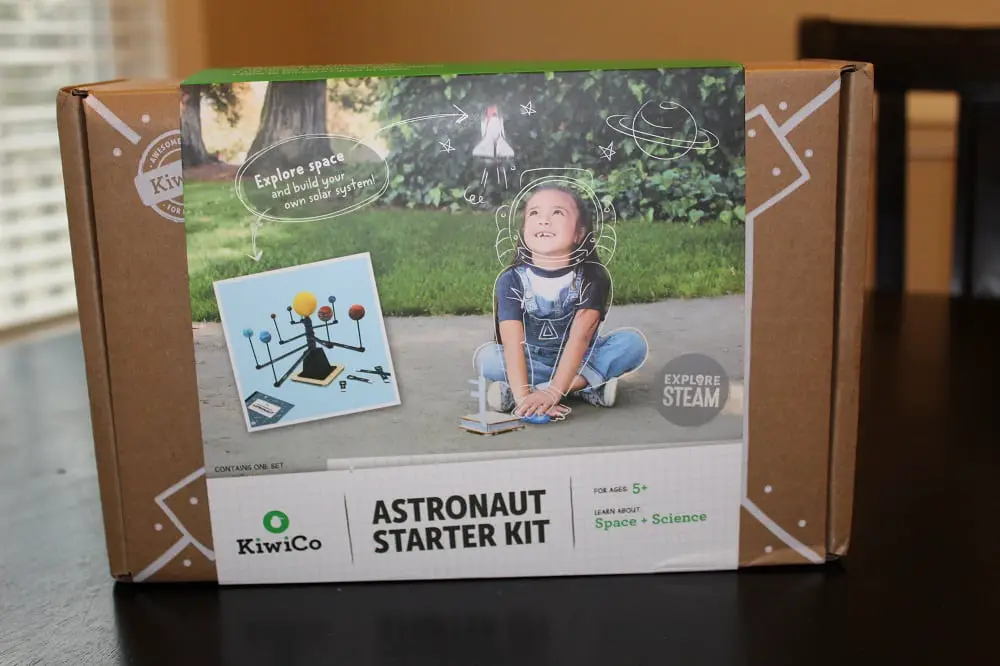 Highlights
Solar system model for kids
The best thing about this Kiwi crate is the working model of the solar system.  Not only was it fun and interesting to build, but we found the kids looking at it and playing with it in the days following the build.  Additionally, the finished model looks very nice!  So it may find a semi-permanent home as an educational piece on one of the bookshelves in the kids' playroom.  Keep reading below to see what it looks like.
Space shuttle / rocket launcher
When we got the kit we were mostly focused on the solar system model, and I barely even noticed that the crate also comes with a working rocket launcher that looks just like the NASA space shuttle!  This was fun to put together and even more fun to count down and launch.  10, 9, 8… 3, 2, 1… blast off!
Instructions
The folks at KiwiCo have a reputation for super high-quality STEM activities and educational toys for kids.  As you might expect, the instructions were superb, intuitive, and designed with kids in mind.  Highly pictorial and easy-to-follow, each of the two models came with its own step-by-step instruction pamphlet.
Painting the planets
Honestly, as a parent this was not something I was looking forward to.  I could totally envision it being messy and/or difficult for the kids to do.  I was totally wrong about that!  As it turned out, this was our favorite part of building the solar system.  Everything needed was included – paint, paintbrush, and even a small protective sheet to keep us from getting paint on our dining room table!
Solar system poster and astronaut booklet included
Last but not least, we were surprised to see the Kiwi crate came with 2 additional beautiful and educational resources.  First, it came with a solar system poster that we plan to hang in our son's bedroom.  Second, it came with an Astronaut's Guide booklet including lots of fun facts about being an astronaut, history of space exploration, and more.
What's in the Box
Solar system model for kids with all the parts & pieces needed to put it together – sun, planets, spinners so they revolve around the sun, and a sturdy base.
Rocket launcher (looks like the space shuttle) with all the parts & pieces needed to put it together – it's actually made from a Nerf-style dart and shoots with a small air pump (also included).
Astronaut's Guide booklet.
Solar system poster.
Two sets of instructions – one for each of the models.
Paint, paintbrush, and protective sheet.
The booklet, instructions, and poster all come in a folder that looks sort of like a composition book, labeled "A Guide to Being an Astronaut".  Inside the folder we also found a small "Achievement Certificate" where you can write your child's name.
Solar System Model for Kids (Not to Scale)
We had a lot of fun building this model of the solar system.  And so did our son (plus the older kids jumped in to help as well).  But not only did they have fun, it also engaged them in thinking and learning about the solar system as they built.
For example, as they put the planets on the spinners they were naturally learning to differentiate the planets by name, by size, and by distance from the sun.  Later when it was time to paint, we found ourselves researching each of the planets online.  The kids really wanted to get the best image of each one to try to copy with our amazing artistic skill.
Assembling the Solar System Model for Kids
When you open the Kiwi crate box, you realize immediately how much attention to detail goes into each of the KiwiCo crate kits.  The packaging and all the pieces are super high quality.
We quickly pulled out all the pieces, found the instructions, and started putting together the solar system model.  The instructions were impressively simple, visual, and easy for our son to follow.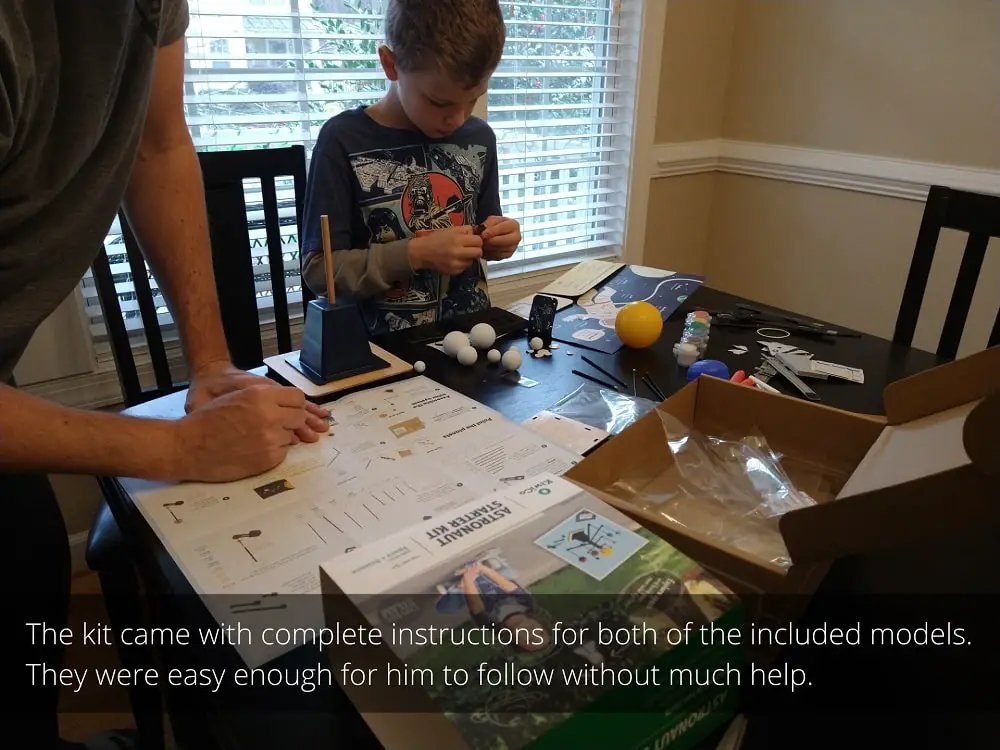 The planets are foam balls and attached to "spinners" which allow them to revolve around the sun.  The spinners are labeled so the kids can work on learning and/or memorizing the names and order of the planets in the solar system.
There are 4 sizes for the planets (small, medium, large, and giant) which helps to visually differentiate the largest planets (Jupiter & Saturn) from the smallest ones (Mercury & Mars).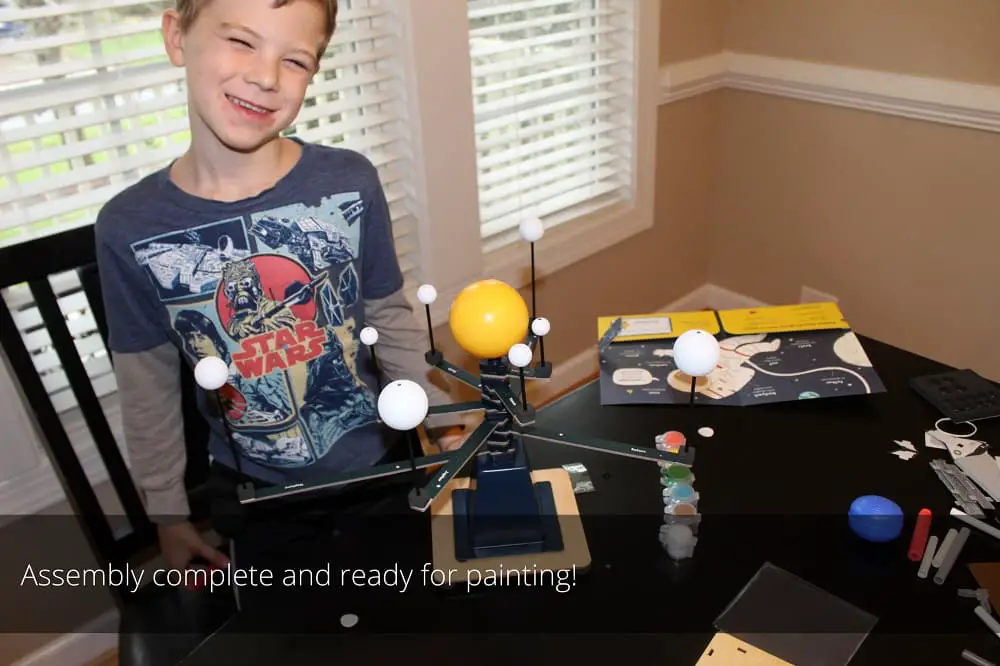 Another thing (which is probably obvious but still worth pointing out):  The solar system model for kids is NOT to scale.  The KiwiCo folks helpfully point that out on the back of the Astronaut booklet – "Even if our Earth were as small as a peppercorn, the relative size of the sun would be as big as a bowling ball!"  I think this was a wise choice on their part.  For kids, I think the educational value is far better with a more accessible, kid-friendly size.
Painting the Planets
Once the model was fully assembled, it was time for us to paint the planets.  To be honest, I was a little worried about this step, for two reasons: (1) It seemed like it might be a little too hard for an 8 year old, and (2) I could just imagine the mess.
However, we were delightfully surprised at how easy and fun it was to paint these little foam planets.  Everyone ended up pitching in to help, and this was definitely the most satisfying and interesting part of building the solar system model.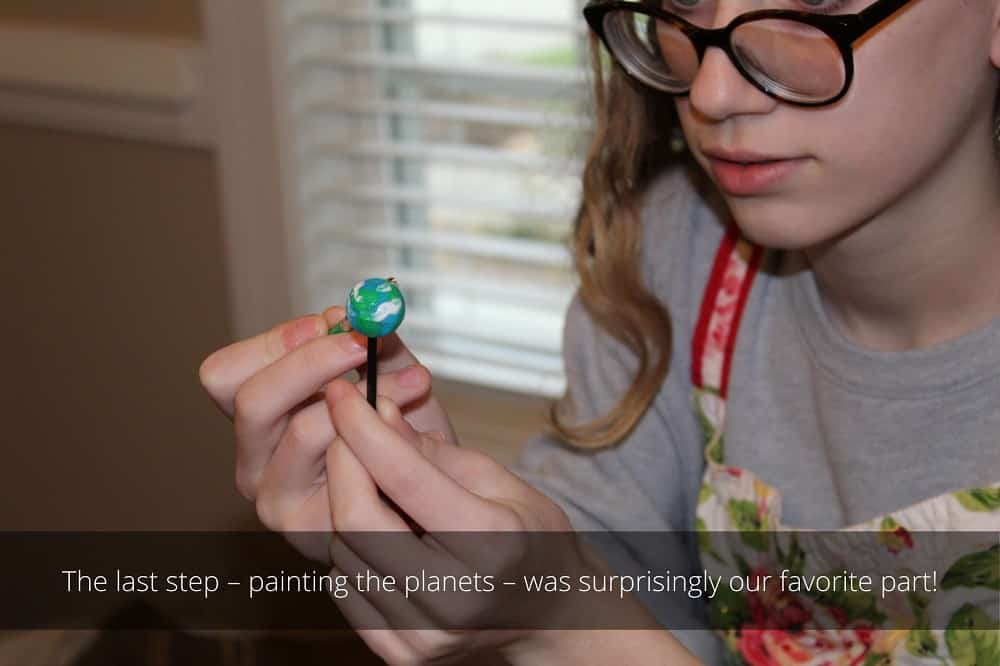 The Kiwi crate came with everything we needed to do the painting.  It included the paint and paintbrush, plus we added an extra paintbrush from our watercolor set.  It also included a little brown sheet to help protect our dining room table.
All we needed was a little bit of inspiration and creativity.  We first looked at the box and the poster for some ideas.  But ultimately we wanted more pictures so we could have a better idea what each of the planets should look like.  So, the kids ended up going online and did a fair amount of research on each of the planets.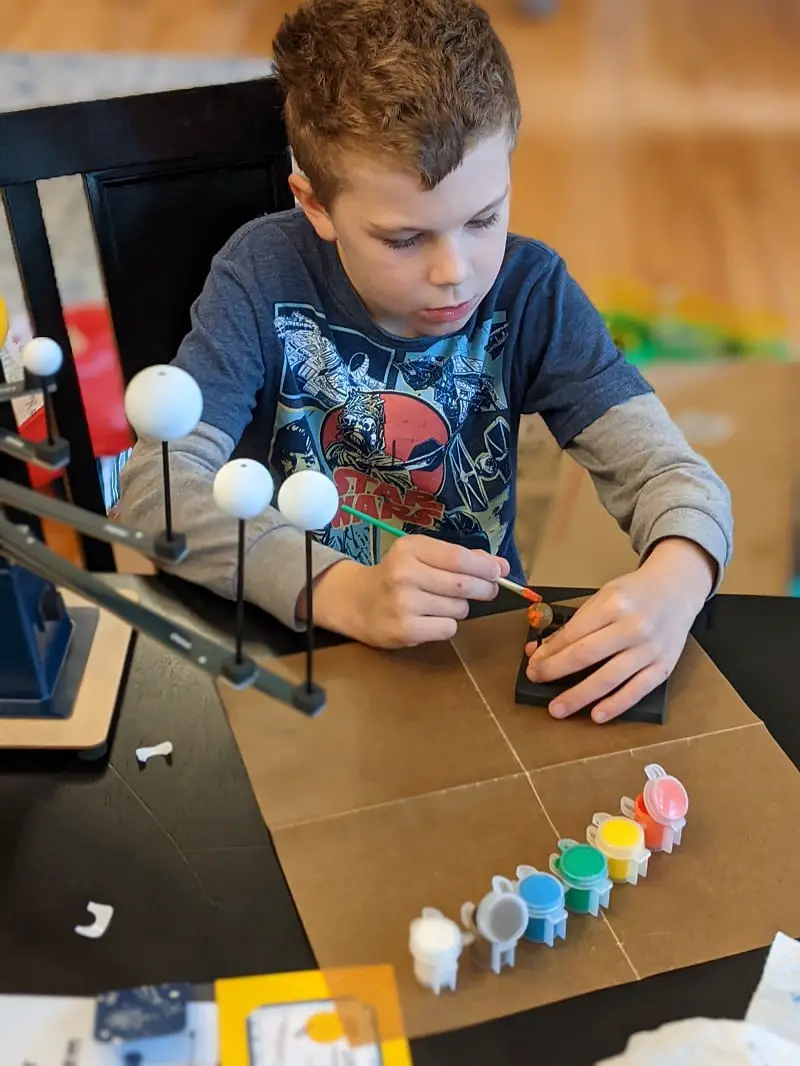 I think our solar system model turned out pretty well overall.  (Well, except for Saturn which was painted by Dad.)  You can see a photo of the final result at the bottom of this page.
Space Shuttle / Rocket Launcher
Once we finished the solar system model, it was time to tackle the next part of the 2-in-1 kit.  (Which, by the way, really speaks to the value offered by KiwiCo.  At first glance their kits might sound expensive, but when you really dig into the crate you realize it is jam packed.  And this is especially true for this review of the KiwiCo Astronaut Starter Kit, because it includes not one but TWO models, plus a booklet and a poster.  It's really a fantastic value for the price paid.)
So, we started building the space shuttle and the rocket launcher which uses a hand pump to shoot the rocket into the air.  The space shuttle is a neat design that centers around a Nerf-style dart.  The dart is colored red and eventually ends up being the main fuselage of the space shuttle's rocket.  A few other pieces are added to the dart, completing the design.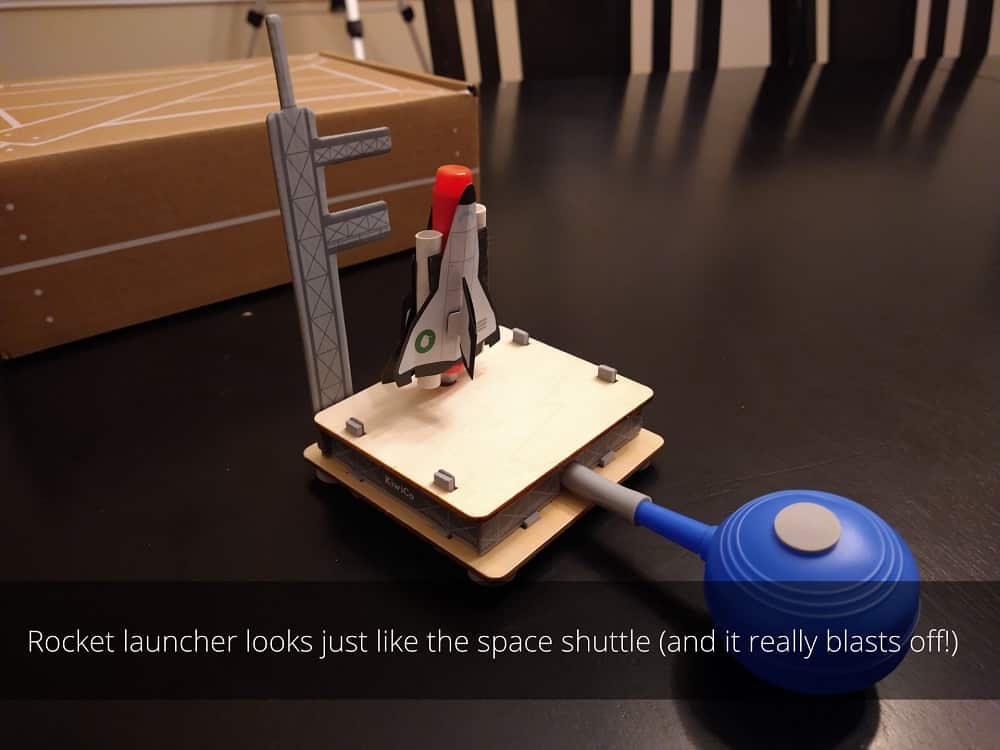 Note: If you look closely at our version of the space shuttle in the image above, you'll notice that our space shuttle is double-sided.  Our son really, really wanted the shuttle to be symmetrical for some reason, and he insisted on having the shuttle mounted both in front of and behind the rocket.  Sigh.  I tried explaining that this is just not how it's done at NASA – but alas, it was a battle not worth fighting.  I think our next step will be to do some more basic research on YouTube about the space shuttle!
Solar System Poster
One cool thing that we didn't expect was the included solar system poster.  It's a high quality design and the size is perfect for hanging in a kid's bedroom.  At 19″ x 13″ in size, it will fit nicely on a closet door or on a small wall space.
The poster is beautifully drawn and includes key facts for each of the planets.  At the bottom of the poster is a more accurate depiction of the distances between the planets and the sun.  So, the poster is a good educational supplement to go along with the model; you can use it to explain the differences between the model (which is not to scale) and the true scale of the solar system.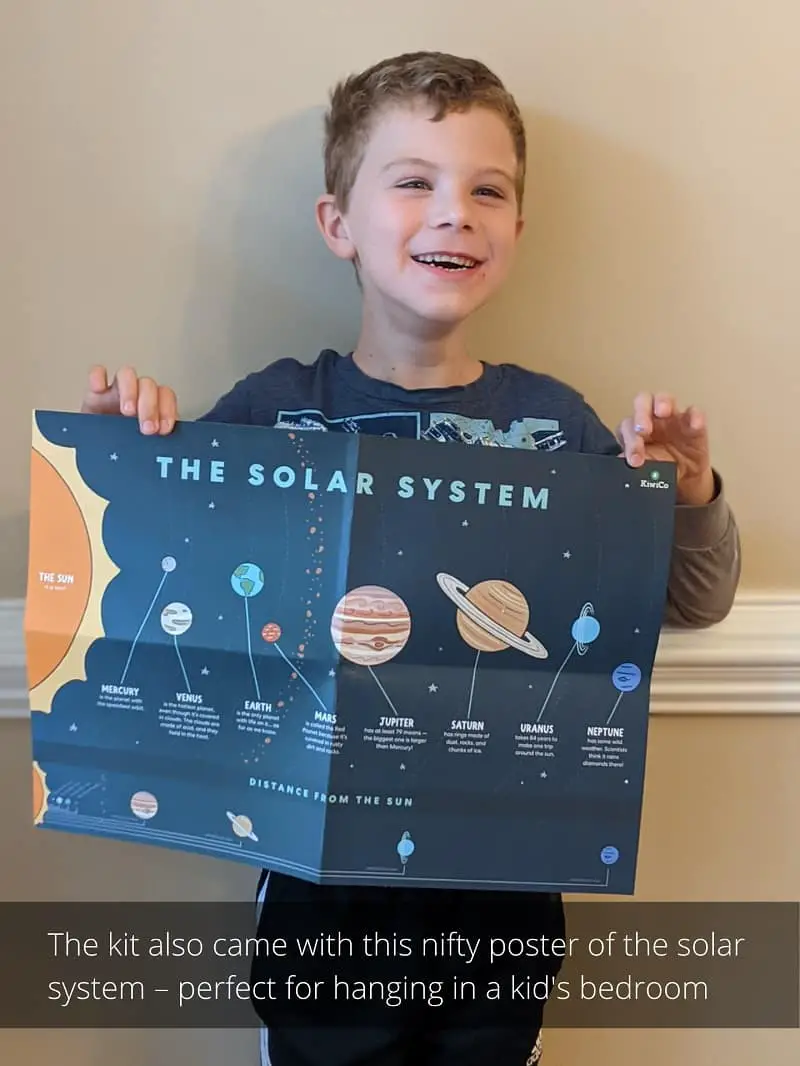 Astronaut's Guide Booklet
Many kids dream of becoming astronauts when they grow up.  Another little surprise in the Kiwi Astronaut Starter Kit crate is this little booklet.  It includes a short and sweet collection of interesting and fun facts.
What is an astronaut, and what characteristics are helpful if you become one?  What is it like to work on the International Space Station?  These questions (and more) are answered in a simple, kid-friendly way that is engaging and interesting.  This short little booklet also has a nice infographic on the history of space exploration.  Any kid interested in one day going to space will enjoy browsing through this little companion to the model kits.
Additional Ideas for Astronomy-Loving Kids
Especially since the beginning of the covid-19 pandemic in 2020, astronomy has become a much more popular hobby for families.
One great way to get started is to start with a small telescope for kids.  A basic telescope will help take your interest in space, the solar system, and astronomy to the next level.
And, while you're here, there are tons of ideas throughout this website for beginner telescopes to fit your budget and needs.  You could start by learning the differences between the two major types of telescopes, and then check out one or two of our guides.
Finally, if you're looking for more kids astronomy ideas, be sure to check out our gift guide for kids who love space and astronomy.  These  can help super-charge your child's interest in the solar system and beyond!
Monthly Subscription Box Option
KiwiCo also offers monthly subscriptions to super-charge your child's interest in STEM.
If you subscribe monthly, you'll get a new "crate" delivered every month.  These are available based on age categories: The "Kiwi" crates are for kids ages 5 to 8, but there are options both for younger and older kids.
Final Thoughts: KiwiCo Astronaut Starter Kit | Solar System Model for Kids
To close out this review, I'll just summarize by saying we had a lot of fun building this solar system model and space shuttle with the KiwiCo Astronaut Starter Kit.  And, it added some educational value as we spent an afternoon researching planets in the solar system.
Also, if your child is interested in learning about what it takes to be an astronaut, the included Astronaut's Guide is a fun way to introduce them to the profession – while also teaching them a little bit about the history and technology involved in space exploration.
We would definitely recommend this for other families looking for gift ideas for kids.  It's really a fantastic gift to help foster a life-long love of science and astronomy!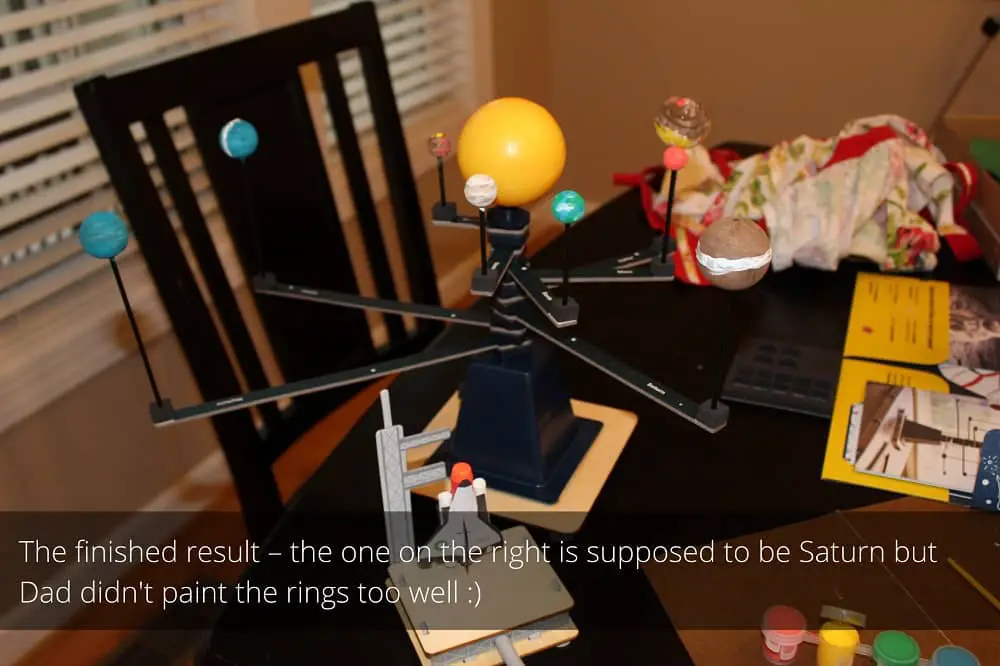 (Also, if you liked this article, please share it using the social media buttons below!)