We all want our kids to develop a love for science and curiosity for the night sky. Exploring the stars, planets and other celestial objects with a telescope is a great way to do this that's easier than you think! You might enjoy a clear view of a starry night on camping trips, catch a glimpse of Jupiter from your backyard, or introduce your young stargazer to astrophotography with a basic telescope and smartphone adapter. I've made great memories teaching my kids to find the Orion constellation while looking out their window at bedtime.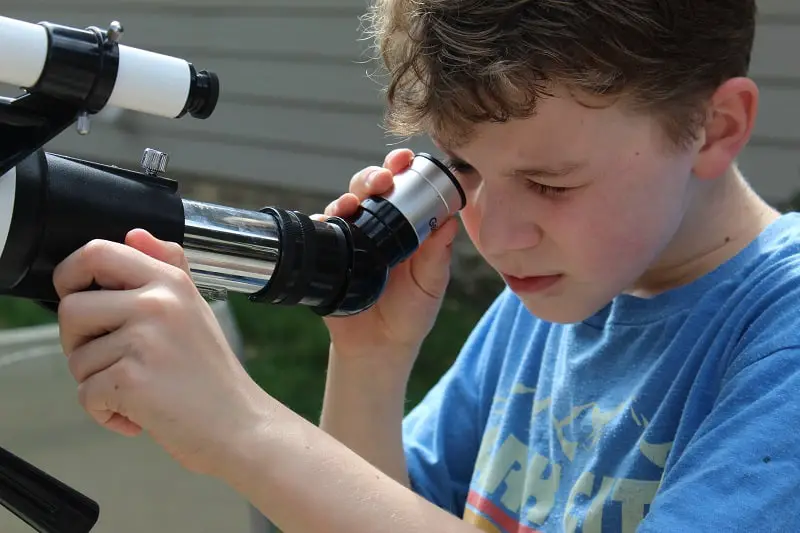 Image Credit: Brian Taylor / TelescopeGuide.org
Regardless of whether your child simply loves the stars or becomes the next young astronomer like Ana Humphrey, this guide to the best telescopes for kids will make it easier to buy a telescope for your child and build that love of stargazing that they will carry through life. We have curated the list below to balance cost and quality.  Of course, you get what you pay for with telescopes. But we wouldn't recommend breaking the bank on a first telescope for a child. The list takes that into account. We've also set out other criteria to consider at the bottom of the post.
(Also, before we begin, note that the products are available as of the date of this post, but that is subject to change. This post includes the author's opinion, based on research and experience, of the "best" or "top" telescopes in this category. The opinions of others may vary.)
Our Take on the Best Telescope for Kids
Here are our 2021 recommendations for the best telescope for kids:
1.
Orion Observer 70mm II AZ Refractor

Image Credit: Orion (Used with Permission)
Our favorite telescope for kids. The Orion Observer 70mm II is, in our view, one of the best telescopes our top pick in the kids category (as well as our top under $100) for a few reasons.
First, refractors provide some of the brightest images for low cost. The Orion Observer 70mm II – a portable refractor telescope with a crisp, sharp image quality – stands out here. You will get a great view of the moon and can see the rings of Saturn and details of Jupiter, not to mention some of the Messier objects with the right night sky conditions.
Second, this telescope just looks like a telescope. Your kids won't be disappointed. Orion has provided a quality build and nice finish, and done a good job putting together a solid product for low cost.
Third, it's easily portable by a kid and can be used in a variety of locations from your backyard to camping trips.  (And be sure to check out our guide to the best dark sky locations for stargazing.)
In sum, you're striking an excellent balance of image quality; sleek, traditional build; and ease of use with this one.
Scorecard – Orion Observer 70mm II AZ Refractor
Why We Like It
As mentioned above, this telescope provides very good images for the lowest price category. For a starter / kids telescope, you will get good value and a balance of features. Your child can see all they need to determine whether astronomy really interests her and whether you want to invest in a larger scope.  The Orion Observer 70mm II comes with a multi-coated, achromatic, 70mm glass objective lens, with a focal length of 700mm (f/10). This kind of glass lens will take in 36% more light than a 60mm lens, resulting in brighter, crisper views. The lens quality / coating also results in less chromatic distortion than some other refractor telescopes, particularly when viewing the Moon.
The Orion Observer 70mm II also comes with a great set of starter accessories that young astronomers will appreciate. These two 1.25″ Kellner eyepieces (25mm and 10mm), an altazimuth telescope mount, a red-dot sight, a 1.25″ rack and pinion focuser, a 90-degree star diagonal, and the Orion Moon Map, which will help your child understand and identify features of the Moon.
This is an excellent telescope for kids that, in our view, provides top value at a low price point.
Pros
Sharp, crisp images with multi-coated, achromatic lens
Light and easily portable at just 7.4 lbs.
Good set of accessories, including tripod, lenses and Orion Moon Map
Cons
Not for high-powered viewing
2. Gskyer 70mm AZ Mount Refractor Telescope for Kids
Our second pick for the best telescope for kids is the Gskyer 70mm. This is an excellent, portable refractor telescope at an affordable price. The Gskyer makes the perfect present for young children that want to get started with astronomy.
Scorecard – Gskyer 70mm AZ Mount Refractor Telescope
Why We Like It
An incredibly popular telescope, the Gskyer 70mm offers everything needed to get started with a decent-quality telescope at an affordable price. The magnification (16x to 40x with the included 25mm and 10mm eyepieces) works well for beginners. The scope also includes a 3x Barlow lens, providing further magnification.  The telescope will provide good views of the moon, solar system objects, and star clusters.  Additionally, you can use the scope during daylight hours for wildlife observation and general viewing.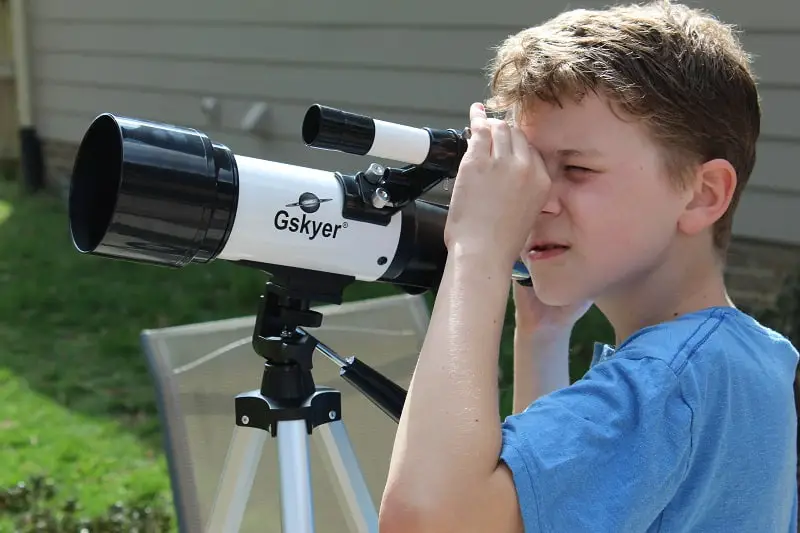 Image Credit: Brian Taylor / TelescopeGuide.org
The Gskyer 70mm offers good portability (fairly lightweight) and ease of use in a simple design. Gskyer has provided an acceptable build quality for the price range. The optics are glass and fully-coated, while the accessories set it apart. These include a smartphone mount, wireless remote control, multiple eyepieces, Barlow lens, 5×24 finder scope, aluminum-alloy tripod, and carrying case.  Overall, Gskyer has made a fantastic starter scope appropriate for kids or beginners.
(For more on this one, see our full review of the Gskyer 70mm.)
Pros
Perfect for kids or beginners
Comes with smartphone mount, Barlow lens and a wireless remote control
Sets up in minutes and simple to use
Lifetime maintenance from Gskyer
Cons
An introductory, traveling scope, not for high-powered viewing
3. Celestron AstroMaster 130EQ Reflector Telescope
The AstroMaster (and the Gskyer) provide the highest quality scopes on the list. As promised in the introduction above, we have taken the higher price into account with this ranking. This telescope is more for supervised family viewing and/or older kids, not to mention adult beginners.  (It requires a bit more work, as you'll need to learn how to operate the equatorial mount and how to collimate the telescope.)  That said, the AstroMaster 130EQ provides absolutely great images. You can get great views of the moon and see the rings of Saturn.
The AstroMaster 130EQ comes with an above-average number of helpful features and accessories.  The equatorial mount enables easy tracking of objects across the night sky.  The equatorial mount is great if you want to spend a lot of time viewing a particular galaxy, nebula, or star cluster.  It provides slow-motion knobs so you can track objects as they drift across the sky due to the rotation of the earth.
The telescope also comes with two eyepieces (20mm and 10mm), a travel tripod, a StarPointer red dot finderscope and astronomy software. The software helps you continue learning with your child from your phone or mobile device. We recommend getting a Barlow or extra lens kit as well for the added magnification.
Pros
Higher magnification than most others on the list; great images
Easily one of the best telescopes for older kids & beginners
Good assortment of features, including astronomy software
Cons
One of the pricier options (but worth it)
4. Orion Starblast II Equatorial Reflector Telescope

Image Credit: Orion (Used with Permission)
The StarBlast II is one of the best telescopes to introduce your family to astronomy, with good value for money. The telescope comes with 25mm and 10mm Sirius Plossl eyepieces that provide 18-power and 45-power views. It's short 450mm focal length combined with a 4.5 inch aperture provides for bright views. It also comes with a MoonMap, reflex sight, and adjustable-height tripod (though the quality of the tripod has much to be desired).
While not terribly expensive, the Starblast II is a price notch above some others on the list.  We think the improved optics are worth it. But this telescope would be more for older kids, in those pre-teen years, than the younger elementary crowd.
Pros
Good Value for Money
Great optics for a family friendly telescope
Perfect for all types of outer space objects
Cons
A bit heavier
Some experience issues with equatorial tripod
8. Orion GoScope III 70mm Refractor Travel Telescope

Image Credit: Orion (Used with Permission)
The Orion GoScope III, as the name suggests, provides a lightweight (4.25 lbs) 70mm scope that your child can grab, stash in the backpack (included) and head outdoors with for a couple hours of play and exploration. The portable telescope is great for hiking and camping. The rugged, specially-designed backpack holds the telescope, tripod and all accessories.
The scope is as good for daytime birdwatching as observing the moon at night. It includes a 5×24 finder scope for easy aiming and two 1.25″ telescope eyepieces (20mm and 9mm) for 20-power and 44-power views. The standard Orion MoonMap 260 also helps your child learn about lunar features and understand what they are seeing. The GoScope offers the complete package for those who want to see their kids run outside and explore.
Scorecard – Orion GoScope III 70mm Refractor Travel Telescope
Pros
Great option for portability and exploration
Good accessories like the Orion Moon Map and backpack
Can be used for bird watching and daytime viewing
Lower price
Cons
Limited astronomical use beyond observing the moon
9. Orion 10033 Funscope 76mm Tabletop Reflector Telescope

Image Credit: Orion (Used with Permission)
If you're looking for a tabletop telescope to try out astronomy with your kids or family, we recommend the Orion 10033 Funscope. The Orion 10033 Funscope makes a good purchase for kids, with a low price and lightweight (only 4 pounds). The scope is sufficiently powerful to see craters on the Moon, bright planets in our solar system, and brighter sparkling star clusters and nebulas.
The 76mm Funscope is a "tabletop dobsonian" design which is really great for kids.  It's a smaller, simpler variation of the classic dobsonian base, using a single-arm attachment point instead of the classic dual-arm rocker box.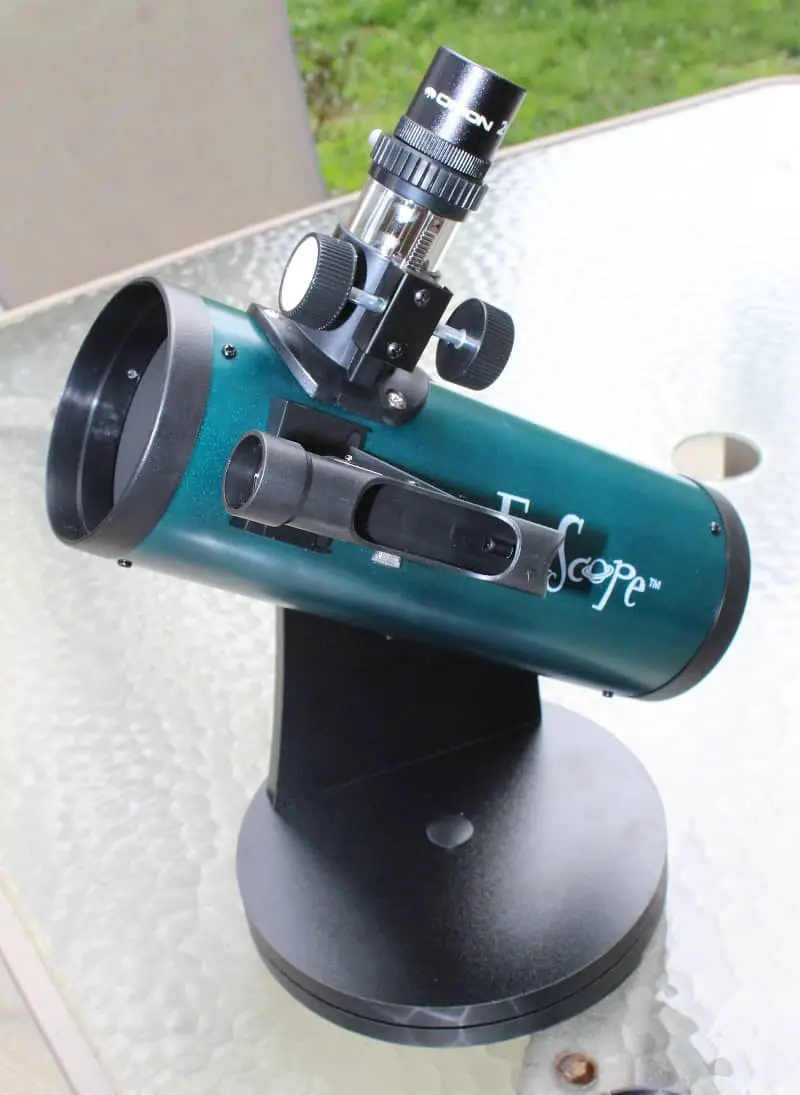 Image Credit: Brian Taylor / TelescopeGuide.org
The telescope includes a 76mm optic that allows 60% more light than typical beginner telescopes, and it comes with two Kellner eyepieces as well as the Orion Moon Map 260. The moon map will help kids find and identify the features of the Moon to better appreciate what they are seeing.
Scorecard – Orion 10033 FunScope 76mm TableTop Reflector Telescope
Pros
Great tabletop option for introduction to astronomy
User friendly; good for younger children
Lower price
Cons
Limited astronomical use beyond observing the moon
10. Orion Observer 60mm Az Refractor & Starter Kit

Image Credit: Orion (Used with Permission)
The Orion Observer 60mm Az refractor telescope comes with a lot of beginner-friendly material to help kids get started in the world of astronomy. This includes the standard Orion Moon Map 260 as well as an Exploring the Cosmos book and a Star Target planisphere star chart, which can identify what's in the sky at any point throughout the calendar year. Reading through the books that Orion provides is a great way to get kids used to the terminology of space exploration. The telescope itself uses a 60mm refractor with high quality, glass 25mm and 10mm eyepieces.
Pros
Lots of fun accessories
Easy to setup and use
Can be used for daytime viewing
Lower price
Cons
Limited astronomical use beyond observing the moon
Honorable Mention: Celestron FirstScope
The Celestron FirstScope is a great choice if you're looking for something small and portable the whole family can use. Its compact, lightweight construction means it can be easily carried and transported almost anywhere, while the Dobsonian mount makes it easy for anyone to use.  Observers only need to turn the scope from side to side or up and down in order to aim the scope at a target.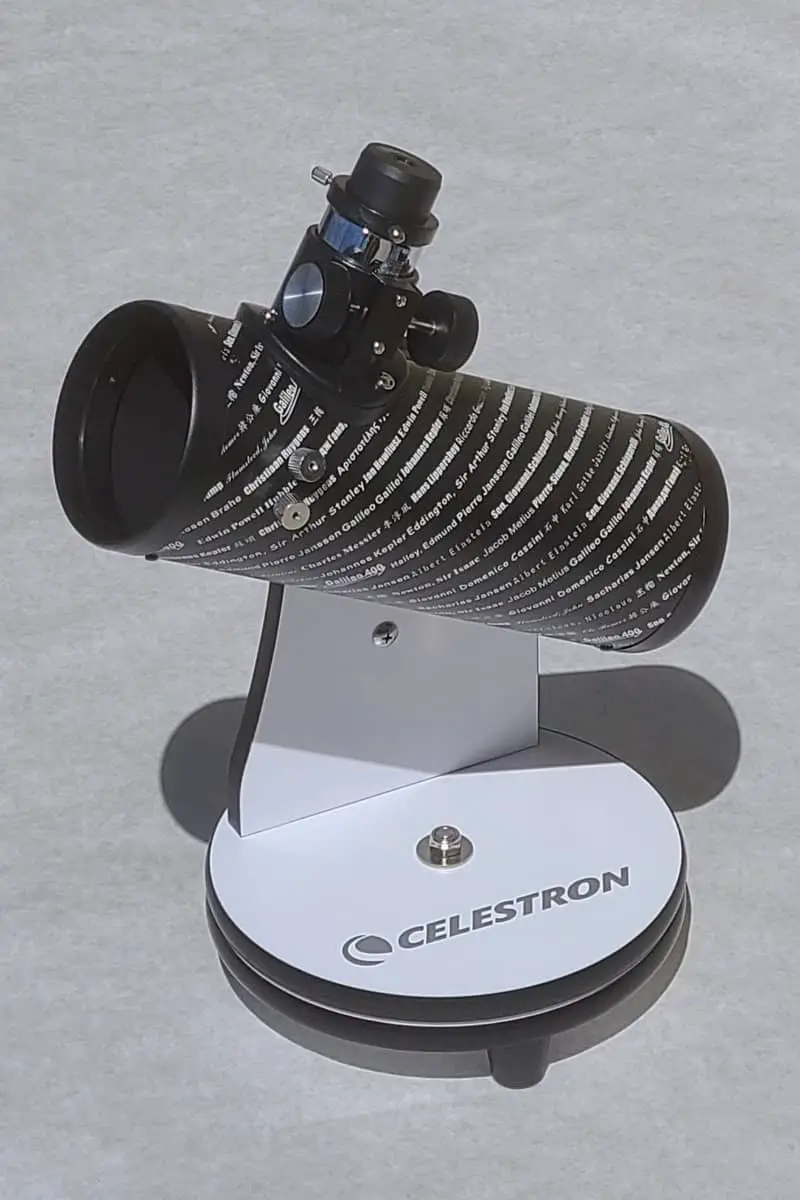 Image Credit: Richard Bartlett / TelescopeGuide.org
The Celestron FirstScope is meant to be an entry-level telescope for anyone just beginning the hobby. Unlike similar scopes, it's designed to be used straight out of the box, with little or no set-up necessary.
However, there are a few limitations. Firstly, this is not a powerful telescope. It has a very short focal length – just 300mm – and that, coupled with its small 76mm aperture, means it's not capable of high magnifications. (Celestron state the maximum usable magnification is 180x, but I would halve that.)
The only accessories supplied with the scope are the two eyepieces. Surprisingly, there's no finderscope, which is both confusing and frustrating as a finderscope is pretty essential. There are, however, screws on the telescope that will allow a finderscope to be attached – you just have to buy one first.
(For more on this one, see our full review of the Celestron FirstScope.)
Scorecard – Celestron FirstScope
Pros
Compact, lightweight and very portable
Very easy to use (with a finder)
Decent quality views (with decent eyepieces)
Good value for money
Cons
No finderscope
Poor quality eyepieces
Inability to collimate the mirror
Limitations in what you can see
Criteria When Buying a Telescope for Kids
When buying a telescope for kids, we recommend remembering a few key criteria:
1. Your child's expectations
Fostering an understanding of what your kids are seeing through the telescope will help them keep interest. Couple stargazing with educational videos, books and activities to broaden their minds. This will help get the most out of your telescope time. NASA has a great website and videos to help spark interest, including the following:
2. Quality vs. Price
Balancing price and quality is also important when buying a telescope for kids. On one hand, you don't want a professional-grade telescope for a first one. On the other, if you don't pay for quality, your telescope may not actually let your child see something interesting.
We recommend avoiding toy telescopes, department store telescopes, and really anything you might find at a general retail store.  Stick with reputable telescope brands like Celestron, Orion, and the others we feature in this article.
3. Accessories
We don't recommend going overboard with accessories for a first telescope. We would expect 2-3 eyepieces and certain key accessories (such as a Barlow lens, color filter kit, and star maps) to suffice when buying a telescope for kids.  Another fun accessory is a simple smartphone adapter for very basic astrophotography with your telescope.
Also, be sure to check out our guide to the best astronomy gifts for kids.  Many of these will be a perfect companion to a telescope for kids.
4. Types of telescopes
For kids, we recommend sticking with telescopes that require minimal maintenance and are super easy to setup and use.  Most of our recommendations on this page are basic alt-azimuth refractor telescopes.  That's because those are (by far) the easiest to setup and use.  The tabletop dobsonian is another great option for kids.
For older kids or parents willing to put in a bit more work, you could try the AstroMaster 130EQ.  It requires you to learn both how to collimate and how to use an equatorial mount.  We recommend staying away from anything much more complex, like compound telescopes, computerized goto mounts, etc.
For more discussion on the types of telescopes, see our article "Refractors vs. Reflectors: 7 Key Differences".
The recommendations above take points 2, 3, and 4 into account. (Point 1 is up to you!)
(Also, if you liked this article, please share it using the social media buttons below!)
Feature Image Credit: Imgorthand / iStock