Orion Telescopes & Binoculars is one of the biggest and most well-respected brands for astronomy equipment.  They've been around since 1975, and it's hard to find any article on telescopes or binoculars that doesn't have at least one Orion product in their list of recommendations.  From kids, to beginners, to experienced users, to astrophotographers – keep reading for our round-up of our top 7 Orion telescopes for every situation and need.
Why We Like Orion Telescopes – What Makes Them Stand Out?
According to their website: "Orion is an employee-owned company who has successfully focused on providing high quality products at affordable prices and with best-in-class customer service to amateur astronomers for over 46 years."
It's not just marketing hype, either.  Here are the key reasons we like Orion as a telescope brand.
1. Wide product variety
Orion helped make high-quality telescopes more affordable and accessible for amateur astronomers. Thanks to their very wide product range, you can start on a shoestring budget (their cheapest pair of binoculars is around $65).
Ready to upgrade? They've got equipment at every price range—including pro-quality computerized telescopes, if you're working with a larger budget. You'll also find compatible accessories that enhance your stargazing experience.
2. Respected and trusted brand name
There are hundreds of telescopes on various e-commerce websites, but even if some offer similar specs at lower prices, it's hard to tell if the equipment will last long or can be repaired if there's any problem. And what if the telescope's defective – will customer service even reply if you ask for a refund?
With Orion, you know that you'll get both a high-quality product and responsive customer service. The company is based in the United States, and it's not going to compromise a 46-year-old reputation by selling you junk.
And since it's a familiar brand name, it's easy to sell your old equipment when you're ready to upgrade.
3. Cool company culture
Much like Apple, Orion started out as a small company run from the garage of its founder, Tim Gieseler. The telescopes were sold through a mail order catalogue, known only to a small circle of astronomy enthusiasts who swore to the "value for money" of their products.
As Orion's reputation spread through word-of-mouth, it caught the attention of conglomerate Imaginova, who acquired it and then invested in its product development. But that's not the best part of the story: Orion was then bought out by its own employees.
So the company isn't run by a faceless mogul, but people who wholeheartedly believe in the brand, participate in its development, and make a personal commitment to the customers. To this day, Orion is 100% employee owned.
Orion vs. Celestron
Orion's closest competitor is Celestron, and if you ever do product comparisons you'll often see the two brands offering binoculars and telescopes with similar specs and prices.
Celestron starts at a lower price point (its cheapest product is about $50) and has a longer warranty (two years, versus Orion's one year). Both are beginner-friendly, and have very well respected brand reputations.
However, Orion has a wider product selection. It has refractor and reflector telescopes, Cassegrain telescopes, and an impressive line of Dobsonian telescopes. They also have kid-friendly models that are durable and easy to handle.
The wide variety makes it easier to find the perfect Orion telescope that matches both your budget and your needs. We wish the warranty would be longer, but in our experience, Orion telescopes are so sturdy that you're unlikely to need any repairs or replacements in the first few years anyway.
Additional reasons to consider buying from Orion:
Free technical support
Knowledgeable sales reps who can answer your questions
30-day price guarantee
30-day money-back satisfaction guarantee
They are actively involved in supporting the amateur astronomy community
Our Top 7 Recommendations for the Best Orion Telescope
Ready to get started? Check out our list of the best Orion telescopes for every price, category and personal preference.
1. Orion StarBlast 4.5 Astro Tabletop Reflector Telescope – Our Choice for Beginners
This is one of the most-recommended telescopes for beginners who want an affordable, dependable telescope that's very intuitive to use.

Image Credit: Orion (Used with Permission)
Scorecard – Orion StarBlast 4.5 Astro Tabletop Reflector Telescope
Why We Like It
The Orion StarBlast 4.5 offers the power of a 4.5″ (114mm) wide aperture combined with a super user-friendly design.  It's an excellent choice for a beginner's first telescope.
The telescope has a short focal length of 450mm, and a wide-field view (approximately 4 degrees, or the distance of eight full moons). You can spot the moon, planets and other deep-sky objects, and the red dot finder makes it very easy to aim.
Shaky hands? No problem. It comes with a stable tabletop alt-azimuth mount that's drop-dead simple to use.  Once the optical tube is attached to the mount, you can scan the skyline easily by moving the telescope up and down, or rotating it side to side. This super easy movement is one reason why it's good for kids and newbies.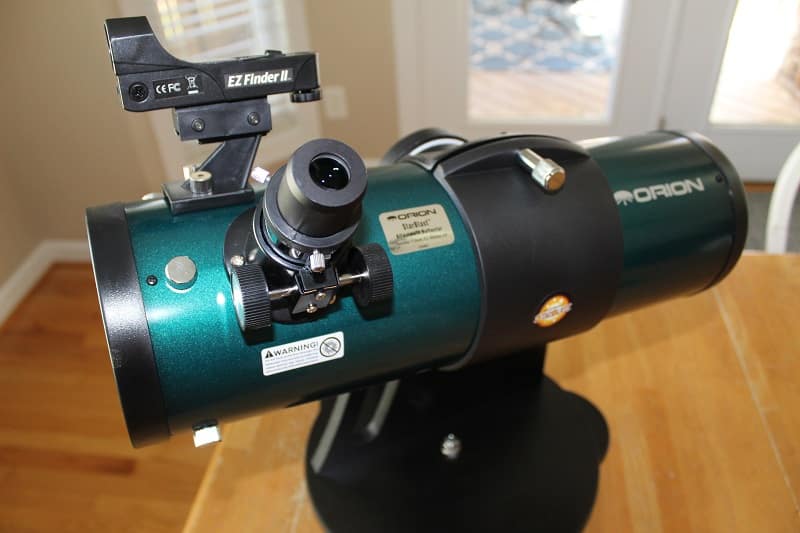 Image Credit: Brian Taylor / TelescopeGuide.org
The telescope comes with two Kellner eyepieces (17mm and 6mm, for magnification of 26x and 75x respectively).  However, they don't have eye-guards and have a limited field of view. When you're ready to invest, we suggest upgrading one or both of the eyepieces, and perhaps also adding a 2x Barlow lens.
The telescope is very light and compact, so it's easy to bring on a trip or set up for some family backyard stargazing.  While it doesn't pack the same power as other telescopes, this is a good start for people who want to try out astronomy without spending a lot of time, money or space.
Also included: an EZ Finder II reflex sight for easy aiming, built-in eyepiece rack, collimation cap, and more.  (Plus, it includes Orion's Starry Night astronomy software.)
Pros
Stable tabletop base (alt-azimuth) is easy for kids and beginners
Ships pre-assembled – super easy to setup
Compact and highly portable
Cons
Not for high magnification viewing
2. Orion 8945 SkyQuest XT8 Classic Dobsonian Telescope – Our Dobsonian Choice
If you're new to stargazing but are ready for a little more power and versatility, consider getting a Dobsonian telescope.

Image Credit: Orion (Used with Permission)
Dobsonians are among the most popular amateur telescopes for two main reasons: (1) Their design is inherently simpler and therefore more affordable than other telescope types with the same aperture size.  This means, dollar for dollar, you can gather more light and see fainter objects in the sky.  (2) The Dobsonian base is easy to use, easy to setup, and easy to move & store – making it less of a hassle when you want to use it.
Scorecard – Orion 8945 SkyQuest XT8 Classic Dobsonian Telescope
Why We Like It
The Orion SkyQuest XT8 is one of the most popular Dobsonians. Its 8" aperture can draw in massive amounts of light. This generous optical diameter—combined with its parabolic mirror and enhanced-reflectivity mirror coatings—puts it on par with telescopes that cost much more.
Right out of the box, the SkyQuest XT8 can help you see both our most familiar neighbors in the solar system and fainter deep sky objects. With its long focal length of 1200mm and a maximum useful magnification of 300x, you can zoom in close on anything you want to see.  (Your actual magnification always depends on your choice of eyepiece.)
The standard SkyQuest XT8 comes with a single 2″ Crayford focuser, a 25mm Sirius Plossl eyepiece (for 48x magnification), an EZ Finder II reflex sight, collimation cap, Starry Night software download, and more.  If you add a few more dollars for the "kit" edition, you can get an additional 2x Barlow lens and an observation guide. Not a bad deal!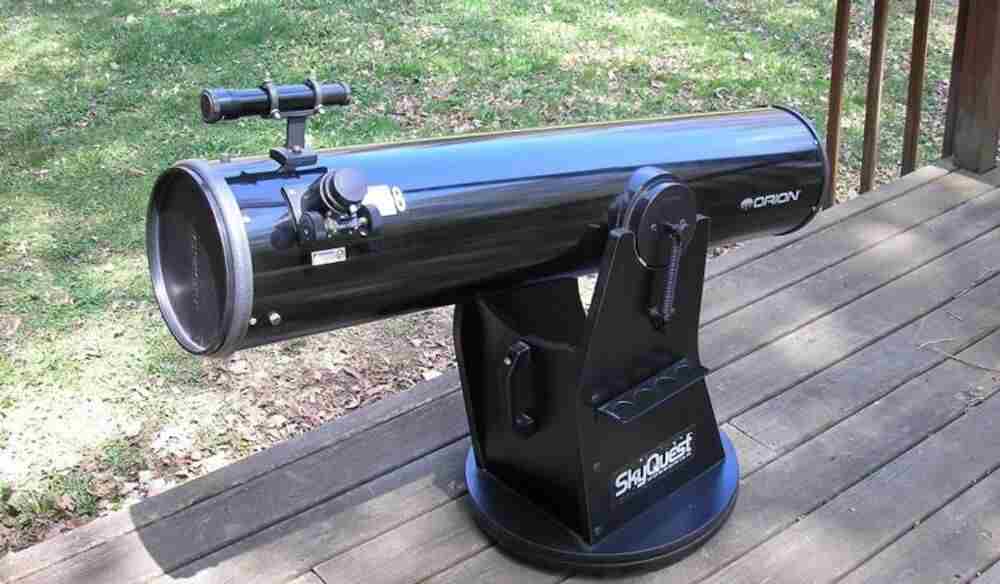 The XT8 is a great choice for anyone who wants to really learn how to navigate the night-time sky.  The mounting system makes it easy to point the telescope in any direction (even for kids).  The telescope will stay balanced and stable until you need to point it at a new target.
Bottom line: This XT8 is just super practical for the amateur astronomer or hobbyist.  The size and weight is in the "sweet spot" – it provides excellent optical power without being too big and cumbersome to use.  Additionally, it easily separates into 2 pieces, so you can take it with you into the field.  We also love the fact that this telescope accepts both 1.25″ and 2″ eyepieces – giving you a bit more flexibility and viewing options.
Pros
8″ primary mirror lets you view fainter, deep space objects
Dobsonian base is easy to point and go
Excellent overall value and versatility
Accepts 1.25″ and 2″ eyepieces!
Cons
Accessories are somewhat basic (for example, only one eyepiece included)
Somewhat heavy (40 lbs. total) but still portable
Part of the Extended Orion SkyQuest Series
The XT8 is part of the SkyQuest series which goes up to the XT10, XT12, etc.  These indicate the size and power, so if you're ready to spend more you can explore their specs. Each have their own sub-model, indicated by the letter at the end.  For example, you may see an Orion XT10g.
The SkyQuest "Plus" range has a two-speed Crayford focuser, a Dob base with adjustable tension, and extra accessories.
The SkyQuest "g" range ("goto") are fully computerized with a database of 42,000 objects.
Finally, the SkyQuest "i" range ("intelliscope") offer "push-to" computer-assisted stargazing with a database of 14,000 objects.
Confused yet? Don't be. It just shows Orion's wide product range, and how you can pick a certain set of specs and then go for a sub-model that has the additional features that you want.  (Also, be sure to check out our review of the Orion SkyQuest XT10.)
3. Orion 9024 AstroView 90mm Equatorial Refractor Telescope – Our Refractor Choice
A refractor telescope may be more expensive for any given size aperture, but it will give you steadier and sharper images in poor conditions, and better resolving power for every inch of aperture.  (For more on this, see our comparison of refractors vs. reflectors.)

Image Credit: Orion (Used with Permission)
If you're on a budget and you're looking to prioritize power combined with sturdiness and overall quality – the Orion AstroView 90mm equatorial refractor telescope is our favorite refractor from Orion.  With its 90mm lens and manual equatorial controls, this telescope is higher quality than you might expect at first glance.  Its main tube, hefty mount, solid tripod, and high-contrast optics offer a fantastic value for beginners.
Scorecard – Orion 9024 AstroView 90mm Equatorial Refractor Telescope
Why We Like It
You'll find a lot of "cheap" refractor telescopes, but they're easy to break and often underdeliver. In our opinion, the Orion 9024 AstroView 90mm is one of the most reliable "budget refractor telescopes" available.
It has great optics. It's a 90mm f/10.1 achromatic doublet crafted from crown and flint glass. You may pick up some chromatic aberration, but it won't noticeably affect the quality of your views.
The kit comes with two high-quality Plossl eyepieces that give 36x and 91x magnification respectively. You also get a finderscope, and a star diagonal that's made of metal—a refreshing change from the plastic ones in cheaper refractors.
The AstroView 90mm features a manual German equatorial mount and tripod which is heavier than the typical starter telescope.  The equatorial mount includes slow-motion control and is ideal for tracking celestial objects.  It can also be upgraded with the EQ-2M electronic motorized drive for automatic tracking.
All in all, this telescope gives great value for money and won't require a lot of additional accessories or upgrades.
Pros
All-around high quality telescope
Heavy & sturdy equatorial mount and tripod
Great clarity for viewing detailed images
Cons
Not ideal for traveling (but still portable)
With tripod legs fully extended, the mount can be a little wobbly
4. Orion 09007 SpaceProbe 130ST Telescope Equatorial Reflector – Our Reflector Choice
The Orion SpaceProbe 130ST is an equatorial reflector telescope that has a great ratio of price vs. performance. Plus, with its "short tube" design, it's more compact and transportable than a typical reflector of similar size aperture, making it a great choice for balancing power with portability.  (The short focal length also gives it a wide field of view and a "fast" focal ratio of f/5.)
As a result, it's a highly versatile choice for an amateur looking for a good blend of performance, quality, portability, and the smooth tracking that's possible with an equatorial mount.

Image Credit: Orion (Used with Permission)
Scorecard – Orion 09007 SpaceProbe 130ST Telescope Equatorial Reflector
Why We Like It
This is a great telescope for someone who's new to stargazing but is serious about finding out more about it. It's more expensive, but you'll be able to see not just planets but deep sky objects including galaxies, nebulae, and star clusters.
The power lies in it fast focal ratio and the ability to magnify objects up to 180x. However, to take full advantage of this feature, we recommend getting an additional eyepiece – the two bundled Sirius Possi eyepieces can only go up to 26x and 65x.  You'll be able to see Saturn's rings, the Andromeda galaxy, Jupiter's moons, and so much more. That's pretty good for a telescope in this price range.
Like the AstroView 90mm, the SpaceProbe 130ST comes with the same sturdy EQ-2 mount.  It provides smooth equatorial slow-motion controls, so you can track celestial objects with fine adjustments as they move across the sky due to the rotation of the earth.  The EQ-2 is counterweighted and heavy enough to provide stable usability and control.
In addition to the telescope itself and the mount, the SpaceProbe 130ST includes a good starter package of accessories.  These include a 6×30 finder scope, tripod accessory tray, a cap for collimation, 1.25″ rack and pinion focuser, Orion's Starry Night astronomy software, and more.
Setting up the mount can be somewhat tricky, especially on the first try.  We wish Orion had included better instructions with photos—although thankfully, you can find tutorials on the web.  But even if the mount is challenging to learn how to use, it's worth it – and overall the telescope gives good value for the money.
Pros
Powerful optics
Versatility and compactness with "short tube" design
Sturdy EQ-2 mount w/ slow-motion controls and double setting circles
Good starter accessories
Portability above-average compared to similar size aperture telescopes
Cons
You'll need to learn to collimate it (like all the non-refractor telescopes on this page), plus learn to use the EQ controls
5. Orion 27191 StarBlast 6i IntelliScope Reflector Telescope – Our Computerized Choice
With its solid base, tabletop telescopes are easier and faster to set up. You can even give it a permanent position by your window – and view the skies from the comfort of your chair.  And Orion does a really great job with its tabletop telescopes.
Additionally, the Orion StarBlast 6i provides a computerized "push-to" experience, helping beginner-to-intermediate astronomer easily locate deep sky objects.

Image Credit: Orion (Used with Permission)
We love this 6″ reflector telescope because it combines the power of a large 6″ primary mirror with the ease-of-use and portability of the table-top design.  And the Orion "IntelliScope" technology makes it super easy to find anything you want to see in the sky.
We recommend this telescope if you're looking for a versatile, computer-assisted telescope but you also care about quality and optical performance.  Another key reason to buy this telescope is for its exceptional compactness, and user-friendly design – without sacrificing power and light-gathering reach.
Scorecard – Orion 27191 StarBlast 6i IntelliScope Reflector Telescope
Why We Like It
This telescope has a good balance of features that will make it easy for beginners to jump into astronomy, and yet still satisfy the requirements of more serious stargazers.
It has an aperture of 150mm, focal ratio of f/5, and focal length of 750mm. That's more powerful than most entry-level telescopes, and can help you see farther and dimmer heavenly bodies.
The parabolic mirror has less risk for aberrations than spherical mirrors, especially when you're using high magnification levels. And with the extra eyepieces (25mm and 10mm Sirius Plossl, for 30x and 75x magnification respectively) you can get even closer views.
With its database of more than 14,000 celestial objects, the StarBlast 6i offers a computer-assisted "push-to" experience.  After completing a simple alignment process, it provides simple directional arrows to help you find your target in the sky.
The alt-azimuth mount comes pre-assembled, and rotates and slides easily.  We like how its navigation knob responds to the lightest touch. Meanwhile, the clamps hold the telescope firmly in place—no risk of dropping, there!
While tabletop telescopes seem to work best on, well, a table, don't let that stop you from bringing it outdoors or on camping trips. With a weight of just 23.5 pounds, you can carry it around without breaking your back.
But these features come at a price … literally. It's more expensive, and for its price, you can actually buy a larger, full-sized Dobsonian telescope. Of course, it all depends on what you're looking for. The Starblast is lighter and more compact, but the Dobsonian will give a longer focal length.
Like most of our favorite Orion telescopes, the StarBlast 6i comes with a decent set of initial accessories, including two eyepieces, EZ Finder II aiming device, eyepiece rack, Starry Night software, and more.
Pros
Easy to find objects using computerized "push-to" capability and Starry Night software
Super compact and portable "tabletop" design
User-friendly and versatile
Large 6″ aperture is a huge upgrade from the StarBlast 4.5
Eyepiece rack
Short focal distance for wide field of view
Cons
As with all reflectors, you'll need to learn how to collimate this telescope
While we like the AZ mount on this telescope because of its compact, easy-to-use tabletop design, you'll still need to track objects manually
6. Orion FunScope 76mm Tabletop Dobsonian – Our Choice for Kids
It's never too early to nurture a love for stars and science! A telescope makes a great gift for kids. Just pick a model that is durable, easy to use, and won't break the bank – you can always invest in a bigger model when your child is ready for it.

Image Credit: Orion (Used with Permission)
Scorecard – Orion FunScope 76mm TableTop Reflector
Why We Like It
Whoever designed this Orion telescope must have kids, too. All the features will make it easy for the family to run out to the yard for a night of stargazing.
It's very easy and fast to set up. After a little instruction, your child can easily put it on its mount with minimal (if any) adult help.
It's also light enough for anyone to carry—so if you're going to walk to a nature spot near your home to get a better view, or bring it with you on a hiking trip, neither of you will break a sweat.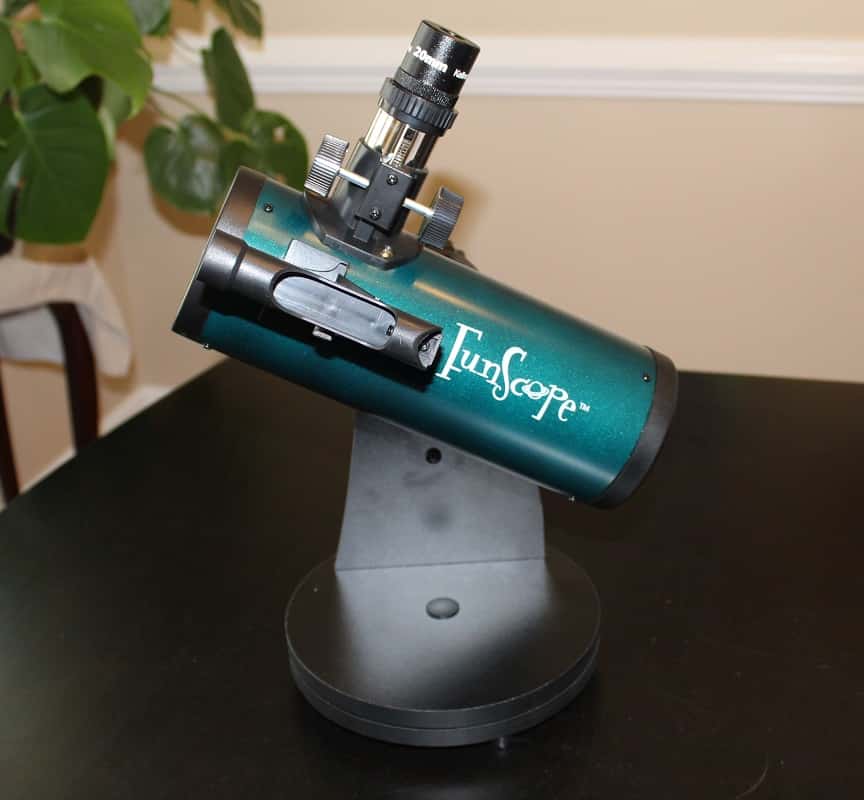 Image Credit: Brian Taylor / TelescopeGuide.org
In terms of power, it has a 76mm aperture and a spherical primary mirror.  That's a decent amount of light-gathering power compared to many (if not most) telescopes marketed as being for kids.
Orion supplies two eyepieces with the FunScope – a 20mm and a 6mm. The FunScope's focal length reaches 300mm, producing a magnification of 15x from the 20mm, and 50x for the 6mm eyepiece. This might not seem like a lot, but it's plenty for many double stars, star clusters, nebulae, Jupiter and Saturn and, of course, the Moon.  And the focuser works well with other eyepieces so you can upgrade when needed.
You can use this telescope with its accompanying mount, which has a knob to let you adjust the friction. If you prefer, you can also put it on a camera tripod.
While it's not the most powerful telescope, it's a decent buy for less than $100. It can help nurture your child's interest in astronomy, and can even be a family activity. As a "fun" scope, it delivers.
Pros
Lightweight and easy-to-use; good for younger children
Budget friendly
Pre-assembled and instantly usable
Cons
Short focal length resulting in lower magnification; limited use beyond observing the Moon
7. Orion 9534 ED80T CF Triplet Apochromatic Refractor Telescope – Our Choice for Astrophotography
Just like any camera, when you're shopping for an astrophotography telescope, the most important features are focal length, focal ratio and aperture. This affects how much light the telescope can "capture" and the speed in which it can capture the image.

Image Credit: Orion (Used with Permission)
This triplet 80mm apochromatic (APO) refractor from Orion is designed first and foremost for long-exposure astrophotography.  If you're not familiar with the terminology, a "triplet" is an objective lens composed of 3 glass elements, precision-matched together to minimize light dispersion.  A triplet APO will provide sharper and more true-to-color images than a doublet APO (and both are better than an "achromatic" lens which is more typical of beginner refractor telescopes).
Scorecard – Orion 9534 ED80T CF Triplet Apochromatic Refractor
Why We Like It
This telescope is a high-quality yet surprisingly affordable "first triplet" – for people looking to build a rig for long-exposure astrophotography.
It has an aperture of 80mm, a fast focal ratio of f/6, and a focal length of 480mm. (Note, the focal ratio can be made even faster with the addition of a field flattener/reducer.)  While this is less powerful than more premium astrophotography telescopes, you'll be able to capture beautiful images of the planets as well as galaxies and nebulae in deep space.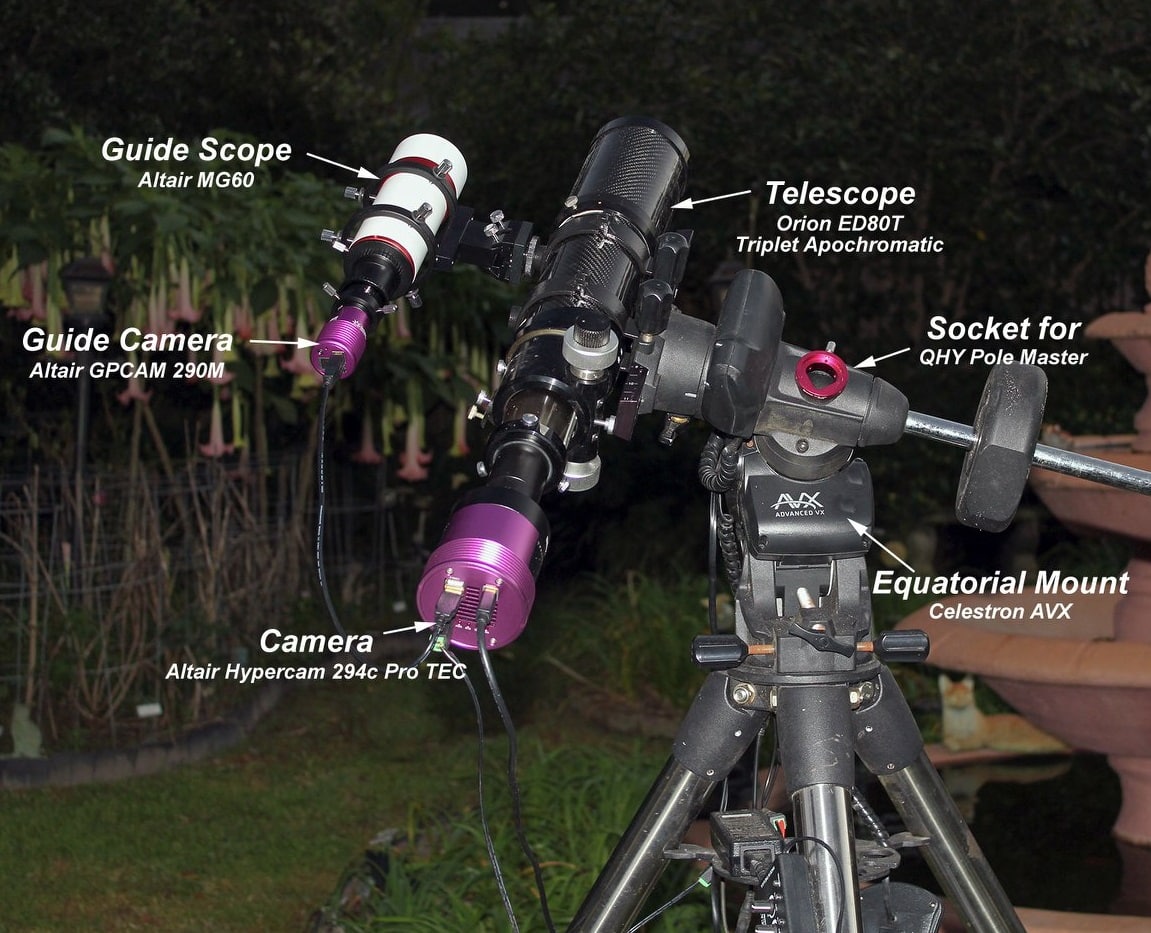 Here's what the Orion ED80T looks like with a fully configured rig for astrophotography (shown here paired with Celestron's Advanced VX mount); Image thanks to Patrick Prokop (used with permission)
The Orion ED80T lens is built with 3 matched glass elements that help correct any aberrations or false color representations that can typically happen with high-contrast images (such as the moon). It also has special ED (extra-low dispersion) FPL-53 glass—usually found on only expensive telescopes. This results in very good image quality.
Keep in mind, what you're buying here is the lens. It's a true triplet APO (apochromatic) objective lens, and with the Orion ED80T it's available at an affordable price point compared to many other triplet APO refractors.
This means you'll need more than just the telescope if you want to capture stunning images of deep sky objects.  Most importantly, you'll need to add a computerized mount.  (Some say the mount is more important than the telescope for astrophotography.)  And, you'll need to learn the overall process – for example, how to capture multiple images and "stack" them together before final processing.  (If you want to try learning the process before investing in your own equipment, check out our guide to astrophotography using remote telescopes.)
Accessories
While the Orion 9534 ED80T is more affordable than many other APO refractor telescopes, it doesn't come with any accessories.  (Not even eyepieces or diagonals for visual astronomy!  If you want those, you'll need to purchase separately.)
The telescope does include a built-in mounting block so you can attach it to a mount or camera tripod.  It also features a sturdy dual-speed Crayford focuser (11:1) which is well-built and can handle the weight hanging off of it.  It also comes with a 2″-to-1.25″ stepdown adapter, a dovetail finder scope base, Orion's astronomy software – plus a nice foam-lined hard carrying case.
One more cool thing about the ED80T: It includes a "dew shield" which helps keep the lens clear for long-exposure sessions.  It's also good for terrestrial viewing, but for that you'll need to add a 45-degree mirror diagonal and an eyepiece.
Pros
Great value APO triplet
Premium optics – triplet with FPL-53 is an amazing APO lens for astrophotography
Good aperture, focal length, and focal ratio (fast, and wide field of view) for astrophotography
Sturdy construction, good focuser
Built-in dew shield
Cons
Not for high magnification (160x theoretical limit) – this telescope is best for wide field and stacking long-exposure images
The mount and tripod are sold separately
No eyepieces or diagonals included for visual usage (can be purchased separately)
Find Your Orion
These are just some of the products in Orion's huge range of telescopes. As you can see, they come in different prices—and many of them are a lot more affordable than you would expect. There is an Orion for every budget, and every age and skill level too.
(Also, if you liked this article, please share it using the social media buttons below!)
Feature Image Credit: Brian Taylor / TelescopeGuide.org