Disclosure: This page contains affiliate links. If you click and purchase through these links, we may earn a commission at no additional cost to you.
Learn more
When you're shopping for binoculars for stargazing, there's always a trade-off between size and power. Smaller, more compact binoculars are super convenient – but they don't give the clearest or most detailed views of the skies. Serious stargazers sometimes need binoculars that are bigger and better—like the Celestron SkyMaster 20x80 porro prism binoculars.  Keep reading for my full review of what I liked, what I didn't like, and whether I would recommend these binoculars if you're shopping for a first pair of astronomy binoculars.
Celestron SkyMaster 20x80 Binoculars Review
I recently got these binoculars as a Christmas present (thanks Mom and Dad :)) – so I thought it would be a good idea to share my experience so far using them.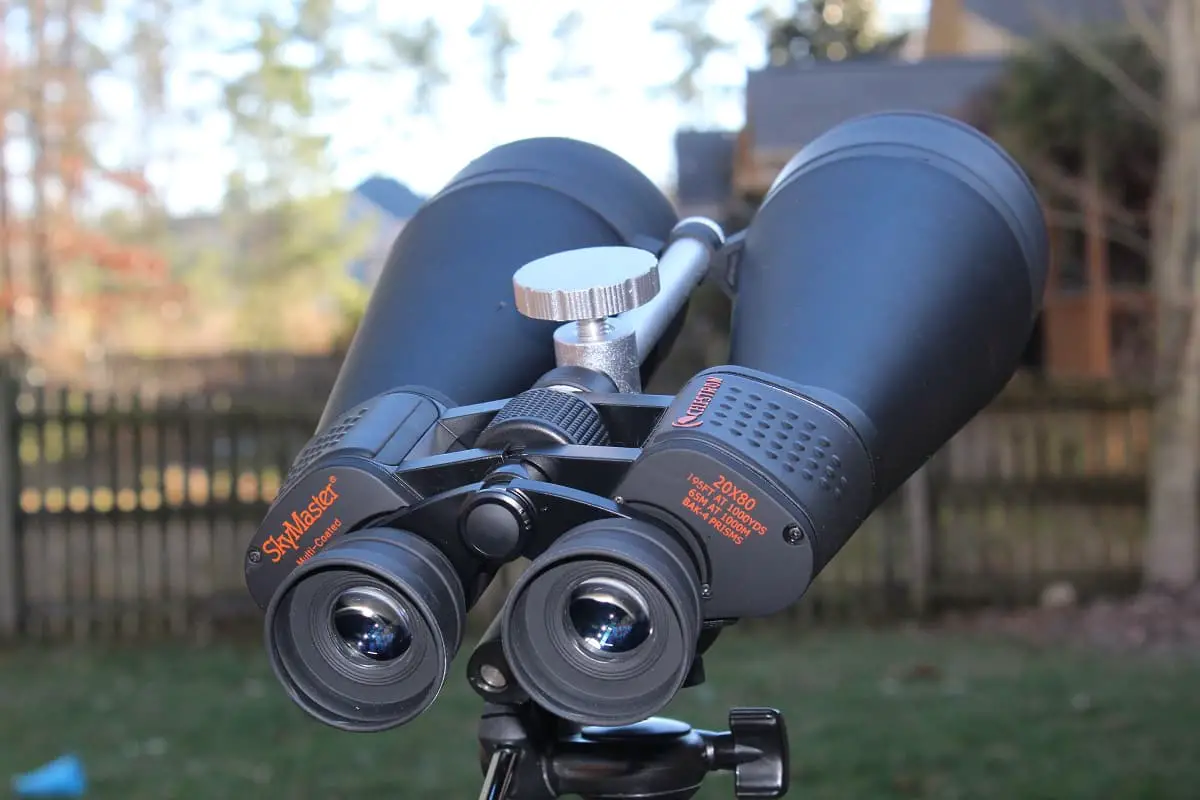 Image Credit: Brian Taylor / TelescopeGuide.org
In this Celestron SkyMaster 20x80 binoculars review, I'll give you a quick summary of the basic specs, and then I'll share what you can expect when you actually use these binoculars out in the field. How did they perform compared to other binoculars? What are the pros and cons? What are the possible costs down the road? And most of all, are the Celestron SkyMaster 20x80 binoculars worth buying?
What to Expect Out of the Box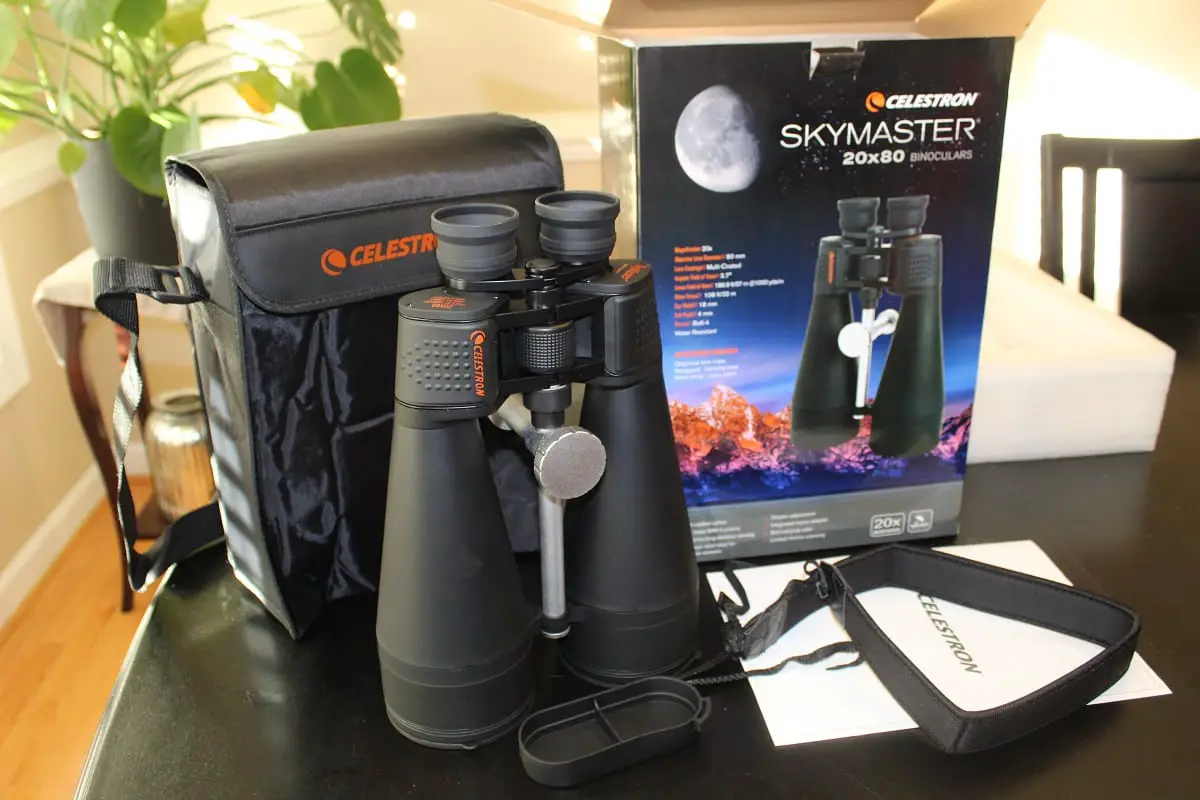 Image Credit: Brian Taylor / TelescopeGuide.org
Before we get started, let's look at what comes in the basic kit.
20x80 optics (80mm objective lenses with 20x magnification). This generous combination of lens size and magnification gives these binoculars excellent light gathering ability, especially in low light conditions.  You'll be able to see more detail with these binoculars compared to the 15x70's.
Tripod adapter comes pre-attached. With such a large and hefty pair of binoculars, you'll most likely want to use a tripod to avoid arm fatigue and shake. The tripod adapter comes with the kit, but you have to buy the tripod separately.  (Any camera tripod will do.)
BaK-4 prisms. All binoculars need prisms to give you an image that's "right side up".  The SkyMaster binoculars use a porro prism design, which is generally preferred for astronomy (vs. roof prism).  For the prisms, Bak-4 glass provides the best quality (vs. BK-7).  It results in crisper images even when you're using the binoculars during dim conditions like dawn or dusk.
Water-resistant armored body.  While you can't submerge the binoculars in water, you can be confident that these won't be damaged by morning dew, night mist, or a sudden rainfall or snowfall.
Included accessories.  The kit comes with lens caps for the large objective lenses, a neck strap, a lens cleaning cloth, a rainguard (cover) for the eyepiece lenses, and a simple nylon carrying case which can help keep out the dust.
User manual.  Just the basics on adjustment, care, and how to send for repair.
Basic specs:
Magnification: 20x
Aperture (Objective Lenses): 80mm
Angular Field of View: 3.7 degrees
Eye Relief: 18mm
Closest Focus Distance: 108 feet (can't focus on anything closer than this distance)
Diopter Adjustment Range: -4 to +8
Lens Coatings: Multi-Coated
Prisms: BaK-4
Weight: 75 ounces (4.7 lbs.)
Environmental Protection: Water Resistant
Nitrogen Filled: No
Tripod Adaptable: Yes
Carrying Case: Nylon (Tote Bag)
Dimensions (standing upright): 9.0″ width x 4.7″ depth x 12.8″ height
Is Celestron a Good Brand for Astronomy Binoculars?
Yes, Celestron has a solid reputation among astronomy aficionados for their affordable products, product warranties, and customer service. The SkyMaster series is very popular, and this particular model is one of the most affordable for its size—clearly positioned for people who want value for money.
You can see their dedication to quality even in the product's packaging.  (The box is sturdy, nicely designed with accurate product specs, and includes good packing/protection for the product inside.)  They have also paid attention to details like how the lens covers fit securely inside the apertures. While not deal-breakers, these show how much thought was put into the product.
Also, for more ideas, see our review of the best astronomy binoculars for stargazing.  (You'll notice in that article, the SkyMaster 15x70 – one step down from the 20x80 – is our top overall recommendation for beginners.)
Highlights: What I Liked
Now that you've got the big picture, let's dive in to the details.  Here are the things I liked best about the Celestron SkyMaster 20x80 binoculars:
1. The optical performance was excellent.  These binoculars provided an experience I can best describe as "immersive".  It was literally like looking through two 80mm short-tube refractor telescopes simultaneously – giving both eyes a wide-field view of the sky that's hard to get with a telescope.  Compared to my 70mm refractor telescope at low power, the images in the 20x80 were brighter, wider, and more detailed – and it was awesome having the view available to both eyes at the same time.
2. These binoculars have a nice "feel" in your hands.  The binoculars seem rugged, yet have just the right amount of softness where your hands and fingers grasp them.  The body is covered with a protective rubber coating along the barrels, and soft rubber around the prisms, eyepiece assemblies, and eyecups.  As a result, the binoculars feel firm and sturdy, yet slightly soft to the touch – almost a matte feel.  Nothing on the binoculars feels plastic or flimsy – not even the lens caps, which are also made of a durable rubber material.  They just have the overall feel, weight, and touch of a higher-quality instrument designed for heavy outdoor use.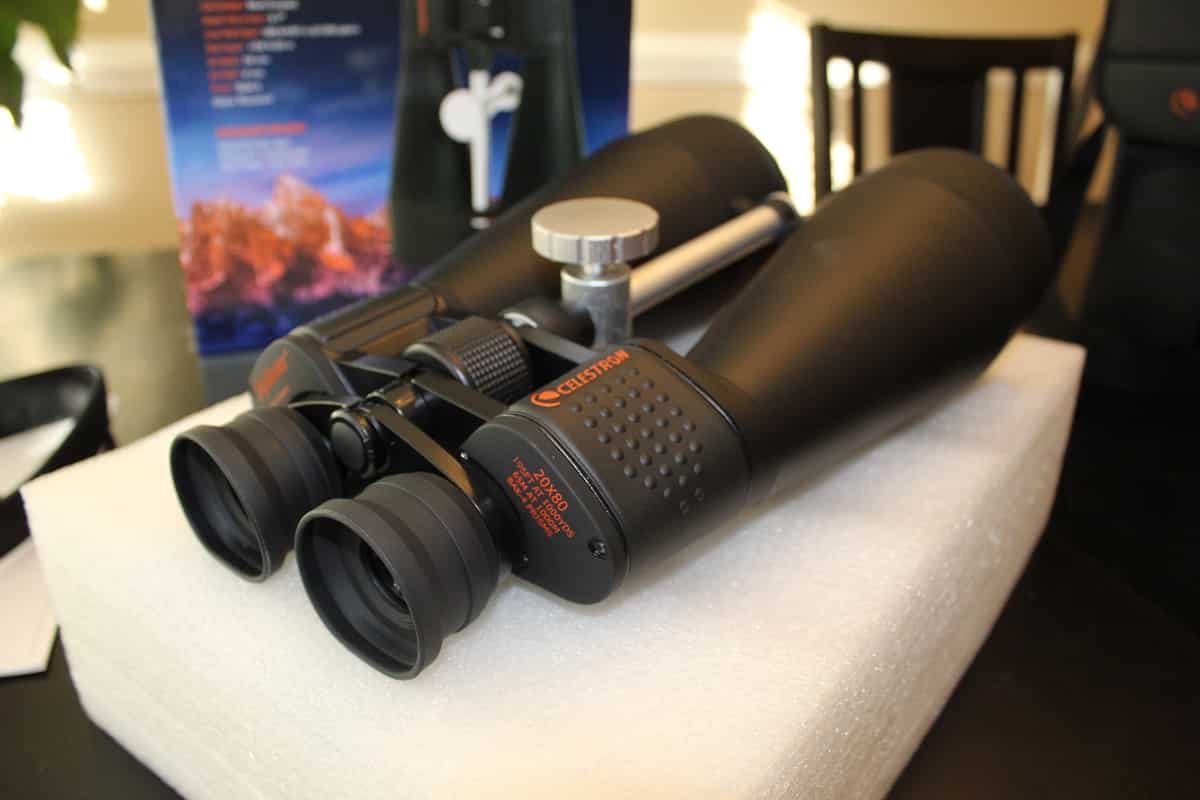 Image Credit: Brian Taylor / TelescopeGuide.org
3. They were super easy to adjust and focus.  It was quick and easy to make all the necessary adjustments.  First, the binoculars have a center hinge to bring the eyepieces closer or further apart from each other (since everyone's eyes have a slightly different distance between them).  Second, you can use the diopter adjustment on the right eye to offset any focal differences between your eyes.  Finally, once I had the binoculars setup for my eyes, all I needed to adjust during viewing sessions was the main focuser knob, which is large and moves smoothly.  The result?  Both eyes were perfectly focused throughout my time using the binoculars.
4. Tripod adapter comes built-in to the binoculars.  Unlike the SkyMaster 15x70, the 20x80 comes with the tripod adapter built-in to the binoculars.  No need to buy a separate tripod adapter.  (Also note: If you're shopping online and you see a "kit" that includes the 20x80 binoculars along with a tripod adapter – don't buy it, because you don't need the separate adapter.  All you need is the SkyMaster 20x80 binoculars because they already include everything you need to attach to a camera-type tripod.)
5. Limited lifetime warranty.  Many Celestron products carry a 2 year limited warranty, but the SkyMaster 20x80's provide a limited lifetime warranty.  The warranty can be found here, and it states: "The basic optical system is covered for the useful life of the product for the original owner".  However, the warranty excludes things like normal wear and tear, and preventable damage to the optical coatings.  For this reason it's important to protect the lenses as much as possible using the included lens caps.  (The user manual explains how to clean the lens if it becomes necessary to do so.  But in general, I would recommend you avoid cleaning the lens entirely, to avoid damage to the sensitive coatings.)
What I Didn't Like
1. These binoculars are big and heavy.  While I enjoyed just scanning the skies with them, I found that I really needed a tripod for a longer look at any particular object.  Without a tripod, it's hard to hold the binoculars steady, and you'll be limited to shorter bursts.  For this reason, I don't think these binoculars are well suited for kids, or for someone who wants to use them for long sessions where you want to move around the sky quite a bit.  Smaller binoculars will give you more freedom to explore, without the cumbersome need for a tripod.
2. The carrying case offers little protection.  While it's great that Celestron included a nylon tote-style carrying case with the 20x80's, I feel like these binoculars are nice enough that they warrant a little more protection.  The material is slightly padded, but offers no rigidity to protect the binoculars from bumps, drops, or heavier things being stacked on top.  If you plan to travel with the SkyMaster frequently, you might want to invest in a sturdier case.
3. User manual is pretty minimal.  While the info it provides is good, it's super short and doesn't offer much guidance beyond the absolute basics.  (It explains how to adjust the binoculars, how to care for them, and what to do if there's a problem.)  There are 5 pages total… that's 1 page for each of 5 languages (English, French, German, Spanish, and Italian).  And unfortunately it's just a generic user manual for the entire SkyMaster series rather than this particular model.
Who Should Buy the Celestron SkyMaster 20x80?
These binoculars may be a good fit for you if:
You need power and accuracy, not convenience. These binoculars are somewhat heavy and clunky, so it's unlikely that you'll whip them out for spontaneous star-spotting during everyday evening walks. They're best for planned sessions, when you can properly set them up on a tripod.
You want to use them for both terrestrial and celestial viewing. Binoculars like these are a good all-around choice for people who are also into other hobbies like bird-watching.
You're looking for a powerful entry point into astronomy. While you'll probably upgrade to a telescope in the future, the Celestron SkyMaster will give enough sharp, clear views to pique your interest and hone your astronomy skills. You can see the moons around Jupiter, the Orion Nebula, the Seven Sisters (Pleiades star cluster)—enough to make you wonder what lies beyond.
You want to use them for photography, or as a companion to your telescope.  Many people use these binoculars to take pictures, by attaching a smart phone to the lens.  (Celestron's basic smartphone adapter will work with the SkyMaster 20x80's.)  Many amateur astronomers like to collect and use several tools, and powerful binoculars are handy to have alongside your telescope.
Pros
Large lenses swallow the light for brighter, crisper images
Affordable price for large 80mm binoculars
Lighter than telescopes of comparable aperture and price
Lifetime limited warranty
Protective rubber coating prevents slipping
Good design, with the knobs and handles placed in a way that anyone can handle them comfortably and intuitively
Cons
Heavy and bulky
Requires additional cost and weight of a tripod
While the lenses are multi-coated, they are not "fully multi-coated" like the Celestron SkyMaster Pro (and here's what that means)
Carrying case won't protect the binoculars very well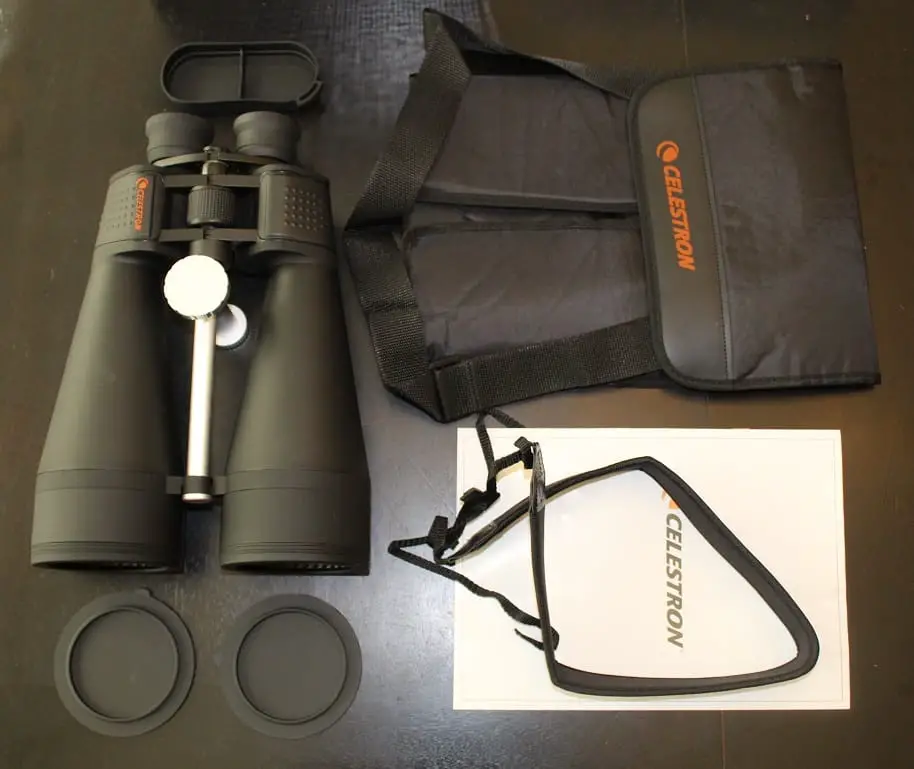 Image Credit: Brian Taylor / TelescopeGuide.org
Scorecard: Celestron 20x80 SkyMaster Binoculars Review
| Category | Our Verdict | Why? |
| --- | --- | --- |
| Skill Level | Beginner | Suitable for beginners |
| Quality | 4 out of 5 | Durable construction, protective rubber covering |
| Ease of Use | 4 out of 5 | Smooth focusing, good eye relief, comfortable eyecups |
| Power & Clarity | 4 out of 5 | Large, multi-coated 80mm lenses, BaK-4 prisms |
| Control | 3 out of 5 | Heavy and bulky, but includes built-in tripod adapter |
| Portability | 2 out of 5 | Less compact than other binoculars |
| Accessories | 3 out of 5 | Neck strap, rubber lens caps and rainguard, flimsy carry case |
| Overall Value | 4 out of 5 | Great value for large aperture binoculars |
Using the Celestron SkyMaster 20x80 Binoculars
No Celestron SkyMaster 20x80 binoculars review would be complete without letting you know what it's like to use them for stargazing.  In this section I'll share with you my experience and what you can expect.
Ease of use
The moment you unpack these binos, you'll immediately notice their size and heft.  The total weight is 4.7 pounds—significantly more than your average pair of binoculars.  With that said, you can also find binoculars even heavier – like the Celestron SkyMaster 25x100 which are 8.7 lbs.  While you can certainly use these without a tripod for short periods of time, you'll need a tripod for longer sessions or if you want a really steady look at something.
Overall, I found the usability to be good.  The binoculars come with 18mm of eye relief, which means you don't need to press your eyes tightly into the eyecups.  (This is also good for users who wear eyeglasses.)  The soft rubber eyecups are large and comfortable (which I liked), and they can be easily folded back for storage or if you want to make space for your glasses.
The binoculars were also easy to look through and focus.  The large focuser knob turned smoothly, and I found it generally easy to get a precise focus.  Once focused, I enjoyed just scanning the skies and hopping around to some of my favorite targets in the south-west winter sky.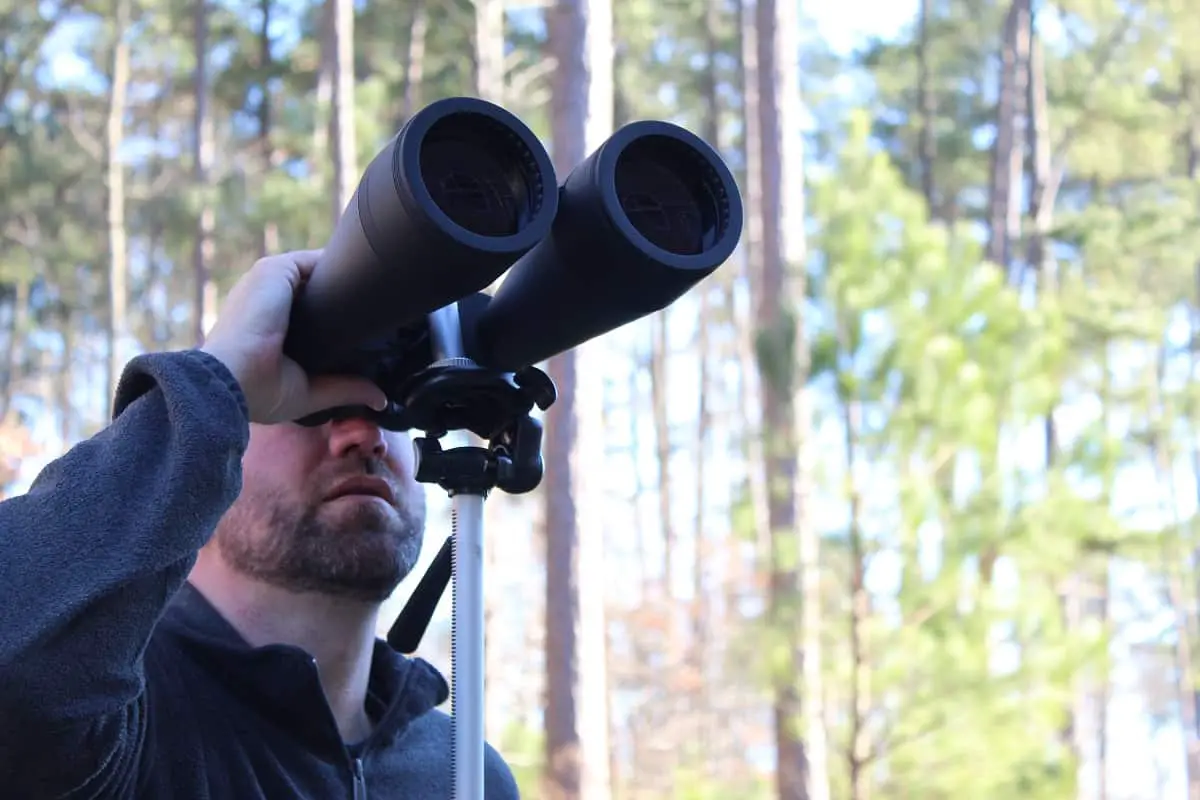 Image Credit: Brian Taylor / TelescopeGuide.org
Adjusting for your eyes
Getting the binoculars adjusted for your eyes is super easy.  First, you can easily adjust the "interpupillary distance" (which is a fancy term for the distance between the left and right eyepieces).  Just fold the binoculars using the center hinge, until the eyepieces line up comfortably with your eyes.
Second, you can use the diopter adjustment if your right eye feels a little more in focus than your left eye.  This is important because your "visual acuity" may be slightly different between your left and right eyes.
It's pretty simple to do it: Just close your right eye and use the large focusing knob to focus the binoculars perfectly on any object.  Then close your left eye and focus the right eye using the diopter adjustment.  Then re-check both eyes one at a time to ensure they are both focused.
(Also, one last tip: Take a look at the reading on the diopter ring.  If you're sharing your binoculars with other people, all you need to do is remember that reading for next time, then you can move it quickly back to your preferred position.)
Field of view
The SkyMaster 20x80 provide a wide angular field of view (3.7 degrees) so you can see a fairly large section of the sky at any given time.
To help put this in perspective:
A full moon is about 0.5 degrees in the sky – so you can essentially see about 7 full moons in your field of view with the SkyMaster 20x80.
The 3 stars of Orion's belt fit really nicely within the field of view.
For comparison, take Celestron's 70mm travel scope with its low-power eyepiece (20x).  This gives you a true field of view of about 2 degrees … so the SkyMaster's field of view is a little less than twice the travel scope's.
Performance
As for performance, the SkyMaster 20x80 binoculars don't disappoint.  All the components in the optical system come together to provide sharp, clear, bright, wide-angle viewing – from the large 80mm aperture, to the multi-coated lenses, to the 20x magnification, to the BaK-4 prism glass.
In my first few times using these binoculars in my light-polluted suburban backyard, I was able to see the Orion Nebula (M42), the Pleiades star cluster (M45, my favorite through these binoculars), the Beehive cluster (NGC 2632), and (barely) the Andromeda Galaxy (M31).  All of these looked more detailed and brilliant through these binoculars compared to a 70mm refractor telescope at lower power.
The 20x80's gave me a sharp focus (no distortion of stars) and clear image quality.  I haven't yet been able to take them out to a dark sky location, and (sadly) I haven't yet been able to try them out on Saturn or Jupiter.  (But other users have reported being able to see Jupiter's moons, and the basic shape of Saturn's rings but without details.)
In dark skies, you can catch a glimpse of numerous DSO's (deep sky objects) with these 20x80 binoculars.  You'll be able to see open star clusters and globular clusters (at least the larger / brighter ones), double stars, and even the brightest galaxies and nebulae.  But it will be important to minimize expectations here: Most DSO's will still be faint with 80mm aperture binoculars, even with a dark sky.
Do you need to collimate the SkyMaster 20x80 binoculars?
No, you shouldn't need to collimate them.  My 20x80 binoculars were collimated (i.e. optically aligned) perfectly out of the box.
However, some users have reported having collimation problems.  If this happens to you, here are a couple of tips:
1. Celestron's user manual does NOT provide instructions for how to collimate these binoculars.  That should tell you something.  They really don't intend on the average user doing this.
2. If you notice any collimation issues within the first 30 days, Celestron will re-collimate them for you.  Refer to the user's manual on how to contact them and request this service.
3. Beyond 30 days, if you experience collimation issues (for example, due to dropping the binoculars on a hard surface) – you should be aware that it is indeed possible to collimate them.  There are screws hidden under the rubber covers around the eyepiece assemblies.
However, I strongly advise you not attempt this yourself, unless you really know what you're doing or you're willing to do the research.  Instead, take them to a local shop that sells and services binoculars.
If you absolutely must try this yourself, make sure to research it a bit first.  (Search online for "how to collimate binoculars".)  Below is a video that explains how to do it on the SkyMaster 15x70 (same as the 20x80)… but again, proceed with caution.
Supersized lens and viewing ability
I know we've said this more than once in our Celestron SkyMaster 20x80 binoculars review, and there's a reason for that.
Due to the huge lens (coupled with the magnification ability) you can see more celestial objects, and with more details. For comparison, with your naked eye you may be able to see 3 stars in Orion's belt (perhaps 4 on a clear night).  With these binoculars, you can see dozens of stars in the same field of view—and many more in ideal low-light conditions.
You may also be able to pick up the colors of the stars, and differentiate the little hues of yellow, blue, orange, etc.
Weather-resistance
Starwatching often involves sitting in damp fields or getting caught in a sudden summer shower.  With the SkyMaster, you don't need to worry about droplets of water finding their way into the binoculars and damaging the optics or components.  (However, don't go swimming with them or drop them into a lake – they're not water-proof, just water-resistant.)
Also, during transport, binoculars can get banged, dropped, or buried under camping gear.  The binocular's casings will prevent it from getting scratched or cracked, although you may have to re-collimate if they suffer from a heavy fall.
Frequently Asked Questions
What kind of tripod should I get?
Any camera-style tripod will work fine with the tripod adapter that comes built-in with the SkyMaster 20x80.
Look for one with enough weight capacity to hold a minimum of 4 lbs. (or more ideally for added stability).  Also, aim for something on the taller side if possible, so you will be able to comfortably view objects that are higher up in the skyline.  (Unless you have a super flexible neck and you don't mind crouching down while looking up! :))
Are these good binoculars for beginners or kids?
These may not be the best gift for a child who's interested in astronomy, because they are somewhat heavy.  Also, smaller binoculars might be easier for kids to use to navigate the skies on their own.
For beginners, you should be fine with these binoculars, but do keep in mind that some binoculars have an even wider field of view compared to these.  Since you'll only see a small part of the sky (3.7 degrees at a time), you will need to have some skill (or enough patience to learn) how to find and identify targets.
Are these good binoculars for hiking?
The binoculars are too heavy and impractical for anyone who's planning to walk through a lot of long, heavy trails. But if you're planning to drive to camp, and then set it up at your base, then bring it along in your next trip.
Additional resources
https://www.telescopeguide.org/best-binoculars-for-stargazing/
https://www.skyatnightmagazine.com/advice/skills/stargazing-with-binoculars-a-guide/
Final Thoughts: Are the Celestron SkyMaster 20x80 Binoculars Worth It?
As you can see from our Celestron SkyMaster 20x80 binoculars review, it has very good performance at a reasonable price range.
It's a great choice for serious astronomers who don't mind breaking a sweat if it means being able to get closer to the stars. You'll be rewarded by seeing more stars and their colors, the moon in its three-dimensional glory, the shape of the planets, and more.
If this is your first "high quality" astronomy purchase, then the skills you pick up while using it will prepare you for more intricate tools like telescopes. Even when you do have a full arsenal of equipment, you will still love using these binoculars to compare your views.
All in all, the Celestron SkyMaster 20x80 binoculars is one of the best astronomy binoculars for any budding "sky master" or someone who wants to discover what lies beyond the naked eye.
(Also, if you liked this article, please share it using the social media buttons below!)
About the Author
Brian Taylor: Brian runs TelescopeGuide.org and loves stargazing, learning, and helping others learn about science and space.  He lives with his family in Durham, North Carolina, and his writing has been featured in Amateur Astrophotography magazine, STEM Activities for Kids, and PetaPixel online
Why You Can Trust Our Reviews
At TelescopeGuide.org we're as passionate about astronomy as you are. As such, we take our recommendations seriously and would never recommend anything we wouldn't be willing to buy and use ourselves. When we consider our recommendations, we look at a wide variety of products from a range of manufacturers. We take into account the quality of the product, as well as its durability, ease-of-use, performance, and overall value for money.

Whenever we can, we test the products ourselves or, if that's not possible, we consider the opinions and experiences of other astronomers. Lastly, we take all these criteria and make our decision by creating an objective score for each one. In this way, whatever your needs, requirements or budget, you can be sure you're getting the best possible advice before you make your buying decision.

Feature Image Credit: Brian Taylor / TelescopeGuide.org