Is your child obsessed with space and astronomy? We found the best space gifts for kids of every age. You'll find toys, books, craft projects, space-themed room décor, and even telescopes and stargazing guides that the whole family can enjoy together.
Best space gifts for toddlers and preschoolers
Introduce your kids to the wonders of the universe! These toys and books show how the earth is just part of a much larger universe, and help set the stage for a life-long interest in astronomy and science.
Star Night Light for Kids
Kids can go "stargazing" every night with this combination star projector and night light. Choose from six lighting effects, and three different kinds of films (a field of stars, colorful planets, or a happy birthday theme). You can also adjust brightness level.
The projector has thousands of positive reviews from customers. Not only does it give good value for money, but the brand replies very quickly if there's a problem with the product.
We also like how its small enough to comfortably fit on a bedside table, and how the push buttons are intuitive enough for a young child to adjust the settings as he pleases.
National Geographic Little Kids First Big Book of Space
Introduce your child to the wonders of space, starting from what they can see before going into what lies beyond the naked eye.
The first chapter talks about the Earth, sun and the moon. The next chapters talk about planets and dwarf planets, asteroid belts, comets, and the Milky Way. It ends with a simple explanation of space exploration and how we are learning more about the universe every day.
The photos are stunning (after all, it's National Geographic).  The words are simple enough for preschoolers to understand. One parent suggests using the book as a jumping off point to searching for Youtube videos.
Playmobil Mars Space Station
Your little astronaut will enjoy playing with his own miniature space station. It has functioning lights and sounds, a rotating hatch, and a central hub where they can communicate with Mission Control.
Double laser shooters can ward off alien attacks and space debris. The compartments can be detached for different space missions.
For more expanded imaginative play, get the Playmobil Mars Research Vehicle and Playmobil Mars Rover too.
Watic Outer Space Felt Board
Hang the felt background on a wall or spread out across the floor. Once in place, your child can stick the felt pieces (planets, rocket ships, stars, aliens and more) to create his own space scenes.  The puzzle encourages imagination, storytelling and language skills, and fine motor skills.
Space Matching Game
This memory game uses small cards with actual photos from the NASA archive. Your child will learn about planets, galaxies, space craft and more – and eventually will be able to recognize the Andromeda Galaxy and the Horsehead Nebula on sight!
This game can also engage kids of all ages, so it's a great game for family game night. You can change the level of difficulty just by limiting the number of cards to play with.
Best space gifts for kids aged 7 to 12
These astronomy gifts introduce science concepts in a fun, creative way—through crafts, experiments, and models.  (Also be sure to check out our article on astronomy activities you can do with your kids.)
Jack in the Box Space Explorer
This astronomy crafts kit contains 6 different activities that any child will enjoy. They can make a solar system mobile, a constellation streamer they can hang on their window, or their very own kaleidoscope.
The kit also includes a rocket science experiment and a Space Explorer board game they can play with their friends. But the "sweetest" surprise in this kit is an Oreo recipe that will teach them the phases of the moon—while nibbling a cookie!
We also like that Jack in a Box is a social enterprise that helps provide income for underprivileged women, so each time you buy a kit you're helping another family too.
Orboot Mars by Playshifu
Get to know our closest neighbor in the galaxy. This AR-powered globe of Mars is connected to an app, so when your kids scan any section with their phone or tablet, they'll get real photos and feel like they're taking a virtual tour of the Red Planet.
The app also teaches them about the Mars missions, from the spacecraft they used and the scientific discoveries. They can even play games that teach the Physics concepts that made space travel possible.
The box also includes a 3D puzzle of the Mars Rover, and two cute iron-on patches they can proudly put on their backpack.
MDGZY DIY Solar Mars Exploration Car
Kids can make their own miniature Mars Rover with this easy DIY Mars Rover kit. All the parts are certified non-toxic, and are clearly labelled for easy assembly. (Caution: the parts are small, so make sure that you glue them well especially if you have pets or toddlers in the house.)
The best part is that you don't even need batteries! It has a miniature solar panel, and will run really well as long as you use it in strong, direct sunlight.
LEGO City Mars Research Shuttle
This LEGO set includes both a shuttle and a Mars Rover with a fully articulated grappling arm. With 273 pieces, it gives enough detail but is still manageable for school-aged kids to assemble on their own.
The kit comes with two astronauts, a storage drone, and a helidrone for fun, creative play.  You can also amp up the fun factor by making a diorama – you'll find plenty of DIY tutorials that just use old newspapers, rocks, and paint.
Playz Solar System Model Kit
The craft kit comes with Styrofoam balls and a motor. Kids can paint the balls, and then assemble the electronics to create a rotating model of the solar system.
The "sun" at the center of the kit is actually an HD projector that can cast an image of the planets on the ceiling. They can use it as a nightlight, or carry it like a fun flashlight.
This astronomy kit is perfect for Science projects and homeschooling activities—and makes a cool, DIY decoration for their bedroom or study area.
Banana Panda – Suuuper Size Puzzle Solar System
Space is just waiting to be explored with this extra-large, 300-piece puzzle.
The completed puzzle measures 38.5″ x 26.5", and includes a big double-sided educational poster with interesting space facts. The puzzle features detailed illustrations of the Solar System, the planets, common objects and all the people who have explored and contributed to our knowledge of the cosmos.
It's a well-made product with bright colors and high-quality, thick cardboard, perfect for little hands. We really appreciate the fact that all Banana Panda products are both designed and made in Europe.
KiwiCo Astronaut Starter Kit & Solar System Model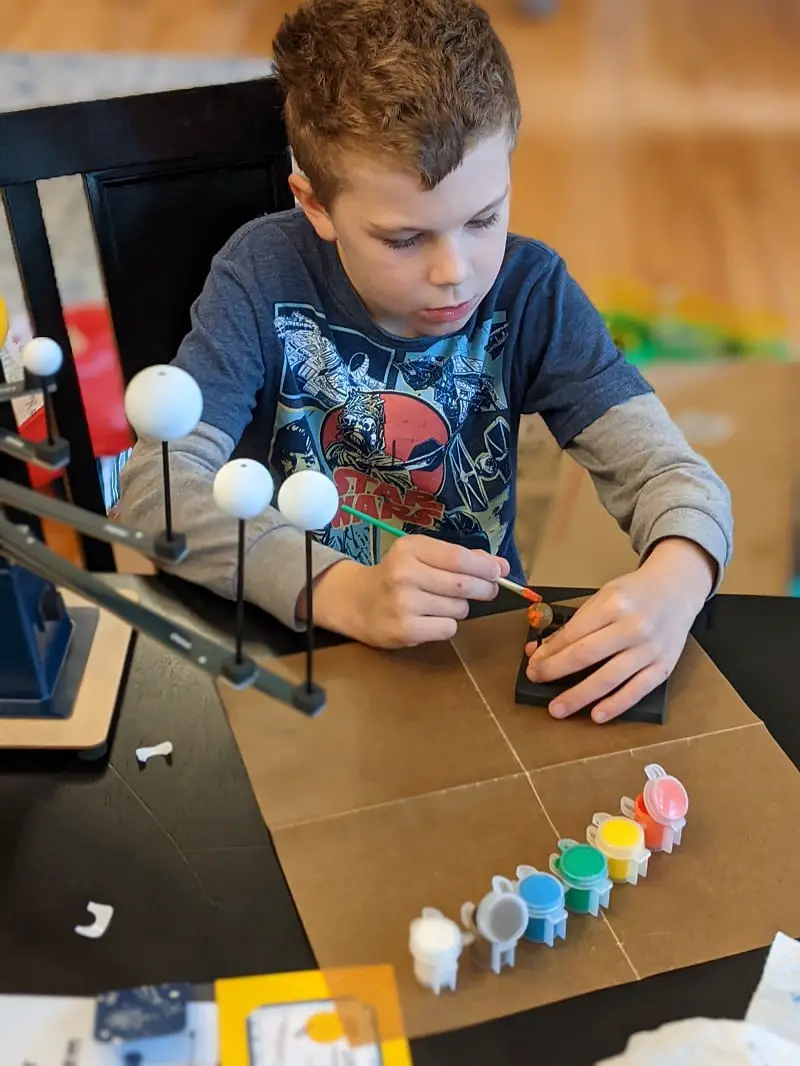 Image Credit: Brian Taylor / TelescopeGuide.org
This Kiwi Crate is a great way to teach kids about the solar system.  It includes two build-it-yourself kits: (1) a working miniature model of the solar system (with rotating planets that you paint yourself) and (2) a rocket-launcher that looks just like the NASA space shuttle (and it really blasts off!).
Not only is this kit fun and interesting to build, but it's a great way to learn about space and the solar system.  The finished model looks really nice too, so your child could display it on a desk or bookshelf in their room when finished.  Additionally, the kit comes with a poster you can hang on the wall, and a book about being an astronaut.  (See our full review here.)
Bill Nye's VR Space Lab
This kit may be a little expensive, but it's worth it. It includes a pair of VR goggles, and over 128 VR and AR experiences to help your child "explore" space in exciting ways.
The kit has a project book that explains the solar system, the physics of space travel, and other astronomy concepts. Each "lesson" ends with a hands-on activity through either physical crafts or a VR or AR experience.
Many of the materials you need for activities are already in the kit. This includes puzzles, crafts, games and free access to the Space Lab app.
Lego Ideas International Space Station
This is definitely one of the best space gifts and collectibles for budding astronomers! With nearly 900 pieces, this kit creates a beautifully detailed model of the International Space Station.
The kit includes 8 adjustable solar panels, 2 rotating joints, a miniature space shuttle, 3 miniature cargo cargo crafts, and 2 astronauts. Assemble and display with pride.
Space Playing Cards
Use this to play your favorite family card game. The cards feature beautiful NASA images, rendered in crisp resolution. Also available: Mars playing cards, and Moon playing cards. Collect all three decks!
If you can't bring yourself to use the deck of cards (we can't blame you!), you can also frame them into a unique space-themed poster.
Space Themed Photo Wall Mural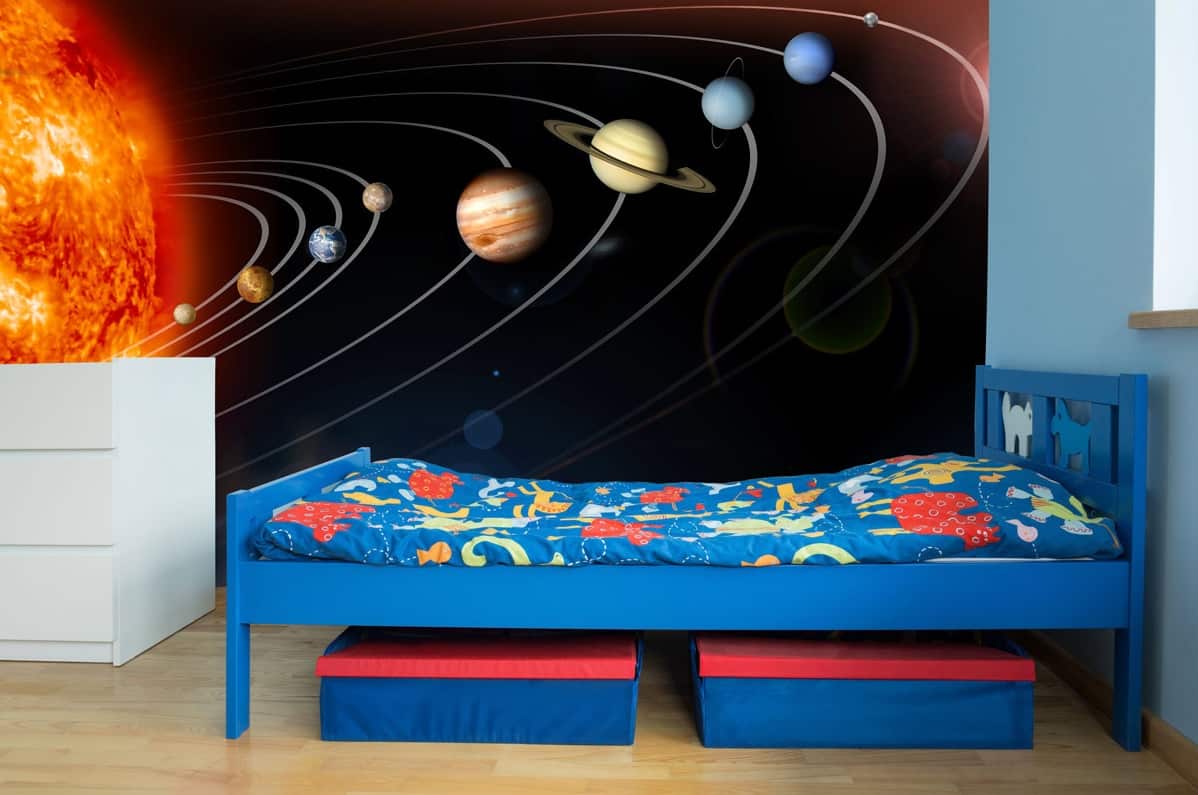 Image Credit: WorldMapsOnline
Check It Out at WorldMapsOnline
Here's a great way to inspire kids with beautiful views of the cosmos every night as they go to sleep.
These wallpaper murals from WorldMapsOnline feature some of the most stunning images of the solar system and beyond.  Hang it on a wall or ceiling to create a beautiful, dramatic scene for your child's room.
Each wall mural is available in various sizes on pre-pasted wallpaper or peel & stick fabric wallcovering material.  You can choose from their selection of breathtaking images – from the solar system to various galaxies and nebulae.  Some are "real life" images taken with the Hubble space telescope, and some are artistic renderings like the one shown in the image above.
Best space gifts for kids aged 13 and above
Your kids are now ready for their first telescope!  Get ready for some serious stargazing with the best telescopes for kids, and books and accessories to help them understand and interpret what they see.  (Also be sure to check out our article on what you can see with a telescope, plus our astronomy calendar for the best celestial events each year.)
Orion Funscope 76mm Tabletop Reflector Telescope

Image Credit: Orion (Used with Permission)
A great first telescope for kids, this telescope is lightweight, affordable, and super easy to use.
With a name like "Funscope" you might be tempted to think it's a toy.  However, the aperture (76mm) is powerful enough to see craters on the Moon, bright planets in our solar system, and brighter sparkling star clusters and nebulae.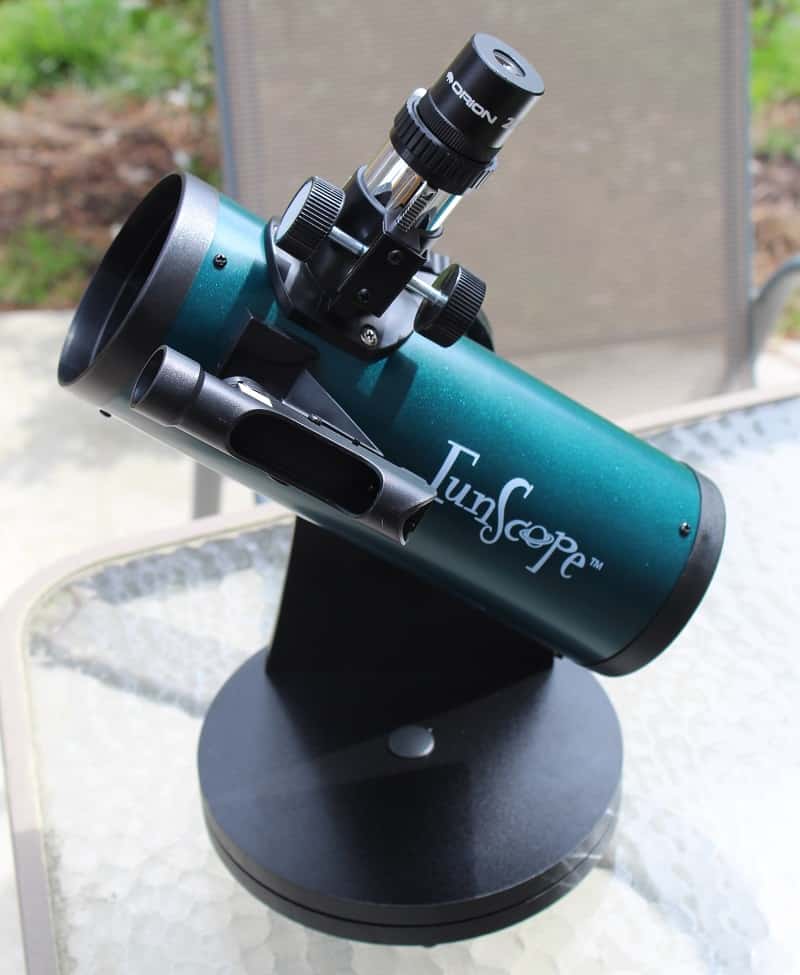 Image Credit: Brian Taylor / TelescopeGuide.org
The "tabletop dobsonian" design is especially easy for kids.  It's a smaller, simpler variation of the classic Dobsonian telescope base, using a single-arm attachment point.
It comes with two Kellner eyepieces as well as the Orion Moon Map 260. The moon map will help kids find and identify the features of the Moon to better appreciate what they are seeing.
Gskyer 70mm Refractor Telescope
This budget-friendly telescope is one of the best astronomy gifts for kids.  An incredibly popular telescope, it offers everything needed to get started.  Overall, it's one of our favorite "starter telescopes" – affordable, and yet dependable.  (Also see our full review of the Gskyer 70mm.)
It has a 400mm focal length and 70mm aperture, with a fully-coated optical lens. This gives a wide field of view and clear images.
While the "standard" eyepieces have limited power, you can add the included Barlow lens for additional magnification.  (You get two eyepieces plus the Barlow lens included with the kit, and can invest in other accessories when you're ready to upgrade.)
The kit includes a tripod and a carry bag, so you can conveniently pack this on camping and stargazing trips.  And one more cool thing – it comes with a smartphone adapter (plus wireless remote control) so you can easily take pictures of the moon and planets.  (See picture below.)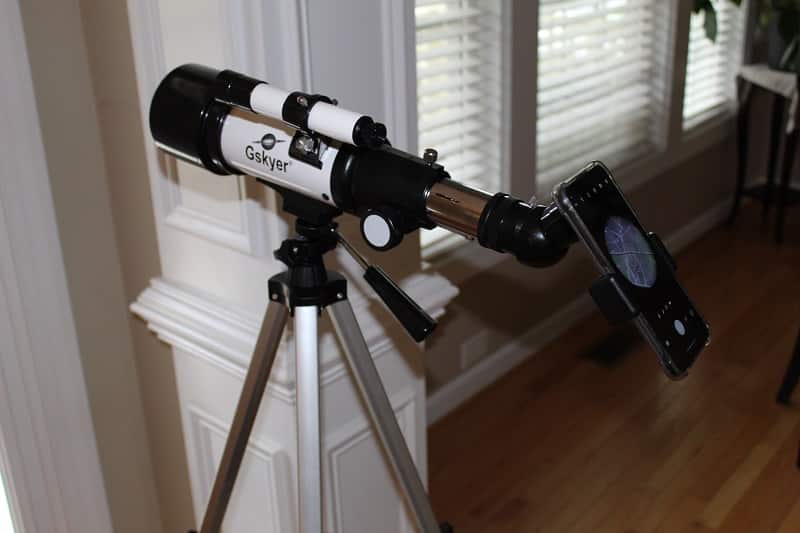 Image Credit: Brian Taylor / TelescopeGuide.org
Orion SpaceProbe II 76mm Equatorial Reflector Telescope Kit

Image Credit: Orion (Used with Permission)
This mounted telescope is especially convenient for stargazing and tracking celestial objects. It has 3″ aperture and 700mm focal length, for very sharp and detailed views. Your child can see not just the moon and planets, but star clusters and nebulae.
The kit includes a shorty 2x Barlow for stronger magnification, a moon map and a star chart. And even if this is your family's first telescope, you'll be able to use all of these with ease thanks to the free guidebook.
Orion StarBlast II 4.5 Equatorial Reflector Telescope Kit

Image Credit: Orion (Used with Permission)
This is a great all-purpose telescope that's a favorite among beginner and expert stargazers. With its short focal length, kids will be able to see a large part of the sky. The views are also very sharp and crisp, and they can zoom in up to 18x magnification to get a closer look.
The kit also includes a 2x Barlow Lens that will help double the telescope's magnification power, and a moon map and star chart wheel, a simple guide book, and a mini LED flashlight.
50 Things to See with a Telescope (Kids Edition)
When your child first uses a telescope, he may initially feel disappointed that the "tiny dots" don't resemble all the pictures he's seen of planets, star clusters, or nebulae. The disappointment can also lead to frustration: "I don't understand what I'm seeing, and I don't know what to look for."
That's why this book is a must-have for any budding astronomer. Written by a member of the Mount Diablo Astronomical Society, it shows kids how to use telescopes and what's visible at different times of the year.
The language is very simple and engaging, even if it's your child's first time to use a telescope. It also has pictures of a "telescope view' so you know what to look for, and helpful illustrations so you appreciate what you're seeing.
Turn Left at Orion

Image Credit: Brian Taylor / TelescopeGuide.org
This classic book is one of the best astronomy gifts for kids. It has object-by-object spreads that show how planets and other celestial bodies look like when viewed through a small telescope.
There are even dedicated chapters for the Northern and Southern Hemispheres, an expanded chapter on the planets, and updated information based on recent telescope technology.
The book is very in-depth, and best for teens who already have been able to use their telescope but want to deepen their skills and understanding even more.
Guide to the Stars Map
Don't go stargazing without this convenient tool! Just adjust the plastic instrument according to your observation time and date, and then you'll immediately find the constellations that are visible.
The front part of the chart also lists all the things you can find in the night sky: 70 constellations, the Milky Way Band, galaxies, star clusters, nebulaes, and the names of famous stars and double stars. You'll also learn about famous star patterns, such as the Northern Cross and the Great Square of Pegasus.
The back part of the chart gives useful astronomy information, from the dates of annual meteor showers to moon maps.
To infinity and beyond!
These astronomy gifts for kids don't just entertain or educate them. They help build a sense of wonder, a love for science, and the awe for the Universe—its size, complexity, and the mysteries that we are only beginning to discover.
Nurture that curiosity and instill a life-long passion for astronomy and the wonder of the Universe. That is the best gift of all.
(Also, if you liked this article, please share it using the social media buttons below!)
Feature Image Credit: Greg Rakozy on Unsplash