Disclosure: This page contains affiliate links. If you click and purchase through these links, we may earn a commission at no additional cost to you.
Learn more
Curious about astronomy, but don't know where to start? Overwhelmed by star maps or the instructions on your new telescope? Then grab one of these astronomy books for beginners. They're simple, practical, and full of information for anyone who is trying stargazing for the first time.  In this article I'll share my top 7 book recommendations for getting started with astronomy.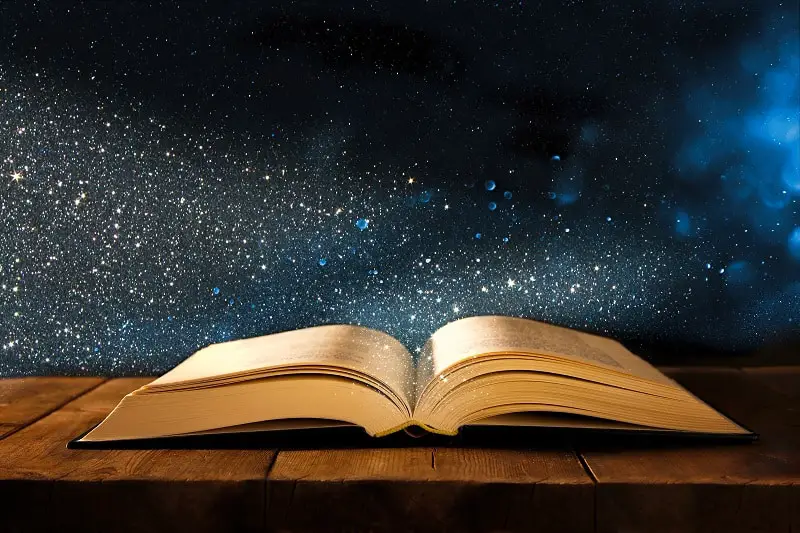 Image Credit: tomertu / iStock
Best Astronomy Books for Beginners – My Top 7 Recommendations
I picked this list of best astronomy books for beginners based on the following criteria:
Simple, easy language that anyone can understand – no previous experience or scientific knowledge required
Geared towards people that only have basic equipment, such as binoculars or a small telescope
Plenty of examples and photos to make learning fun and engaging
Useful, practical information, from using your fingers to estimate the distance of the stars, to how to pick the right telescope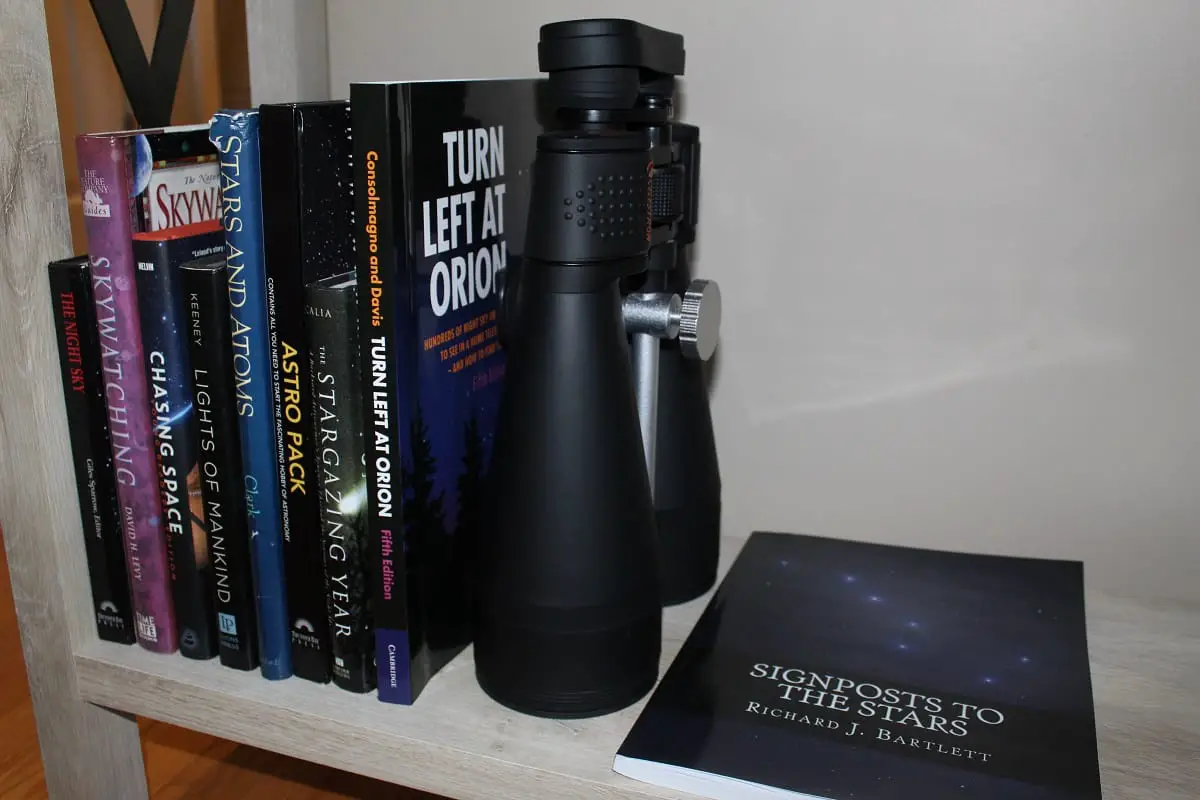 Image Credit: Brian Taylor / TelescopeGuide.org
If you're just getting started with astronomy, I can't encourage you enough to start with one of these books.  (And this is especially true if you "think" you might be interested.)
You don't need expensive equipment to begin learning the skies and observing some of the brightest objects in the sky.  Before you spend a lot of money on a nice telescope, it's a great idea to first invest ~$100 or so on a small telescope or binoculars, and a good guide book.
So, without further delay, here's our list of the best astronomy books for beginners.
1. Turn Left at Orion: Hundreds of Night Sky Objects to See in a Home Telescope and How to Find Them
By Guy Consolmagno and Dan M. Davis
Pages: 256
Dimensions: Large (10.3″ x 12.2″)
Format: Available in paperback, e-book, or spiral-bound
Print: Glossy black & white pages for bringing to the field
This astronomy book is a classic, and for good reason. Since it was first published in 1989, thousands of astronomy beginners have used it to choose their first binoculars or telescope, and learn how to use it.
One of the reasons why Turn Left at Orion is so useful is that it describes how the objects will appear with simple equipment, instead of assuming that you've spent $1,000+ on a more powerful telescope and premium eyepieces.  It even describes what it may look like in light-polluted skies versus very dark, clear skies—that's very useful for beginners!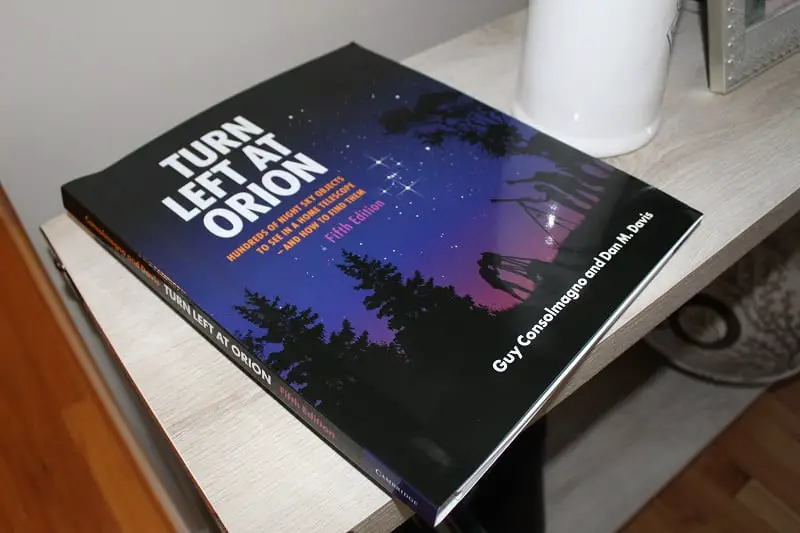 Image Credit: Brian Taylor / TelescopeGuide.org
The book is also designed to "grow" with you. As you become familiar with the brighter stars and planets, you'll be led to find deep sky objects like double stars, galaxies, star clusters, and nebulae. Even people with years of stargazing experience still turn to this book. For example, it lists the binary stars and their magnitudes and minutes of separation.  And it describes specific moon features like the Apollo landing sites.
For this reason, I think anyone who gets into astronomy should get this book. Aside from providing great information for beginners, it will continue to challenge you to look for harder objects—so you're never overwhelmed, but also never bored. Like thousands of other online reviewers, I give this a 5 out of 5 stars!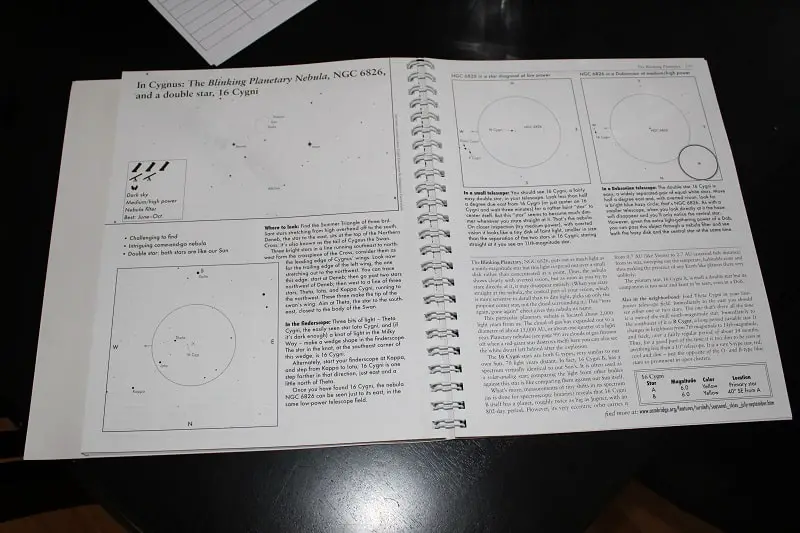 Image Credit: Brian Taylor / TelescopeGuide.org
Finally – perhaps my favorite thing about this book is that its spiral-bound pages are printed on glossy paper designed to be taken out into the field.  The book is made to be "used and abused" over its years of service.  It can withstand the typical moisture and dew you may accumulate during a long night of stargazing.  (The authors note that eventually you'll be able to easily tell your favorite pages in the book, simply by counting the number of grass stains on the pages!)
One drawback worth noting regarding the spiral-bound version – the cover is a little awkward to use.  It folds over the front of the spiral binding, which makes the book look nice on the bookshelf.  But when you flip the cover to the back of the book, it sticks out too far, making the book difficult to hold.  It's a pretty minor issue.  You could just cut it or fold it if you don't like it hanging out.  (You can see it in the picture above, sticking out on the left-hand side.)
Highlights from the book:
Click here to expand
Using Your Telescope.  The book opens with an excellent section written for the absolute beginner.  It explains all the most basic things you need to know about how to use the book, how to find things in the sky, and how to use (and maintain) your telescope.  For example: Did you know that the image you see in your telescope (depending on the type of telescope) may be reversed north and south, or east and west, or both?  Do you know the best way to control fog and dew on your lenses?  How to clean your lens properly if needed (while minimizing the possibility of removing the thin layer of anti-reflective coating)?  The authors do a great job explaining all the basics.  This section is required reading for anyone getting started with a telescope for the first time.
Observing the Moon, Sun, and Planets.  For each of the things in the solar system worth observing through a telescope, there are detailed sections in this book on how to best observe them.  It even includes in-depth discussion of the major geographical features of the moon, and how to best observe the moon depending on the specific phase it's in.
What to See in the Sky, for Every Season of the Year.  The majority of the pages in the book are devoted to the things you can see in the sky.  It's organized by seasons (winter, spring, summer, fall) and includes a section for each hemisphere (northern, southern), so you don't need to read the whole book at once.  Instead, just start with the season you're in, and the book acts like a tour of everything worth seeing.
For each individual target, the book explains clearly: (1) where to look, (2) what it looks like in the finderscope, (3) what it looks like in a small telescope, and (4) what it looks like in a dobsonian telescope.  It also provides subjective rating system for each target as seen through binoculars, a small telescope, or a dobsonian.  Finally, it provides suggestions on the needed sky conditions, recommended magnification power, and the best months for viewing the target.  Whew.  This is a definitive, comprehensive resource for nearly everything worth seeing in the sky.
2. Signposts to the Stars: An Absolute Beginner's Guide to Learning the Night Sky and Exploring the Constellations
by Richard J. Bartlett
Pages: 137
Dimensions: Large (8.5″ x 11″)
Format: Available in paperback and e-book
Print: Black & white
(Full disclosure: Richard Bartlett, the author of Signposts to the Stars, is a regular contributor here at TelescopeGuide.org.  While I'm admittedly a little biased on this recommendation, I personally use this book as a reference for viewing sessions, and I endorse it highly.)
Have you ever stared at the sky (or the fuzzy images in your brand new telescope) and thought, "I have no clue what I'm looking at."
Don't worry, everyone starts from somewhere. And with this book, written by astronomy expert Richard Bartlett, your first steps into astronomy will be very easy and fun.
I like how it starts by using the brightest and most easily identified constellations—Ursa Major and Orion—and other targets you can observe with the naked eye or basic binoculars. That's perfect for beginners or kids with a simple set-up and no astronomy experience at all.
And instead of barraging you with a lot of boring information, Bartlett's book sounds like a personal tour of the sky. He uses simple and concise language, visual aids like constellation maps, interesting information like the history and myths, and plenty of practical tips.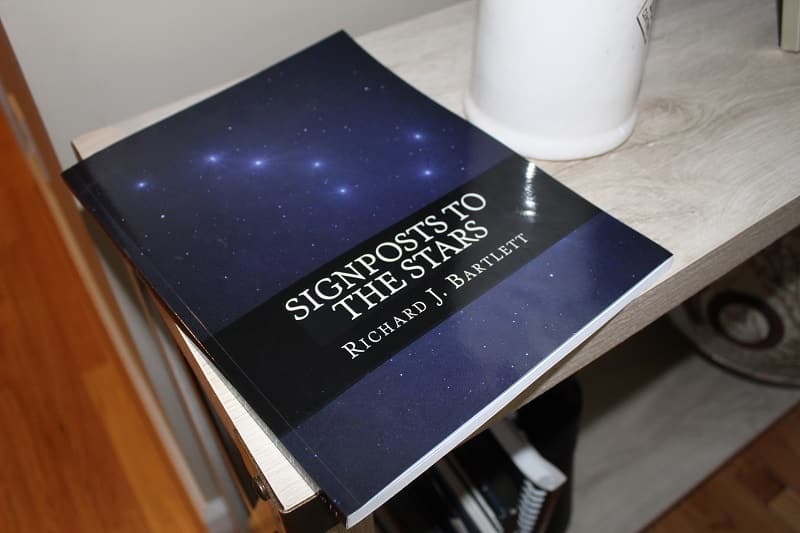 Image Credit: Brian Taylor / TelescopeGuide.org
I also think Bartlett is one of the best writers—and not just because he writes for our website! He was a columnist for Astronomy magazine, runs his own space website, and has published numerous astronomy books, guides, and reviews. So, he's an expert at explaining things in a very simple and engaging way.
For this reason, I think this is one of the best astronomy books for kids, beginners, or people who think "I like stars but I'm not good at science." After a few chapters, the unfamiliar skyline will start to make sense, and you'll be more confident with your stargazing skills.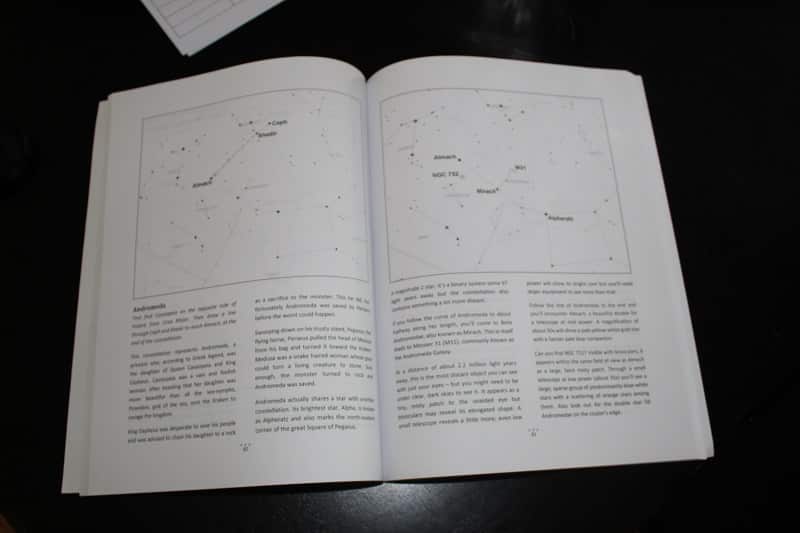 Image Credit: Brian Taylor / TelescopeGuide.org
Highlights from the book:
Click here to expand
Introductory section.  Provides a basic orientation to all things astronomy.  If you're a complete beginner, this section is worth reading twice!  It covers choosing your equipment, setting realistic expectations, understanding essential astronomical concepts and terms, and the different types of things you'll see in the sky.
Star charts and visible constellations.  This is a resource that I keep coming back to again and again.  If you're planning a viewing session, all you need to do is flip to the correct star chart based on your season and time of day.  Each star chart shows you exactly which constellations you'll see, from every direction in the sky, and then you can flip forward in the book to the individual constellation charts for more detail on each one.
Seasonal "signposts" and stars.  Learn to recognize the most important constellations and the brightest stars, for each season of the year.  Once you've learned these "signposts", it's a lot easier to find other constellations, stars, and deep sky objects.
The constellations.  There's a detailed description of each constellation, along with how to find it.  (And these all tie back to the star charts.)  Richard also highlights some of the mythology behind each constellation, along with viewing tips and "nearby sights" for each constellation, deep sky objects including galaxies, star clusters, nebulae, and more.
The solar system.  Introduction to the planets, comets, and meteor showers – including tips for viewing each of the planets and other fascinating sights within the solar system.
3. 365 Starry Nights: An Introduction to Astronomy for Every Night of the Year
By Chet Raymo
Pages: 240
Dimensions: Large (8.5″ x 11″)
Format: Available in paperback and hardcover
Print: Black & white
If you're looking for an astronomy book with a lot of pictures and visual guides, this one's for you. It has hundreds of drawings, charts and maps that will help you observe the night sky and understand what you see.
The pictures are accompanied by detailed descriptions that describe the objects' position and then use that to find other nearby stars. You'll also get interesting facts about the brightness and age, and even folklore.
I like how the book tackles one object a day, and then leads you to a nearby star or constellation in the next. For example, January 1 starts with Orion, one of the easiest constellations to find in the sky.  From there, it teaches you to use that as a reference point for the celestial equator.
The bite-sized, day-by-day format is perfect for people who are too busy to read a thick compendium of information. You can learn a little about astronomy every day. It's also a great reference for young kids, because it has a "storytelling" tone that's very simple and engaging.
4. Nightwatch: A Practical Guide to Viewing the Universe
By Terence Dickinson
Pages: 192
Dimensions: Large (11″ x 10.75″)
Format: Available in hardcover-spiral, and spiral-bound
Print: Color
Many astronomy aficionados recommend getting Nightwatch and Turn Left on Orion together. While Turn Left on Orion is like a star map that explains positions and how to find them, Nightwatch is like a general introduction to astronomy.
The book contains charts of famous stars that you can find with binoculars or a small telescope, including stunning photographs and trivia about the latest discoveries about them. So as you see the object with your scope, you get to imagine what it looks like in space, and deepen your knowledge of astronomy.
The book also has a useful equipment section that covers what you can see with different kinds of lenses and filters, and comparisons of how objects will look when viewed with the naked eye, binoculars, or a telescope.
Other fun and useful sections like a chart with the dates of lunar and solar eclipses, a guide to the constellations of the Zodiac, and "The Universe in 11 Steps."
5. Astronomy: A Self-Teaching Guide, Eighth Edition
By Dinah L. Moche
Pages: 388
Dimensions: Medium (7.5″ x 9.5″)
Format: Available in paperback, e-book, or spiral-bound
Print: Color
This best-selling book for beginners takes a simple but structured approach to learning astronomy.  It introduces technical concepts and tips, without using math or difficult words. Instead, it sets learning goals, explains the ideas in a clear and straightforward way, and then helps you review the information with self-tests and answer keys.
The book already has a lot of great photos and tips, but you get a bonus: you also get to access a website, which has more photos and videos, and other exclusive online astronomy resources.  The great thing about the online component is that it's regularly updated with the latest scientific findings.
What I love about this book is that it can help you transition from your first "introductory guides" to a deeper, more advanced understanding of astronomy. While it's still designed for beginners, it will challenge you to "know the science". Thankfully, it gives plenty of visuals and examples so you can get it right away.
I recommend getting this if 1) you've read introductory books like Signposts to the Stars or Nightwatch and want more technical info, or 2) you're a "science buff" who loves concepts and principles.
6. 50 Things to See With a Telescope – Kids: A Constellation-Focused Approach
by John A. Read
Pages: 72
Dimensions: Medium (8.5″ x 8.5″)
Format: Available in paperback and e-book
Print: Color
If you're giving a telescope to kids, include this book in your gift. The book helps your young astronomer find star clusters, planets, galaxies and nebulae—using colorful illustrations, practical tips, and very simple language.
I like how each object has a dedicated spread, which includes a short introduction, a drawing of the constellation, a "telescope view" or how it will appear in the eye piece. It even has a "difficulty level" or how hard it will be to spot the object in different conditions. The objects are also grouped by season, or what time of year you are likely to see it.
All the pages are printed in full color, and use large fonts that are easier for kids to read. They can read it on their own or flip through the pages.  And when it's time for stargazing, they can compare what they see in the book versus what they see with the eyepiece or their naked eye.
This book is ideal for kids aged 5 to 10 years old. It is not meant to turn your child into an astronomy expert. It will help spark curiosity and a hunger to learn more. Older kids (or kids who are already fairly familiar with stargazing) may want a more detailed guide.
7. Star Finder!: A Step-by-Step Guide to the Night Sky
By DK
Pages: 128
Dimensions: Large (8.7″ x 11.13″)
Format: Available in paperback and e-book
Print: Color
This astronomy book for beginners is a simple, practical and no-frills guide for someone who wants to start stargazing without using maps or apps. It takes a "star-hopping approach" where you start with the Big Dipper, and then go from one constellation to another. It even has glow-in-the-dark maps that you can refer to during stargazing.
The simple approach is perfect for kids ages 5 to 12 who are curious about astronomy and stargazing, but aren't ready yet for a telescope or binoculars. Aside from being able to hunt for objects with the naked eye, they'll also get general information about astronomy, identify some of the constellations of the Zodiac, and background myths.
It is not the best book for a child who wants detailed star maps, tips on using a telescope, or more advanced information like seasonal movements of the stars – a common misconception because of the title. It is more of a first guide to stargazing, which ideally will create a desire to find out more.
More Astronomy Books By Richard Bartlett
A regular contributor here at TelescopeGuide.org, Richard has authored numerous books for getting started with astronomy.  Here are a few more of his most popular and best astronomy books for beginners.
Easy Things to See With a Small Telescope: A Beginner's Guide to Over 60 Easy-to-Find Night Sky Sights
by Richard Bartlett
Pages: 177
Dimensions: Large (8.5″ x 11″)
Format: Available in paperback and e-book
Print: Black & white
Think of this as Waze for the universe. Bartlett helps you find and track over 60 celestial objects that you can observe with binoculars or a small telescope (about 60mm to 80mm). The objects include star clusters and multiple stars, nebulae, and even the Andromeda Galaxy.
The book is much easier to understand than standard astronomy field guides. Each object has a dedicated page, and sketches of how the object will look when you view it with a finderscope and through the eyepiece.
Bartlett also adds additional descriptions, based on his own personal notes from decades of stargazing. Those "insider tips" can be very helpful when you're stargazing in imperfect viewing conditions, or at different times of the year.
I suggest taking this book with you out in the field, and then tackling each page like a stargazing challenge—ticking off which stars and nebulae you've been able to identify, and then writing down your own observations in the book's "personal notes" section.
Once you're more familiar with the major constellations and are ready to dive deeper into astronomy, you can use the book's star charts, and a short guide on telescopes from $100 to $400, to find the "Messier" objects and choose better equipment.
The Easy Guide to the Night Sky: Discovering the Constellations with Your Eyes and Binoculars
By Richard Bartlett
Pages: 136
Dimensions: Large (8.5″ x 11″)
Format: Available in paperback and e-book
Print: Black & white
This is very similar to Bartlett's Easy Things to See With a Small Telescope, but designed for beginners who are using binoculars. Even if you have zero prior knowledge and are literally using the binoculars fresh out of the box, you'll become a pro in no time.
The easy guide introduces you to bright stars, multiple stars, star clusters, and nebulae and galaxies. It has diagrams to show you how it will look, and practical descriptions based on his decades of experience.
I also like how Bartlett provides background information on each object—not just scientific facts, but the myths and legends associated with it. It really deepens your sense of wonder and appreciation. You're not just looking at "a tiny sparkle in the sky" but what it meant for the people who used to look at it, centuries ago.
This is a great astronomy book for beginners or parents who want to learn astronomy with their kids. Just one caveat: After this book, you may be so hooked on stargazing so much that you'll end up buying a telescope. Don't say I didn't warn you!
Start your astronomy journey now
It's never been easier to start learning about astronomy. Now, armed with just a small telescope or binoculars and these astronomy books for beginners, anyone can start stargazing in their backyard.
(Also, if you liked this article, please share it using the social media buttons below!)
About the Author
Brian Taylor: Brian runs TelescopeGuide.org and loves stargazing, learning, and helping others learn about science and space.  He lives with his family in Durham, North Carolina, and his writing has been featured in Amateur Astrophotography magazine, STEM Activities for Kids, and PetaPixel online
Why You Can Trust Our Reviews
At TelescopeGuide.org we're as passionate about astronomy as you are. As such, we take our recommendations seriously and would never recommend anything we wouldn't be willing to buy and use ourselves. When we consider our recommendations, we look at a wide variety of products from a range of manufacturers. We take into account the quality of the product, as well as its durability, ease-of-use, performance, and overall value for money.

Whenever we can, we test the products ourselves or, if that's not possible, we consider the opinions and experiences of other astronomers. Lastly, we take all these criteria and make our decision by creating an objective score for each one. In this way, whatever your needs, requirements or budget, you can be sure you're getting the best possible advice before you make your buying decision.

Feature Image Credit: Brian Taylor / TelescopeGuide.org