These star projectors don't just give you a view of the night sky—they transform your room into a place where you can rest, dream, enjoy your "me time" or hang out with friends.  Now you can have your own personal space (in more ways than one) with the best star projector for your needs and mood.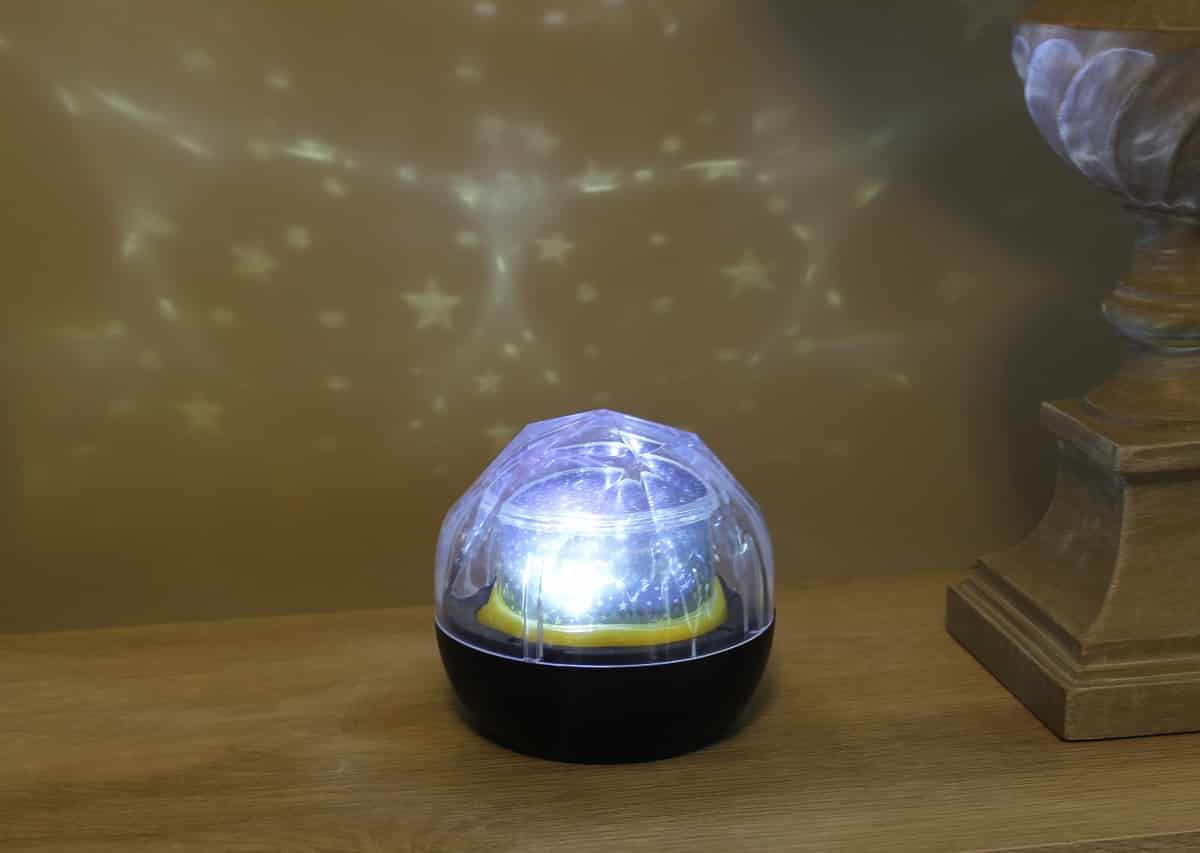 Image Credit: Brian Taylor / TelescopeGuide.org
Best Star Projector for Kids and Parties
You don't have to spend a fortune to paint your ceiling with stars! These affordable star projectors are perfect for decorating a child's room or gaming room, or setting the mood for a dance party.  (Also, for more ideas, be sure to check out our guide to gifts for kids who love space and astronomy.)
Fortally Star Night Light for Kids
It has thousands of positive reviews, and offers excellent value at a low price point. The star projector casts bright moon and star patterns on the ceiling, in 9 different colors or a combination of all.
The projector uses next-generation LED lights that are brighter, last longer, and use less energy. You can use batteries or connect it to a power source with a USB cable. The base also comes in a wide range of colors, from classic black to neon green.
WINICE Remote Control Rotating Star Projector
This versatile star projector has a wider cast and a brighter projector than many products with the same price. It will fill up the ceiling and walls, so the scenes rotate in 360 degrees.
You can choose between 6 film modes—starry skies, constellations, planets, and even sea creatures and a birthday theme. You can also adjust the brightness and change the color, all through the convenient remote control.
The projector also has a lampshade so you can turn it into a practical desk lamp during the day. That's perfect for a child's study area, though the bulky disc does require a lot of counter space.
Lupantte Galaxy Projector
Do you want to relax, or do you want to create a fun party atmosphere? Do both with this versatile star projector.
It can display the moon, stars and nebulae in 4 different color modes, and mixed with additional 21 other light colors and 72 wave effects. Fiddle with the settings, and your room can look like a soothing spa or a nightclub.
Use the built-in bluetooth speaker to play any music you like, and control both the light and the songs with a remote control.
It also has a timer up to 3 hours so you can create a soothing (or very romantic) bedtime environment without having to get up to turn it off.
Best Star Projector for Relaxation
Star projectors create a soothing skyscape to help you relax, let go of stress and reconnect to the abundant universe. Use these to turn your bathroom into a personal spa, or help you settle into meditation or deep sleep.
Merece 3 in 1 Star Galaxy Projector
This handy device doesn't just cast a pretty starscape on your ceiling—it's also a white noise machine and blue tooth speaker.
Switch between 10 different colors and effects, and change the rotating speed and brightness. You can also set the timer to turn off at your desired interval, so it shuts off in the middle of the night to save on electricity.
It has a good selection of white noises too: crickets, falling rain, ocean waves, and the steady hum of the fan. You can also use it as a speaker, so you can listen to your favorite music playlist or a meditation.
BlissLights Sky Lite
This is one of the best star projectors we've seen.  It has thousands of positive reviews, and the technology is top-notch.
With precision glass optics and holographic technologies, you'll feel like you're wrapped in a blue nebula cloud! The colors are very vivid and the "stars" look clear and crisp. We also like how it can fill up the room and sky thanks to its wider projection range.
You can adjust the brightness or change the lighting effects. You can choose between a mesmerizing rotating effect, or keep it still to turn your room into your own personal "Starry, Starry Night" painting.
Like all star projectors, the BlissLights Sky Lite works best in darker environments. However, it does hold up better even in less-than-perfect lighting conditions, and won't wash out just because you turn on a lamp or have a window open.
This is where you see the difference when the brand specializes in lighting. BlissLights makes lights for theme parks and special effects, so the star projector has more powerful and durable parts than what you'd find in a novelty toy.
Can You Imagine Laser Twilight Stars Projector
While it's more expensive than other star projectors, you'll definitely feel like it's a good buy. This powerful projector bathes the entire room in crisp, vivid color. The laser stars rotate at different speeds and diameters, creating a compelling (and very relaxing) 3D effect.
We also like that the stars have different levels of brightness, mimicking how planets and stars would look like in a real night sky. However, these light patterns are not astronomically accurate, and meant more for mood.
You also have the option to switch from a star view to swirling clouds, which is great for theme party or for a more dream-like spa ambience.
Yovako Star Projector
Set the mood with this versatile star projector! Choose from several monochrome and bicolor settings. Adjust brightness and focus. And while most projectors only allow you to choose between static and rotation mode, this one gives you the option to do fade in/out and blink modes too.
Aside from projecting stars, you can also enjoy an ocean wave and aurora borealis view. The speakers can play your favorite music, meditation, or ambient sounds.
We also like that it has a remote control, so you can change the ambience from anywhere in the room.  It also has voice control so it flashes or responds to clapping and other sounds, but the function is quite sensitive and difficult to adjust – most people don't bother using it at all.
Best Star Projector for Astronomy Enthusiasts
For people interested in astronomy, authenticity and detail are important. No cute, colorful stars here—these lights mimic what galaxies and nebulae really look like, or use images based on high quality space photographs.
Sega Homestar Classic
This compact star projector packs a lot of punch. You can insert discs to get life-like views of galaxies, nebulae, aurora borealis, planets, moonscapes, mystic mountains, and so much more. You can even buy additional discs separately, and switch them out when you need a change.
We like how it has a sleek base that won't take up a lot of space on a table. It comes in different metallic finishes, including black, blue, pearl white, red and more—just pick the one that works for your room décor.
You can leave the star projector on, or set it to turn off after 15, 30 or 60 minutes.  You can also adjust the focus and projection angle.
Smithsonian Optics Room Planetarium
This projector turns your bedroom into your personal planetarium. Aside from a rotating view of the northern sky, you can also view high quality space images including planets and nebulae. Kids will also like the scenes that include space crafts and astronauts at work.
All the images are in discs, which can be swapped out whenever you want to change the scene. You can use it as a bedroom light, and then set the timer so it turns off when your child's asleep. The projector works best in pitch dark, so you can see crisper views of the stars.
Omegon Star Theater Pro Planetarium
This star projector displays 10,000 images of stars, galaxies and nebulae—exactly what you'd see if you went camping or took out your telescope on an especially clear night. Just switch out the discs to change your views, and take a journey through the stars.
You can change the projection distance from 15 centimeters to as much as 6.8 meters. The motorized rotation helps make the experience feel more natural and real.
We also like how it has a longer sleep timer. While most star projectors limit you to 30 minutes, this one can be programmed to turn off after an hour and a half.
National Geographic Astro Planetarium Multimedia
The National Geographic star projector gives you a scientifically accurate view of the night sky—and you can bet on its projection quality, too.
It uses optics from Bresser, a German optics brand that also makes binoculars and telescopes. So even if it's more expensive, you're getting one of the best projectors that won't break down right away.
The projector has two disks: one displays over 8,000 stars and the other has the overlays for all the important constellations. Set the time and day, and you get a real view of how the sky would look like at that moment.
This is a great gift for astronomy enthusiasts, or children who have a strong interest in space and science.
Incidentally, Bresser made a very similar product—the Junior Astro Planetarium. It's almost identical (down to using the same discs) but has a moving projector that mimics the stars' rotation. However, you have to order from their UK site and have it shipped to the United States.
Dark Skys Star Projector and Home Planetarium
This compact device projects over 4 million stars, and has one of the biggest collection of star discs. You can even purchase additional discs for different hemispheres or specific nebulae. To add to the realistic view, there will even be random shooting star effects.
The device can be rotated to project on the ceiling or the wall, and is small enough to fit even on a bedside table. You can also switch between a star projector a nightlight mode.
The cons—aside from the price, the customer service responses don't sound as friendly as other brands (and in some messages, actually come off as abrasive).
Nashika Astrotheater
This star projector uses high-quality optic equipment to create stunning, scientifically accurate images of the cosmos.
It has over 9,000 images including constellations and other celestial bodies. You can change the focus and angle up to 90 degrees, and enjoy a circular range of up to 300 cm.
Best of all, you can set the time and date to get an accurate view of the sky, and program it to change each day for up to a year. This is a great way to learn how the stars shift over time—just like going out with a telescope every night.
The only downside to this product is that the manual is entirely in Japanese, so you either have to use an app to translate it to English or find someone who can translate it for you.
4M Create a Night Sky Projection Kit
This is an affordable but still scientifically-accurate star projector. The cardboard panels neatly fold and mold around the light. Once you turn it on, you can see the constellations of both the northern and southern hemispheres projected on your wall.
However, this obviously does not have the features of more expensive star projectors, like rotation and timers, or even the power to fill your ceiling and walls with dazzling light displays. However, it is a good educational tool or a gift for a budding young astronomer.
Create your own perfect personal "space"
Star projectors come in different prices, and have different effects and levels of "realism." So before you buy one, think about what's more important to you: a variety of lighting options, or scientific accuracy? Both are great—it all depends on what's important to you.
We are already surrounded by stars: the Earth is just a "small blue dot" in a giant cosmos. But these star projectors help represent what lies beyond our naked eye, and hopefully encourage us to learn more about astronomy and the universe.
(Also, if you liked this article, please share it using the social media buttons below!)
Feature Image Credit: Nong Vang on Unsplash