Disclosure: This page contains affiliate links. If you click and purchase through these links, we may earn a commission at no additional cost to you.
Learn more
Are you looking for a telescope that's powerful enough to see galaxy and deep sky objects, and do some simple astrophotography too? Do you want to be able to bring it with you on trips or to remote locations, and be easy to set up once you're there?  Then the Celestron NexStar 8SE may be for you – keep reading for our full review.
This compact telescope has the specs to satisfy serious stargazers, but is simple enough for beginners to use. It's even computerized, so you can quickly spot objects even in very light-polluted skylines.
But it's not cheap—and if you're going to spend over a thousand dollars on a telescope, you're probably asking, "Is it worth it? Can I get something better for the same price?" This Celestron NexStar 8SE review can help you take a deep dive into its features, so you can decide if this is really the best telescope for you.
First, let's see if you're a "cat" person
All telescopes work with these simple principles: collect light through the aperture, focus it until it gets a small but sharp image, then enlarge the image through the eyepiece.
Reflector telescopes achieve this by using a mirror, while refractor telescopes use a glass lens. Catadiotropic telescopes (sometimes called "cats" by astronomy aficionados) like the Celestron NexStar range use a combination of both. So what does that mean, for you?
More portable
Is one kind of telescope better than the other? It depends on what you're looking for. Catadioptric telescopes are generally lighter and more compact, so it's easier to carry them around. This isn't a factor if you want to park your scope on a table or in the backyard, but if you'll be bringing it on trips, size does matter.
More value for the money
Catadioptric telescopes, like most reflectors, are also generally less expensive than refractor telescopes of similar aperture size, because their parts are easier to mass produce.  (For more comparison, see our article on the differences between reflectors and refractors.)  You pay a little more for the complexity of the multi-mirror setup, but you still enjoy the cost benefits of a mirror-based telescope design.
We're not saying the Celestron NexStar is cheap—not with its 4-digit price tag—but that's because of the high-tech features added on to it. But if you break it down to just the size and power of its parts, catadioptric telescopes will give you a great cost-to-size ratio.
Requires collimation
You'll need to spend a little more time adjusting a catadioptric telescope, especially if you transport it. Any vibrations can push the parts out of alignment, so you can't get a clear image. No worries: you just have to spend a few minutes adjusting it – or what you call "collimation".  (It sounds more intimidating than it really is once you get the hang of it.)
All reflector telescopes have the same problem. If you want to avoid collimation as much as possible, you may be better off with a refractor telescope. Those have fixed lenses, and will only need collimating if it suffers a really hard fall.
So, if you think you're leaning towards a catadioptric telescope, let's jump straight into the Celestron NexStar 8SE review and see how it compares to other products in its price range.
Celestron NexStar 8SE: Basic Specs
The Celestron NexStar 8SE is the most powerful telescope in the NexStar range. It has an 8" aperture (203mm) for powerful light-gathering capabilities, a focal ratio of f/10, and a long focal length of 2032mm.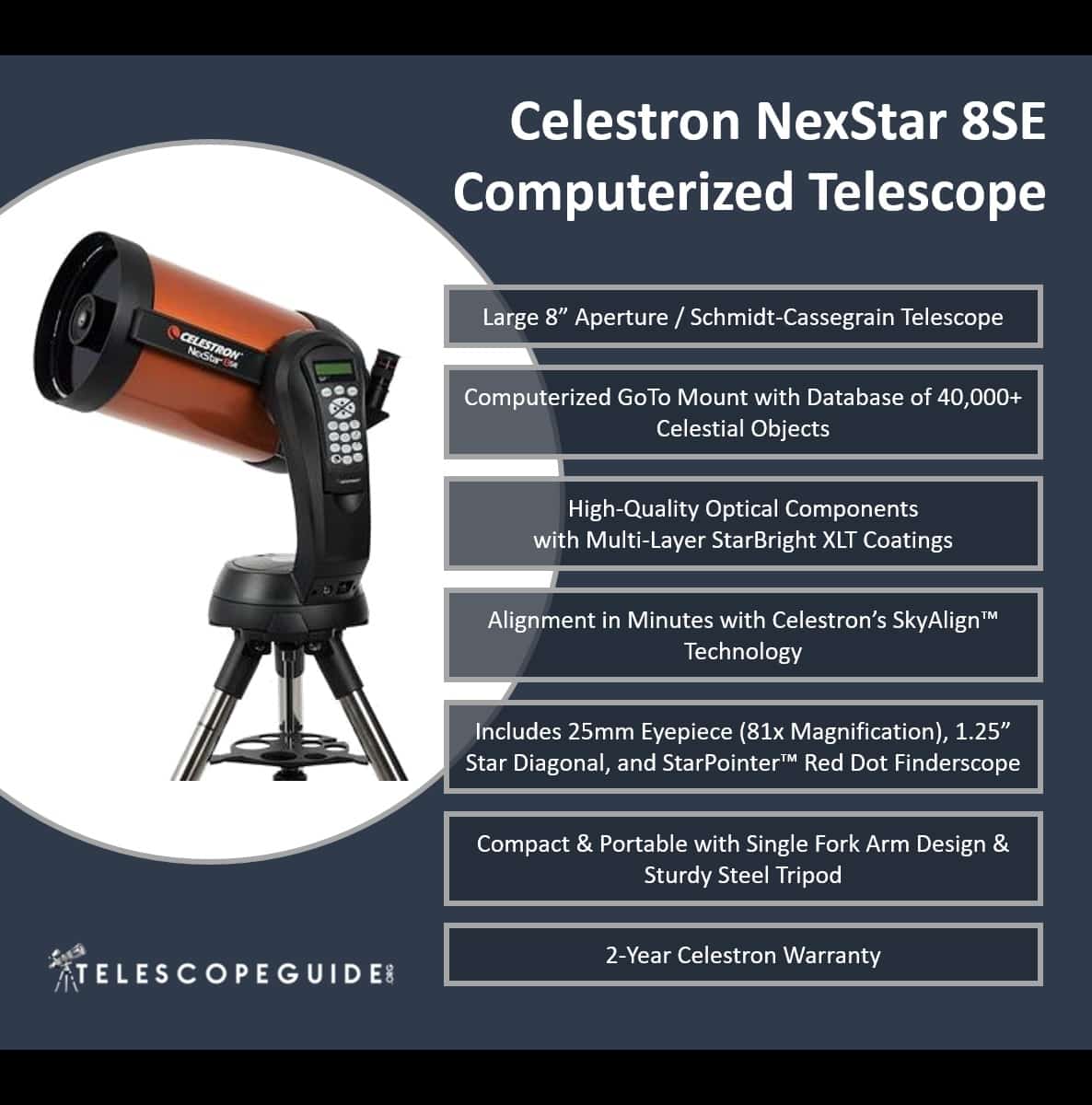 (Celestron Product Image Used with Permission)
The NexStar has a distinctively sleek appearance, with its OTA (optical tube assembly) in the iconic orange color that's a throwback to the first Celestron telescopes made in the 1970s.
Computerized mount and hand control
It has a computerized Altazimuth mount.  The mount is fully automated, and has a quick-release bracket for easy removal and attachment. The hand control fits into the bracket for easy access. You can use it in place, or take it off and use remotely.
The GoTo mount also has a massive database of 40,000 celestial bodies which will automatically find and then track whatever you want to see. That's a huge plus for beginner astronomers!
StarBright XLT coatings
Celestron's premium telescopes use a very special optical coating system called StarBright XLT.  This multi-layer coating technology increases light transmission rate to an astounding 97.4%, and is anti-reflecting. The result is brighter, clearer images (as opposed to "that fuzzy thing in the sky").
Aside from their unique coating, they use high-transmission water white glass rather than the usual soda lime glass, and hafnium dioxide. Hafnium is a rare and expensive element, but it nearly doubles the band spectrum from previous models.
It's these little details that boost the NexStar 8SE's optic performance and set it apart from other brands. As you can see, it's not just the size of the aperture that matters, but the way it's set up to maximize all the light that comes in.
Compact and lightweight
You may be concerned that its long focal length would make the telescope too long and unwieldy. However, its design – which makes use of a folded light path – allows it to be much shorter and compact. The actual telescope length is only about 17".
The total kit weight is 24 pounds, including the telescope, mount and tripod. However, the telescope itself is about 12 pounds, and is actually only a few pounds heavier than the Celestron NexStar's 6-inch telescope. You won't even feel much of a difference when you're carrying it around, but you get much higher magnification and 77% more light-gathering capability.
Energy source
While the telescope can run on 8 AA batteries, you really need an external power supply for optimal use.  This is perhaps the weakness of the Celestron NexStar 8SE: the power supply isn't included in the basic kit. You'll have to buy it yourself. Good options are a 12-volt DC power supply and cord, or a car battery adaptor.  (See further below for our recommended accessory upgrades.)
That said, even if you've already hooked it to a power supply, you should still insert batteries into the telescope as a back-up energy source in case it accidentally gets unplugged.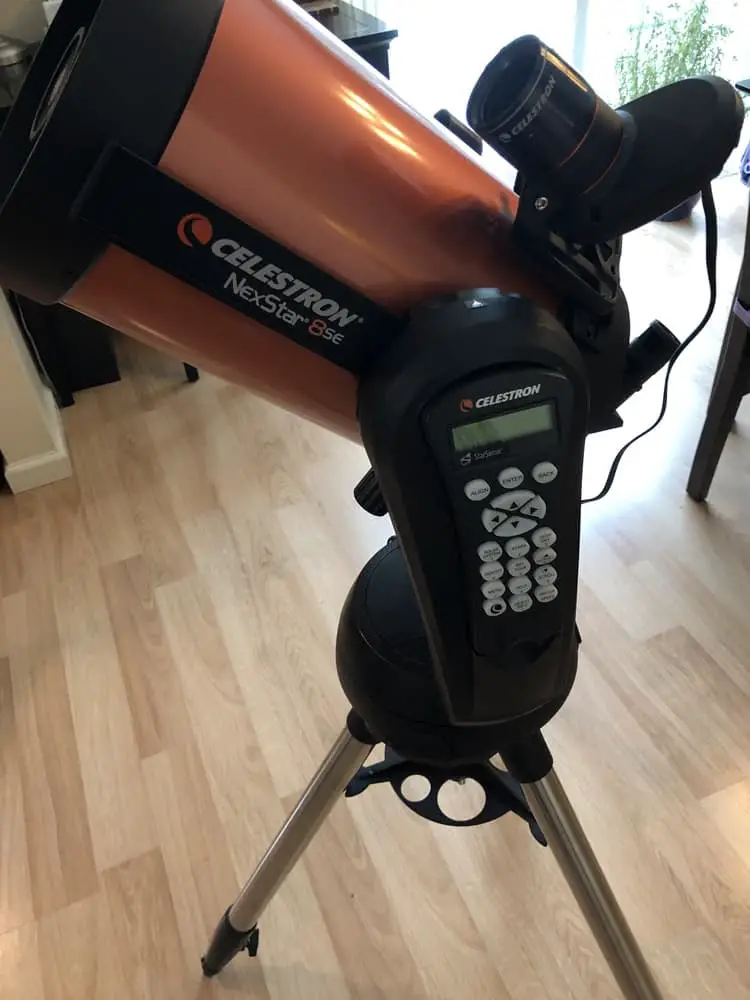 Image Credit: S. D. Falchetti (Used with Permission)
Scorecard – Celestron NexStar 8SE Computerized Telescope
| Category | Our Verdict | Why? |
| --- | --- | --- |
| Skill Level | Beginner to Intermediate | Advanced computerized capabilities make it easier to operate |
| Quality | 5 out of 5 | Great warranty and solid component quality |
| Ease of Use | 5 out of 5 | Automatically locates and tracks objects |
| Power & Clarity | 5 out of 5 | 8" aperture ideal for beginner to intermediate experience |
| Control | 5 out of 5 | Computerized AZ mount |
| Portability | 4 out of 5 | Great portability but not ideal for hiking |
| Accessories | 3 out of 5 | Basics included but there are a few additional things you'll probably want to add |
| Overall Value | 5 out of 5 | Flagship of the excellent NexStar SE line |
Pros
Powerful optics lets you see fainter, more distant celestial objects
Computerized mount and extensive database make stargazing easy for beginners and kids
Simple setup & great portability
Lighter and more compact than other telescopes with similar specs
Quality construction
2-year Celestron warranty
Great visuals, capable of beginner (short-exposure) astrophotography
Cons
High price
No external power supply
Does not come with a lot of accessories
Not for long-exposure astrophotography
Short battery life
We wish it came with more eyepiece options and GPS
Celestron NexStar 8SE Review: Key Features and Benefits
The specs can't tell the full story. A telescope isn't just a sum of its individual parts, but how well they work together to create your stargazing experience. In this section of our Celestron NexStar 8SE review, let's look at some of the reasons why we think this is one of the best telescopes.
Powerful optical performance
Let's get straight to the point: how much can you really see with the Celestron NexStar 8SE?
With its huge aperture and a focal ratio that lets you push magnification up to higher than 400x, the short answer is: A LOT.
At any time, you can pick out the features of the moon and planets, galaxies and nebulae, and thousands of deep sky objects. Want to see the bands of Jupiter and its Galilean moons?  What about Martian ice caps or the Cassini Division in Saturn's rings? Done.
(Need some ideas for things to see with a telescope?  Check out our stargazing essentials guide with our favorite things to see.)
Portability
With a 12-pound telescope and a 24-pound telescope and mount, neither item is too heavy for one person to carry and set up.
It's also more compact than many telescopes with similar specs – at 17", the optical tube is about the length of a laptop. You can easily fit into your car and still leave room for an ice cooler.
Ease of use (even for kids and beginners!)
Even if this is your first time to use a telescope, it will take just half an hour or so to set up. And even more importantly, it takes even less time to spot deep sky objects with its computerized GoTo capability.
Thanks to Celestron's proprietary SkyAlign technology, all you have to do is center any three bright objects within your eyepiece. Immediately, the computerized database kicks in and produces a "sky tour" with all the best objects to view.
Planets, stars, galaxies and nebulae – choose which one you want.  Then the computerized mount accurately points the telescope, centers the object, in the eyepiece, and even tracks it as it moves in the sky.  All you have to do is look!
Magnification levels
The Celestron NexStar 8SE is pretty powerful straight out of the box, but you can make it even better just by switching up the eyepieces and adding a 2x Barlow lens.  (See further below for our accessory recommendations.)
25mm eyepiece: 81x magnification, up to 162x with a Barlow
18mm eyepiece: 113x magnification, up to 226x with a Barlow
10mm eyepiece: 203x magnification, up to 406x with a Barlow
You can't go much further than 400x magnification with the telescope without your images becoming blurry.  (The rule of thumb, generally speaking, is 50 multiplied by your aperture size in inches.  So, 8″ times 50 is 400x highest useful magnification.)
Astrophotography option
With just an inexpensive camera adaptor, you can start taking pictures of the skies! However, it's really not the best telescope for astrophotography.
While you can get great images and the planets, deep sky objects will come out somewhat blurry. What's the problem, when it has such a good aperture and focal length? It's the alt-azimuth style mount, which isn't as perfectly smooth as it needs to be for longer exposures.  (For long-exposure astrophotography, we recommend a computerized equatorial mount.)
So if you're mainly interested in astrophotography, the Celestron NexStar 8SE is not your best choice. But if you usually stargaze visually and just feel like dabbling in astrophotography once in a while, then this has enough specs for your hobby. Just invest in a Barlow lens to get a better image.  (And see our accessory recommendations further below for the right adaptor for your camera.)
Included accessories
One free download of the Starry Night software Special Edition
Red dot finderscope
25 mm basic eyepiece
1.25″ star diagonal
The software will allow you to control your telescope, even from your computer. Its features include a Deep Sky database, audio descriptions, interactive sky guide and simulation, sky calendar, 3D binary star systems and other models, and more.
The 25mm eyepiece is decent, but you will need to invest in better eyepieces down the road. The star diagonal is pretty much standard for this type of telescope.
The finderscope isn't anything to write home about. Luckily, you won't really need it too much, because most of the time you'll be using the computer to find celestial objects. But if you prefer to have one, it's best to get a magnifying finderscope.
NexStar 8SE User Experience
Here's what you can expect when using the Celestron NexStar 8SE.
Set up
It's easy and fast to set up, and as we mentioned earlier in our Celestron NexStar 8SE Review, it's much lighter than telescopes with similar specs.
It's much easier to carry once you remove the telescope from the mount. Not only is it lighter, but it's safer both for you and the telescope—if you trip on a rock, there goes $1,000+. So realistically, it will take either two trips from the car or two people to carry it.
Stargazing power
The computer software makes stargazing as simple as point and click (or more accurately, click and point – you choose the celestial body you want to look at, and it automatically swivels to center it in the eyepiece).
The optical quality doesn't disappoint. Even with the supplied 25mm eyepiece, images are bright and clear.  We saw a report from one user who was able to spot Arcturus in Böotes during a first test run, and it looked pin sharp.
But we feel that it would be a waste of the telescope's optics to just rely on the eyepiece that it's shipped with. When you can, invest in a better eyepiece. Once you can get better magnification, deep space opens up to you.
For example, at 406x magnification, the Celestron NexStar 8SE can pick up the Whirlpool Galaxy, Saturn and its rings along with several of its moons – all with ease. The best part about this is that even if you're not yet familiar with astronomy, the software can suggest what to look for and even give you an audio description. Kids (and yes, adults) will love this "personal tour of space."
Balance
Our biggest problem is the tripod, which is the same used for the smaller Celestron NexStar models. Though it's made of sturdy 1.5" stainless steel, we feel that it's just barely managing to hold the telescope and its other accessories.
That causes a tendency to vibrate, which makes astrophotography challenging especially if you start adding up the weight of camera accessories. While not a deal-breaker, for this price point they really should have added a second arm to give additional support.
However, there are quick fixes. You can get vibration dampening pads that will eliminate most of the tremor, or a motorized focuser so you don't have to touch the telescope after it's set up.
Frequently Asked Questions
Can I control it with my smart phone?
Not out of the box, because the NexStar SE series does not have Wi-Fi capability by default. If you want a telescope that you can control through an app, you can add a SkyPortal Wi-Fi adaptor, or check out the NexStar Evolution series.
Is the software compatible with the MAC?
Yes, it finally is!
What accessories should I probably get?
We recommend getting additional eyepieces, a filter set to help you see galaxies and nebulae, and a carrying case.  And, of course, an external power supply.
What do I need to have in order to take pictures with the telescope?
You will need a DSLR camera, a Celestron T-adaptor and a Celestron T-ring. You may want to get a focal reducer to lower the required exposure time.  If you later decide to get really serious about long-exposure astrophotography, you can buy a computerized equatorial mount and attach the NexStar 8SE optical tube for easier tracking and stability.
Accessory Upgrades to Consider
Click here to expand
Celestron carrying case for NexStar optical tubes:
PowerTank portable power supply:
Celestron offers a 1.25″ eyepiece kit.  It provides a nice collection of Plossl eyepieces, along with a number of different filters for a variety of viewing scenarios:
If you want to connect your DSLR camera (Canon or Nikon), Celestron sells the appropriate T-adapter and T-rings here:
NexYZ adapter if you want to take images with your smartphone:
The Bottom Line: Is the Celestron NexStar 8SE Worth It?
This is a great telescope for people who want a telescope that's powerful, easy to use, and easy to bring around.
Even if it's expensive, you definitely get your money's worth. However, we wish we didn't have to spend more to get basic things like a power supply, a better eyepiece, or even a sturdy carrying case.
Other than that, it's one of the best telescopes even for beginners or kids. It makes stargazing so simple that you will want to do it often – and ultimately, that's what makes this a good investment. You will be spending a lot initially, but this still gives more value than a cheap telescope that breaks down or a complicated telescope that gathers dust in your attic.
(Also, if you liked this article, please share it using the social media buttons below!)
Feature Image Credit: S. D. Falchetti (Used with Permission)