Disclosure: This page contains affiliate links. If you click and purchase through these links, we may earn a commission at no additional cost to you.
Learn more
The Celestron Omni XLT 150 is a surprisingly upgraded telescope for its price point and size. This modern take on the classic equatorially mounted 6" Newtonian reflector has plenty of enhanced features that provide better optics, a sturdier mount, plus a wide field of view – making this telescope a great choice for stargazing and even basic astrophotography.
While this review is mainly positive, we do our best to give you a fair and unbiased summary of each telescope we review. Keep reading our Celestron Omni XLT 150 review below to learn what we love about it and what we think could be improved.
An Overview of the Celestron Omni XLT 150
The Omni XLT 150 is a Newtonian reflector telescope, using a combination of mirrors to reflect light to form an image.  This is the only reflector telescope in the Omni XLT series from Celestron, and it comes at a better price than many of its competitors with similar features and quality.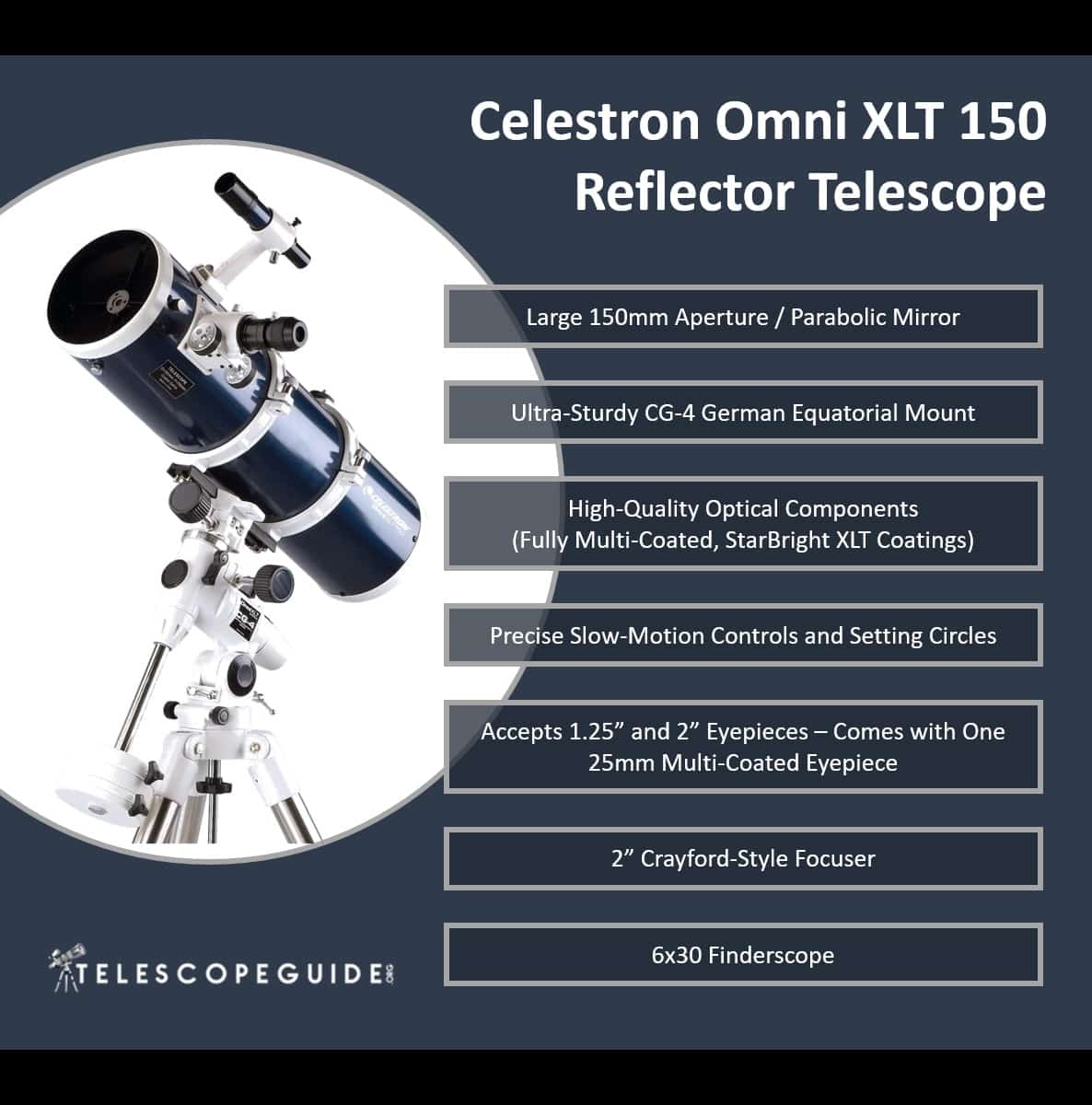 (Celestron Product Image Used with Permission)
Celestron's Omni XLT 150 presents excellent views of the sky thanks to its high-quality optical system.  And you can explore plenty of celestial sights without getting bored with this telescope. The 150mm (almost 6") telescope aperture is the largest in the Omni XLT series, letting in plenty of light to create bright and beautiful images.
What We Love
Starting off, the Omni XLT 150 sits at an attractive price point for its overall build quality and aperture size.  Between the upgraded features, the quality of images presented to you, and the sturdiness of each of its parts you would be hard-pressed to find a better setup at the same price.
The Celestron Omni XLT 150 has phenomenal optics crafted with its large aperture, and a wide field of view.  The primary mirror is parabolic (not spherical) and exceptionally high-quality.  All optical elements are fully multi-coated with Celestron's "StarBright XLT" anti-reflective coatings.
The mount is especially sturdy and rugged, and it's perhaps the #1 reason to choose this telescope.  It has been redesigned to better suit both the telescope and those operating it, and you will find little to complain about.
This telescope feels like a huge upgrade compared with entry-level equatorial reflectors from Celestron and other manufacturers.  In our view, it's a fantastic option for those starting out or even intermediate astronomers who want decent views without ruining their finances.
What We Are Not Impressed With
While the Celestron Omni XLT 150 does an amazing job with the most important components (the mount and the optical system), we find that the included accessories are very basic. You'll get a certain amount of mileage with the stock supplies, but if you want to go further you will be spending the extra money on a few key upgrades.
In particular, the eyepiece and finderscope are among the first that we anticipate needing upgrades or replacement.  It only comes with one 25mm eyepiece.  (Although, it's a decent eyepiece, with fully multi-coated glass, 20mm eye relief, and a 50 degree field of view.)  And you'll most likely find the 6×30 finderscope to be limiting as well.
From a total cost of ownership perspective, you should still come in at a pretty good price point after buying additional or replacement parts.  However, going through the hassle of shopping for compatible supplies is not worth it for everyone.
What the Celestron Omni XLT 150 is Best For
The Omni XLT 150 is a versatile telescope – capable of being used for a variety of different viewing scenarios.  It can be used for:
Stargazing and general celestial viewing
Lunar and planetary observation
Viewing deep space objects like galaxies and nebulae
Basic astrophotography (short exposure)
If you plan on doing any of these things you can expect this to be an excellent tool. This Celestron Omni XLT 150 review digs deeper into the pros and cons, and whether you can trust it enough to add it to your telescope collection.
Scorecard – Celestron Omni XLT 150 Reflector Telescope Review
| Category | Our Verdict | Why? |
| --- | --- | --- |
| Skill Level | Beginner to Intermediate | Suitable for beginners but can grow with you |
| Quality | 5 out of 5 | Excellent component quality |
| Ease of Use | 3 out of 5 | Requires collimation; equatorial mount requires skill |
| Power & Clarity | 5 out of 5 | Large 150mm aperture for bright images; high-quality optical components for sharpness and contrast |
| Control | 5 out of 5 | Ultra-sturdy CG-4 mount with smooth slow-motion controls |
| Portability | 4 out of 5 | Good portability |
| Accessories | 3 out of 5 | Basic accessories and one eyepiece |
| Overall Value | 5 out of 5 | Excellent value |
Pros
Affordability is excellent for such a high-quality telescope
Celestron's CG-4 mount is very robust, and allows precise tracking of celestial objects
Large 150mm (almost 6″) aperture lets you view fainter, more distant objects
High-reflectivity parabolic mirror and fully multi-coated optical components
Excellent overall value and versatility
Accepts 1.25″ and 2″ eyepieces!
Cons
Accessories are somewhat basic (for example, only one eyepiece included) – but keep reading for some options to consider
You'll need to learn how to collimate the telescope
Make sure you truly want an equatorial-style mount – it comes with a slight learning curve (but it's worth the time)
Key Features of the Celestron Omni XLT 150
Before we look at the main features of the Celestron Omni XLT 150 we need to establish some basic specifications of this reflector telescope.
Aperture: 150mm (5.91") with parabolic primary mirror
Focal Length: 750mm
Focal Ratio: f/5
Eyepiece: 25mm
Looking at this information, you can see that the Celestron Omni XLT 150 has a large aperture, almost 6″.  In our opinion, 6″ is a good "sweet spot" for beginners who are ready to make an investment in their first higher-quality telescope.  But with 6″ aperture and higher quality components, the telescope can grow with you as you get more experience.
The focal ratio (f/5) falls comfortably in the range of telescopes with a wide field of view.  This is the exact same focal ratio you'll find in the popular Orion SpaceProbe 130ST.  (You can almost think of the Omni XLT 150 as a "bigger, better, more rugged" version of that same model from Orion.)
When combined with the 25mm eyepiece, the telescope offers magnification of 30x.  That's enough to get a great view of many astronomical sights.  However, with a much higher theoretical maximum magnification of 300x (multiplying 6″ by 50), you'll definitely want to add another eyepiece and/or a Barlow lens to get a closer look at things.
Included Accessories
In addition to the optical tube, the Celestron Omni XLT 150 comes with the following accessories:
A single 25mm eyepiece (fully multi-coated, with 20mm eye relief and 50 degree field of view)
2" Crayford-style focuser
Adapter for 1.25″ eyepieces
6×30 finderscope
CG-4 mount with slow-motion controls and setting circles
Tripod with 1.75″ steel legs, accessory tray, and bubble level
Celestron Starry Night Special Edition software and SkyPortal App
The Celestron Omni XLT 150 is a "Fast" Telescope
Taking into account the short focal length and fast focal ratio of the Celestron Omni XLT 150, most people would consider this to be a "fast telescope". This means that it can gather light faster and give you a wider view than other telescopes with a longer focal length or slower focal ratio.
A wider field of view means it is a great choice for versatile stargazing and astrophotography. This provides a wide area to observe for visual astronomy.  And, you can dive deep into space for detailed imaging with the right tools.
The biggest issue here is that you can run into coma issues when using it with a wide field eyepiece. Not only does this limit what you can view, but it also limits what you can view well. While it should not stop you from using the telescope, you can easily correct it with a coma corrector if it becomes a big enough problem.
Optics, Collimation, and Focuser
According to Celestron, each piece of glass in this telescope is "hand-selected" for optimal quality.  Additionally, the mirror is parabolic and all optical components are fully multi-coated with Celestron's StarBright XLT coatings.  Compared to an entry-level Newtonian reflector, the Omni XLT 150 will deliver images that are sharper and clearer, thanks to these upgraded components.
Collimation is especially essential for fast reflector telescopes. While the Omni XLT 150 does not provide you with any collimation tools, all you really need is a collimation cap (or you can make your own with a 35mm film canister).  Here's a simple guide to collimation for Newtonian reflectors.  See further below for recommended collimation accessories as well.
Apart from this, the telescope comes with a 2" Crayford-style focuser that is all-metal.  It also comes with a 1.25" adapter to ensure that any 1.25″ eyepieces you purchase will be compatible. This is perfectly adequate to eliminate shaking when you are testing the capabilities of the telescope, especially with the sturdily developed modern mount.
Ultra-Sturdy, Modern Equatorial Mount
The Omni XLT 150 includes a Celestron CG-4 mount that is nicely upgraded and exceptionally robust.  As we mentioned above, this is perhaps the #1 reason to buy the Omni XLT 150.  (The mount can also be purchased separately.)
Celestron CG-4 Mount By Itself:
The CG-4 features an equatorial-style mount (also known as a German Equatorial Mount, or GEM).  It lets you easily track objects in the sky with accuracy and stability.  And it features slow motion controls which allow for precise movement, allowing you to track more smoothly in ascension or declination.
By default, the mount is manually controlled.  The CG-4 is essentially the same mount as some of Celestron's higher-end computerized mounts, but without the electronic components.  This keeps the Omni XLT 150 more affordable and provides a secure and usable mount for optimized manual performance.
The Omni XLT 150 also has ball bearings on both of its axes that help keep the telescope movement gentle and effortless. The included tripod features thick 1.75″ stainless steel legs, allowing the tripod height to be extended from 33″ up to 47″ tall.  (The CG-4 also features a nice accessory tray with space for 1.25″ and 2″ eyepieces, along with a bubble level.)
Finally – one really cool thing about the CG-4:  You can use the "setting circles" (on both the right-ascension and declination axes) to locate objects the "old-fashioned" way.  As long as you have the star coordinates (using a star chart or software), you can manually use the setting circles to find anything in the sky.
Astrophotography Right Off the Bat
All of these features add up to make the mount great for stable viewing and a fantastic base for astrophotography, but leaving the telescope as-is will limit you to short-exposure photography. This is still a great setup for a DSLR camera or smartphone.
If you want to use the Omni XLT 150 for short-exposure astrophotography, you might consider investing in a Barlow lens. This will help in increasing magnification, presenting a better image to your camera.
One more thing.  If you are planning to take a sequence of many short-exposure shots, you might want to consider upgrading with a dual-axis motor drive.  Because the Omni XLT 150 has a manually controlled tracking system by default, adding automatic tracking capability can make it a little easier for longer imaging sessions.  (However, it won't be as precise as a fully computerized mount, which is required for long-exposure astrophotography.)
Beyond this, any accessories you want can be added at your discretion. It is important to keep the payload capacity of the tripod in mind, as well as what strain you are putting on the mount.
What Can You See with the Celestron Omni XLT 150?
This is all great to know, but the best way to talk about the performance of the Omni XLT 150 is by showcasing what you can see.  The Omni XLT 150 is simple enough for basic hobby astronomy, but you will also find that it packs a decent punch for further viewing.  (And be sure to check out our guide to what you can see with a telescope.)
Lunar and Planetary Viewing
With the Omni XLT 150, you'll be able to get excellent views of the moon, including detailed glimpses of craters and other elements of the lunar surface.  We recommend a moon filter to reduce brightness (allowing more detailed viewing).  Also, keep in mind that the best time to view the moon through a telescope is when it's about half illuminated (for example, around the "first quarter" phase).
The XLT 150 is also good for viewing planets.  You'll be able to see Jupiter's bands, and you should be able to make out Jupiter's Galilean moons and the Great Red Spot.  Saturn will look spectacular.  You'll be able to see its rings clearly, along with several of Saturn's moons.  (However, at 6″ aperture you won't be able to distinguish the various divisions of its rings.)  You can also see the phases of Mercury and Venus.
Finally, you might be able to make out the ice caps on Mars.  However, this requires a very clear sky (and make sure you're viewing at an optimal time, close to its opposition).  Check out our astronomy calendar of celestial events for suggestions on the best times to view each of the planets.  Uranus and Neptune will be visible but they will be small dots with a slight amount of color.
Deep Space Viewing
With a 6″ aperture, you'll be able to see some of the more distant, fainter objects in deep space.  This includes galaxies, nebulae, and various star clusters.
Some favorite targets with this size include: the Orion Nebula, the Pleiades Star Cluster, the Andromeda Galaxy.  You'll be able to see the majority of the deep-space Messier targets, especially if you bring the telescope to one of the best places for stargazing.
In short, running out of things to view is nearly impossible with the Omni XLT 150.
Can the Omni XLT 150 be Used for Terrestrial Viewing?
Because the Omni XLT 150 is a reflector telescope it is not suitable for terrestrial viewing. The mirrors present images in an upside-down view.
While this is not uncomfortable for astronomy purposes, terrestrial viewing is best with a refractor telescope like the Omni XLT 120.
Working With a Budget
If you are looking for a cheaper equatorial reflector than the Celestron Omni XLT 150, be prepared for lower quality either in the mounting system or the optical system.  (In other words, this telescope represents a great value for this level of quality in both mount and optics.)
Sacrificing quality may eventually lead to spending the difference on upgrades; at that point, some would argue it's better to just start out with the Omni XLT 150.
With that said – if budget is a concern, and your priority is the "reach" of your telescope's aperture (vs. smooth equatorial tracking), you might consider starting out with a Dobsonian telescope.  Dobsonian telescopes are affordable and easy to use – and may help maximize your budget with similar aperture size.
Another way to optimize your budget is to try one of the Omni XLT 150's smaller competitors, like the Orion SpaceProbe 130ST we mentioned previously.  You can read our review of the SpaceProbe 130ST in our guide to the best Orion telescopes.
Buying a Used Celestron Omni XLT 150
If you can find a used telescope for a decent price then this is an option for saving money without sacrificing quality.
Make sure you check the condition of the mount and the optical components.  Also, don't worry too much about the superficial appearance.  Telescopes are hardy enough to tough it through the cosmetic pain, but key elements like lenses or mirrors should not be sacrificed.
Some Optional Accessory Upgrades to Consider
While we think you can do fine with the Omni XLT as-is, we recommend a few easy upgrades to take your experience to the next level.
Eyepieces
Replacing the 25mm eyepiece with one with a smaller focal length will give you a nice boost in the the magnification of the telescope. For example, you might consider adding a 6mm eyepiece (for magnification of 125x).  Or you could add a 12mm eyepiece (for magnification of 63x).
Here's a 6mm Plossl eyepiece option from Celestron:
Additionally, a 2x Barlow lens effectively doubles the magnification of any eyepiece paired with it:
If you want a lot more versatility, Celestron offers a 1.25″ eyepiece kit.  It provides a nice collection of Plossl eyepieces, along with a number of different filters for a variety of viewing scenarios.
Finderscope
The finder included with the Omni XLT 150's setup is a cheaper 6×30 unit. While this works fine, it is not the best option out there and is one of the cheaper upgrades you can make.  Here's one that supports the Omni series:
Or you can go for something even nicer.  Just make sure you read some reviews to make sure it will fit the Omni XLT 150 optical tube.
Additional Accessory Ideas
Click here to expand
The moon will be intensely bright when fully illuminated – but this 13% transmission moon filter from Orion can help:
Collimation is a lot easier with a collimation laser, like this one from SVBONY:
Celestron Warranty
Celestron offers a 2-year manufacturer warranty to cover any defects or malfunctions that occur with your Omni XLT 150 as time goes on.
To qualify you must provide proof of purchase and pay to ship and insure the telescope to and from the manufacturer. As long as your claim is approved, you can expect a repair or replacement within 30 days. If it takes any longer than that, a Celestron representative will contact you with an update.
Final Thoughts | Celestron Omni XLT 150 Review
In this Celestron Omni XLT 150 review we looked at the many features of the telescope.  We talked especially about what we found useful and areas the telescope could improve. Overall, this telescope is a fantastic setup, especially at its price point.
Even if you find it necessary to purchase accessories or certain replacement parts, your total price will likely still be better than comparable telescopes.
Celestron's Omni XLT 150 is a great telescope for both amateur and intermediate astronomers, both in price and performance. While there are no mind-blowing features (except of course the CG-4 mount), everything is on-point in terms of quality. The setup is easy to upgrade, but you may not even need to.
Whether you want something you can grow with or use as a staple tool, you can't go wrong with this telescope.
(Also, if you liked this article, please share it using the social media buttons below!)
Feature Image Credit: Celestron (Used with Permission)